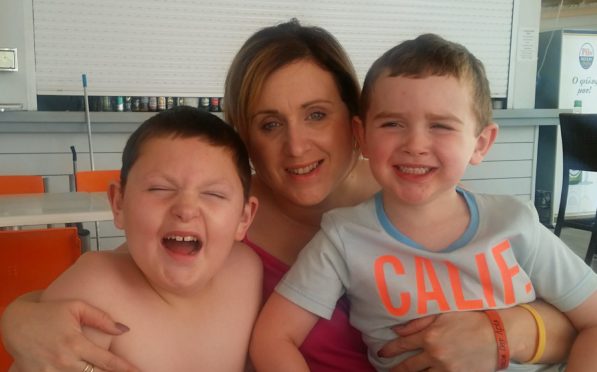 When they first discover their child is suffering from a genetic condition many parents turn to the internet for knowledge and to connect with families going through the same experience.
So when Stacey McPherson's son Calum was diagnosed with champ1, a genetic developmental disorder that only affects 75 people around the world, the first thing she did was try to reach out to some of the other 74 sufferers.
Now the determined mum has created a global community of families who share their stories, support each other and even inspire clinical research.
The mum of two, 39, from Bannockburn, said that while it's important to research and develop treatments, her mission is to raise awareness so other families don't have the same years of torment she and husband Derek, 42, endured waiting for a diagnosis.
Like other champ1 children, Calum's development was delayed in terms of communication, sensory and mobility milestones, but doctors could never provide a diagnosis until Stacey pushed for a genetic test when he was seven – not long after her second son Jack was born.
She said: "I used to leave the doctor's office in tears. You're going to the professionals and asking for answers and they're not giving you any.
"But since we have had the diagnosis, I'm going in there armed with information from other families and our friends in America."
As soon as they received their son's diagnosis, Stacey and Derek began looking for answers online. But the condition, which had not long been identified before Calum's diagnosis, was so rare there was hardly a mention in internet searches.
That's when Stacey set up the website champ1gene.com so any families looking for support know they are not alone.
She said: "I launched the website and it directs people to the support group we have on Facebook and lets people feel like they're not alone.
"I welcome all the new families into the group and I reassure them. It's a big thing but if I had this at the very start, it'd have saved me seven years of heartache."
The condition is caused by a faulty champ1 gene which was only identified in 2014. Every person has two copies of the gene, but for these kids, one is affected by a mutation and produces none of a vital protein for development.
NHS data manager Stacey's husband Derek is full-time carer for Calum, now, 13. Their son can't speak, but has learned to communicate through an iPad. He is full of fun and life, and is very close to six-year-old brother Jack.
Calum attends a support unit in a mainstream school, where he is given extra support and Stacey said she'll never stop fighting for her boy, whom she expects to care for her entire life.
She said: "I don't think he'll ever leave school and have a job – he might surprise us all but I think he'll be in our house till we're not here and that fills me with dread, but you can't look too far into the future, you just deal with what you can deal with and support him the best you can.
"With the research, I don't think there's going to be a magic wand and it might be too late already for the age he is, but something might come along to help our kids."
One of the champ1 families sharing their experience has been Jeff and Katis D'Angelo, whose son Jeff Jr was diagnosed two years ago. The two families have become close, and when the couple from Florida, set up the Champ1 Research Foundation, champ1foundation.org, Stacey was delighted to get involved, even travelling to an international conference in Orlando to lend her support.
Jeff, 35, said: "We're very grateful for Stacey and the other families – she was the first parent we talked to and she couldn't have been any more welcoming or kind. One of the first things she told me was that our kids are 'Champions.'
"All of our kids have not only a lot of the same symptoms, but personality traits too."
They call JJ 'the million dollar baby' after spending so much on medical bills, and therapies to care for him at home, with Katis, 32, becoming JJ's full-time carer. They also have two-year-old daughter, Miabella, and another child on the way.
In Scotland, Stacey is working to raise champ1 awareness.
She has spoken at Holyrood and this summer addressed a series of online talks as part the Royal Society of Edinburgh's Curious festival, which invites the world's leading experts to give talks on themes of health and wellbeing, innovation and invention.
She said: "I want to raise awareness as Calum is the only one in Scotland with this. He has challenges but he'll work his way around about things. He may not be your typical 13-year-old boy but we've never treated him like he's got this disability tag. He's our boy."
---
None of the champ1 families are under any illusion about how big a challenge they face finding a cure or a treatment for their children's condition.
But Jeff and Stacey are committed to doing whatever they can to help and the foundation supports studies into a condition which is otherwise unlikely to be the subject of much focus from the medical world, and are hopeful of positive outcomes from work getting underway in the US.
Jeff said: "There's two copies of the champ1 gene in the body and the kids have a mutation to one of the copies. If you and I are getting 100% of the protein, they're getting roughly 50% of it.
"So is there a way to regulate more of this protein and get the healthy working copy of this gene to make more?
"I feel like we're fighting time because these are some really big odds we are going against, this isn't easy to accomplish. I want to help my son and this generation of kids. This is for our kids and that's why we work with such urgency."
---
To find out more about the talks, visit rse-curious.com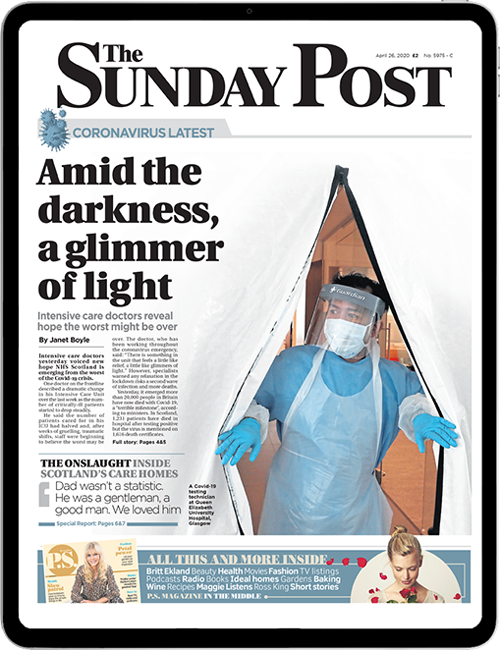 Enjoy the convenience of having The Sunday Post delivered as a digital ePaper straight to your smartphone, tablet or computer.
Subscribe for only £5.49 a month and enjoy all the benefits of the printed paper as a digital replica.
Subscribe