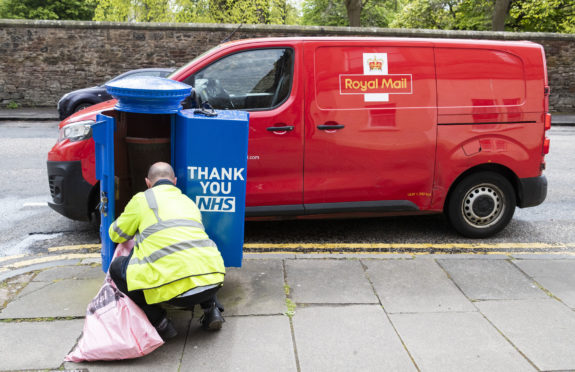 They have become a rare and welcome visitor to our doors during lockdown and Scotland's posties are winning acclaim for their tireless work.
Among the unsung heroes keeping the country's wheels turning as we stay at home, postmen and women are coping with heavy sacks and unions warn the post is "busier than Christmas" as around 130 million packages are being sent across Britain.
The number of parcels and packets sent through the Royal Mail has increased by almost 50% compared to previous years and Craig Anderson, regional secretary for the Communication Workers Union in Scotland, said: "There has been a huge increase in demand. We estimate, at a minimum, there has been about a 45% increase in parcels and packets being sent, above what we would normally expect at this time of year, which is probably due to a lot of people having to shop online.
"Although that's an estimate, and we believe the figures are actually higher – demand is higher than Christmas levels. We usually take on a lot of agency staff just to cope at Christmas, so it's really, really busy."
He added: "Christmas usually lasts for a two-week period. We are now into our seventh week of the lockdown and there's at least another couple of weeks to go, probably more to be perfectly honest. So, sustaining that level of pressure is very demanding on the workforce."
As part of research compiled for its Covid-19 and the Consumer Report, online magazine and reporting centre InternetRetailing found online shopping rates are growing 129% week-on-week in the UK and Europe while more Scots appear to be sending letters, cards and gifts to keep in touch during lockdown.
In response to the growing challenge, the Royal Mail has launched a new campaign, #ThumbsUpForYourPostie, to encourage the public to show their appreciation for their delivery workers. Households are being asked to give their postie a "big thumbs up" from two metres away – about the height of a postbox – or place a colourful poster in their window to say thanks.
And it's not just sorting offices and depots that are seeing a rise in everyday workload. Post Offices are also experiencing unprecedented levels of use, with many Scots turning to community counters for more than just sending mail. For example, last month saw a new partnership between the Post Office and Highland Council to support parents of children eligible for free school meals.
Using the Post Office's Payout scheme, parents can take single-use meal vouchers to their nearest Post Office branch to be exchanged for cash, which can then be used to purchase food and everyday groceries.
"We recognise how much local communities, particularly in rural areas, rely on Post Office services," said Kenny Lamont, Post Office regional change manager.
"Local communities continue to rely on our branches to access cash for shopping or simply to help manage their finances. Sending letters and parcels have been an important way of keeping in touch with friends and relatives, particularly for grandparents.
"We encourage anyone who wants to send a parcel to a loved one to come to a branch with it all packaged up so as to minimise time spent inside and to help ensure social distancing."
In Scotland, many small businesses have also seen a demand for services through the post network, as people turn to online shopping to send gifts and tokens.
Edinburgh-based book subscription service, Rare Birds Book Club, has reported a 52% growth in business over the past four weeks, with 49% of their customers purchasing paperbacks as gifts, and hundreds of orders have included messages of "consolation, comfort and togetherness".
Founder Rachel Wood said: "My spare room is basically now a small warehouse, but it means we've been able to stay fully operational during lockdown.
"We always send all our post via the Royal Mail and they have continued to be a lifeline for us.
"In particular, the contactless collection has been hugely helpful to us. We prepare the post, leave it at the door, and the Royal Mail collects it at a prearranged time and date. We feel incredibly fortunate that we've been able to grow and keep serving our customers and community."
Shane O'Riordain, Royal Mail managing director of regulation and corporate affairs said: "We understand the important role we have to play in helping people to stay connected. We continue to work hard to collect, process and deliver as much mail and parcels as possible in difficult circumstances.
"The mail is still scheduled to be collected and delivered as normal. This is a fast-moving situation and local service levels may at times be impacted by local absences. Despite the challenges, we remain committed."
---
"If a parcel helps with isolation then you feel you're making a difference"
Scott Emslie, 30, has been a postie in Turriff, Aberdeenshire, for the past five years, and admits his postbag has never been heavier.
Since lockdown began he has seen a huge increase in the number of parcels being delivered on his rounds, as well as handwritten notes and letters.
"It's as least as busy as Christmas right now – especially with parcels. It's about double what we are used to, and the numbers are definitely climbing.
"How much we carry depends on the run – the lads heading into town have more houses, for example – but on Saturday last week, some people had between 80 and 100 parcels to deliver.
"Some of the other posties here have been working in Turriff for nearly as long as I've been alive, and they say they've never seen anything like it. It's totally new to everybody – from how we work to the levels of parcels at this time of year – but we could be going for a while yet, so we just have to stay positive and adapt.
"People are been making an extra effort to stop and speak to us lately, especially on the rural rounds, where people are more isolated – some days they don't see anyone else, so just standing to talk for a few minutes can make all the difference.
"To me, it doesn't matter if we are delivering a book or medication – if the parcel helps people with isolation then you feel like you're making a difference, and your job is that bit more worthwhile and enjoyable.
"A couple of people on my rounds have said they have gone back to sending letters to keep in touch, especially the older generation.
"We are getting a lot more handwritten notes and a lot fewer typed corporate statements or letters.
"We are fair looked after with plenty of PPE and everyone is social distancing. Things did just change overnight, so we had to readjust the office and find new ways of working, but we've got a good team and we work well together.
"It's amazing how quickly this has become the new normal."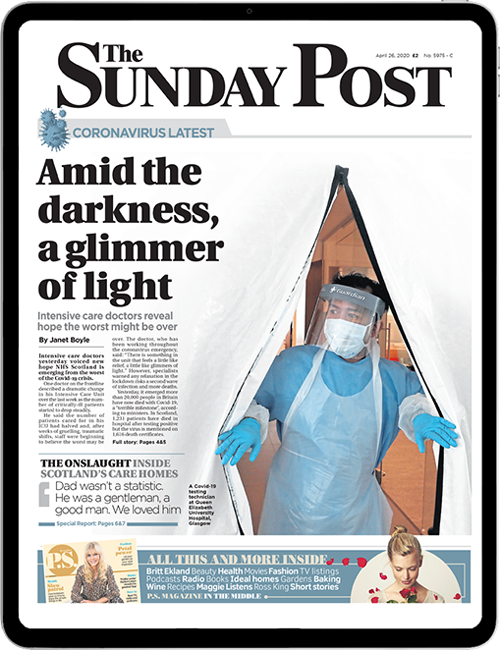 Enjoy the convenience of having The Sunday Post delivered as a digital ePaper straight to your smartphone, tablet or computer.
Subscribe for only £5.49 a month and enjoy all the benefits of the printed paper as a digital replica.
Subscribe