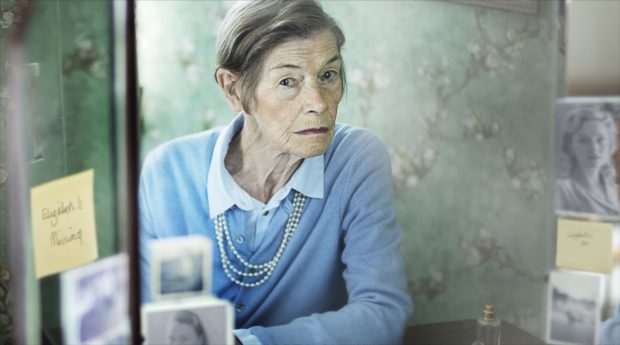 The bright lights of London have attracted many people over the years seeking fame and fortune but Andrea Gibb is reversing the trend. For the actor, now regarded as one of Britain's finest screenwriters, is returning home.
Her decision comes as her last major drama movie, Elizabeth Is Missing, starring Glenda Jackson and telling the story of an elderly woman's battle with dementia, is gaining worldwide recognition and award nominations.
Explaining her decision to move back, Andrea revealed how she reassessed her life after the death of her partner, journalist Simon Ricketts, adding: "I had a complete rethink on where my life was going and what I wanted to achieve.
"After a lot of soul-searching I decided I wanted to come back to Scotland, especially as there are more opportunities opening up for me here now. It is an exciting time in the television industry and I want to be a part of it.
"When Simon was still here we came up to Edinburgh a lot as we loved exploring the city and we could do our own thing. But, at the end of the day, I am from the west of Scotland and that is where I have now decided to live.
"It is all very exciting for me as I have never bought a house before, so it has been an enormous learning curve, even at my age…and, no, I will not tell you how old I am!" laughed Andrea.
Previously the scriptwriter had been critical over the absence of opportunities for her skills north of the border, blaming lack of investment and vision by some of the major television channels.
Now the pendulum has swung – or, at least, it had before lockdown – with increased funding being ploughed into various projects including films, short films and even TV drama series such as The Nest and Deadwater Fell.
Andrea said: "We have amazing talent in Scotland, from directors, casting directors, production staff… it is all here just waiting to show what they have to offer. Now they are being given that chance as more funding is being made available.
"Scotland is definitely punching above its weight and this is being shown time after time with the quality of the shows being offered and taken up by the television channels down south and across the world. It is wonderful that we are leading the field."
Andrea is missing out on a trip to Canada due to the travel restrictions, having been nominated in the Banff Television Festival for Elizabeth Is Missing. The film, first shown late last year, is also in the running for two prestigious RTS Awards.
Directed by Aisling Walsh, it was adapted for television by Andrea, who revealed she used her own personal experience from dealing with her father and grandfather, who both suffered from the disease.
Andrea explained: "When this opportunity came along it was literally heaven sent. I remember the struggles and pain this horrible disease causes especially as my father and grandfather suffered from dementia. It is frightening to watch someone suffer and not be able to properly help them.
"When I am writing I try to think who the actor will be to play the role and try to work the character around them. I asked Aisling who she wanted to star as Maud and she immediately said Glenda Jackson.
"The next thing I knew she was on a plane to America as Glenda was starring in Broadway at the time. They met up and the whole thing was agreed almost immediately."
Andrea, who is moving to the south side of Glasgow, added: "I honestly felt very privileged to be part of the film and honoured that I was chosen to do the adaptation from the book by Emma Healey. And knowing my father and grandfather had both suffered, it helped me somehow by being able to add some personal touches as well."
Born and raised in Greenock, Andrea had always dreamed of being an actor.
"I was an appalling show-off as a youngster, I suppose," she said. "I came from a working-class family and, although we went to the cinema quite often, I had never been to a theatre or anything like that.
"My father, who was an electrical engineer, indulged me, possibly thinking I would grow out of it. On this occasion he was wrong, although he did encourage me to have another skill to fall back on which, in fairness, has always stood me in good stead. Perhaps dads do always know best!"
Having studied drama and sociology at Glasgow University, she completed a postgraduate teaching degree at Manchester Polytechnic before going on to an acting course at the Drama Studio in London.
Andrea remains grateful to her father Andrew's advice, having worked as a supply teacher on a number of occasions when acting work dried up. "Being a young teacher, it also taught me a lot about life and people, which I will always be grateful for," she said.
Her first big break came with the role of Deirdre, the girlfriend of Calum Buchanan, in All Creatures Great And Small, starring alongside Christopher Timothy, Robert Hardy and Peter Davison.
Having married composer Paddy Cunneen, Andrea became pregnant during filming of the series, leaving her with a major dilemma.
"I had been contracted to come back for series six and getting pregnant was a shock. My baby was due a month before my start date to be back at work," she said. "My baby was very late and, in the end, I had to have him induced. I was literally back on the set when he was just 10 days old."
It was during a stint at the Tron Theatre in Glasgow that Andrea realised she should learn to work on other things as well as acting.
"Until then I had no desire, no intention or belief that I could write," she said. "I had previously done a course in creative writing but it was never something I imagined myself doing. My writing career just happened, almost accidentally, and now I don't act very much – although, given the chance again, I would not say no."
Her writing showed early promise, including a nomination for The Dennis Potter Award with the screenplay Lucky Bag, before her film Golden Wedding, which she wrote for BBC Scotland, won a Mental Health Media Award. Encouraged by her success, Andrea penned the screenplays Dear Frankie and AfterLife – both shot in her home town of Greenock at exactly the same time.
"I had a small cameo role in Dear Frankie but it was a case of blink and you would miss me," said. "As for AfterLife, I used my sister Sharon as my inspiration. She has Down's syndrome and knowing what this involves helped me create one of the characters in the film."
Starring Gerard Butler and Emily Mortimer, Dear Frankie earned Andrea the Women In Film And Television script award, while AfterLife saw her nominated for best newcomer and best screenwriter Baftas.
Andrea also won the Scottish Screen Bowmore filmmaker of the year award in 2005.
More recently, her adaptation of Arthur Ransome's Swallows And Amazons, released in cinemas in 2016, saw her talents recognised across the pond, collecting major prizes in Seattle and New York.
And Andrea remains grateful for the steady stream of commissions flowing in her direction.
"I am the first to admit I have been fortunate in the incredible actors I have been able to work alongside," she added.
"You learn something different every time and I never tire of that."