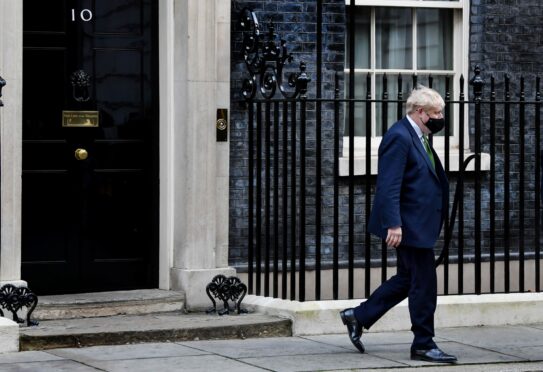 Boris Johnson was hunkered down at Chequers yesterday shoring up support as an imminent report into Downing Street parties is tipped to trigger a vote of confidence in his leadership.
The Prime Minister is said to be at his country residence calling wavering backbenchers as observers suggest the 54 letters needed to hold a vote will be lodged soon after the inquiry into No 10 lockdown rule-breaking is published this week.
Johnson had hoped civil servant Sue Gray's report would clear him of wrong-doing but sources suggest it may be more critical of him than expected and help propel Tory MPs to put his continuing leadership to a vote.
The team which helped win him the Tory leadership, led by Transport Secretary Grant Shapps, has been reconvened and is said to be scouring lists of MPs to identify those who are thinking of withdrawing support who could be persuaded to stay on board.
If 54 MPs write to Sir Graham Brady, chair of the Tory backbenchers' 1922 Committee, a vote will be triggered with the PM needing 180 MPs – half of the 359 Conservative MPs – to back him, or he will have to resign and there will be a leadership contest.
Scottish Conservatives leader Douglas Ross, who is an MP and an MSP, is one of those who has already sent a letter to Brady. He declined to comment yesterday and other Scots Tory MPs did not return calls.
Baroness Ruth Davidson, a former leader of the Scottish Tories, told The Times yesterday that Johnson was unfit for office but she did not dislike him. She said: "There's this fallacy that there's this deep-rooted hatred between us, but there's not. I didn't support him for the leadership and I believe what has been exposed to have happened in the last few weeks shows that he's unfit for office, but he's perfectly convivial company."
Meanwhile, an MP will speak to police this week over claims that government whips tried to blackmail backbenchers into supporting Johnson.
Yesterday, Chris Bryant MP, chairman of the Commons Standards Committee, said attempts to pressurise MPs would be illegal. He said allegations that threats had been made to withdraw public funding from MPs' constituencies amounted to misconduct in public office and should be referred to the police. His intervention came after William Wragg, the senior Tory MP who first alleged attempted blackmail by whips, disclosed that he was due to meet police to discuss his claims this week.
Christian Wakeford, the Bury South MP who defected to Labour, later described how the Tory whips had warned him over funding for a new school in his constituency if he rebelled in a vote over free school meals.
Bryant, who is a Labour MP, said he had spoken to about a dozen Conservatives in recent days who had either been threatened by government whips with having funding cut from their constituencies or promised funding if they voted a certain way.
Bryant said: "I have even heard MPs alleging that the prime minister himself has been doing this. What I have said to all of those people is that I think that is misconduct in public office.
"We are meant to operate as MPs without fear or favour. The allocation of taxpayer funding to constituencies should be according to need, not according to the need to keep the prime minister in his job.
"I stand by what I have said. No amount of gas-lighting will change that."
The Metropolitan Police said: "As with any such allegations, should a criminal offence be reported to the Met, it would be considered."
No 10 is braced for the report of Sue Gray, the senior civil servant investigating lockdown parties in Downing St and elsewhere in Whitehall.
Gray's report is likely to lead to renewed calls from opposition parties for a police investigation if there is any evidence coronavirus rules were broken – including at a Downing Street drinks party in May 2020 attended by Johnson, who said he thought it was a work event.
Ian Murray, Labour's Shadow Scottish Secretary, said: "We're inching ever closer to the end of the Boris Johnson era.
"His defence is hopeless and there is growing panic in Downing Street, with the PM desperately trying to shore up party support rather than focusing on the challenges facing the country.
"But not only has Johnson lost the support of the country, he's fast losing the support of his party.
"The prime minister can no longer hide behind Sue Gray – it's already too late for him, and his time is up. He has broken the rules on multiple occasions and he knows it."
Ian Blackford MP, leader of the SNP at Westminster, said: "Boris Johnson knows his time as prime minister is over – and his time would be much better spent drafting his resignation letter than drumming up support that doesn't exist.
"But when faced with a cost of living crisis that is crippling households up and down the country, it's galling to see where Boris Johnson's priorities are."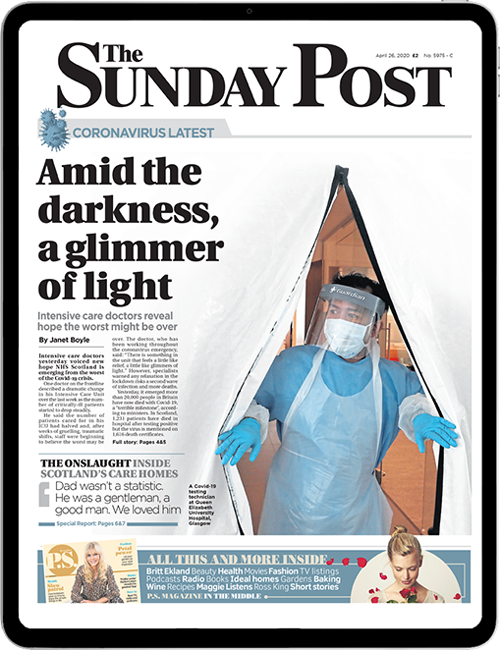 Enjoy the convenience of having The Sunday Post delivered as a digital ePaper straight to your smartphone, tablet or computer.
Subscribe for only £5.49 a month and enjoy all the benefits of the printed paper as a digital replica.
Subscribe