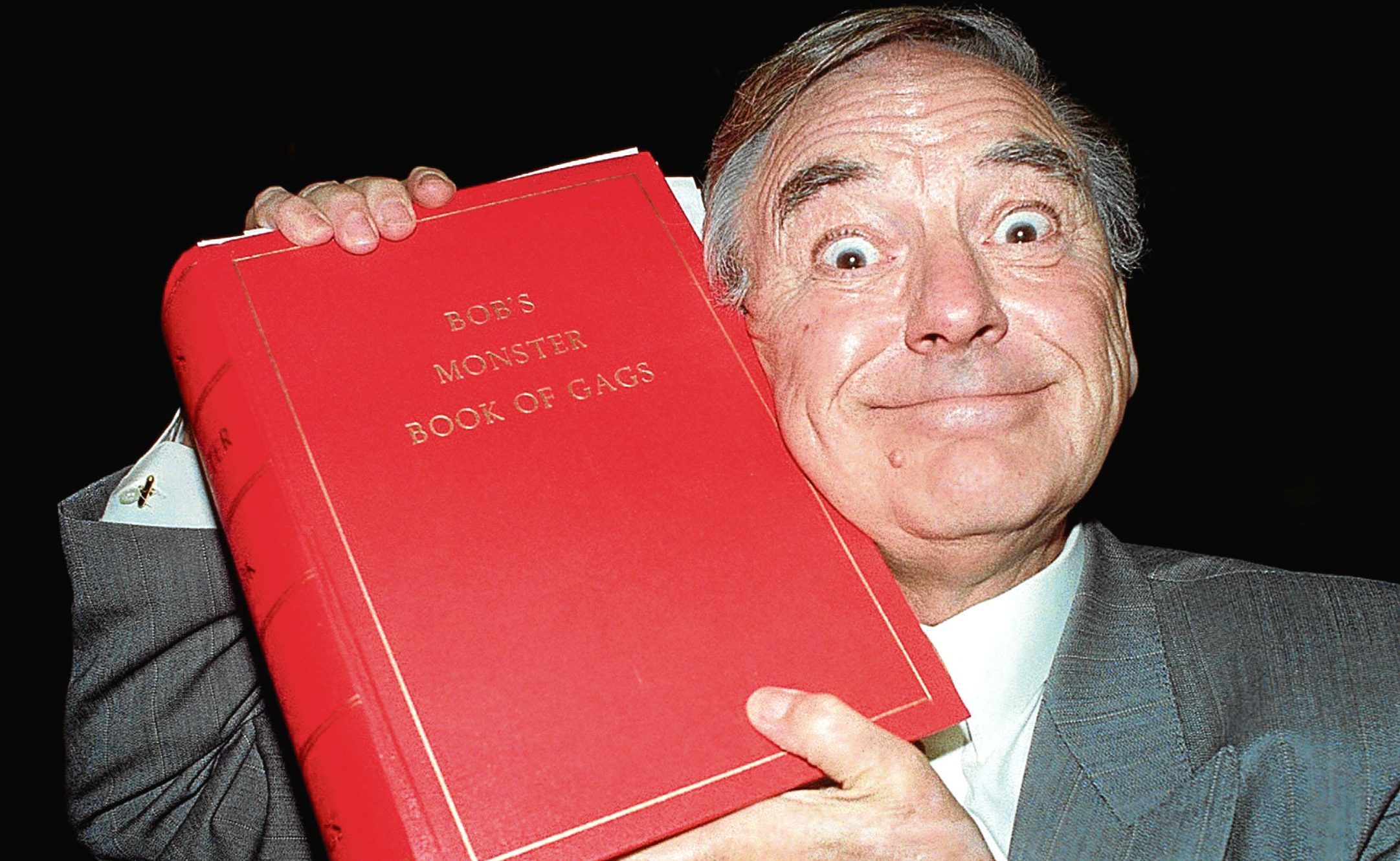 HE was one of the most-popular funny men Britain's produced — and we miss Bob Monkhouse to this day.
It was 65 years ago that Beckenham-born Bob's career began, and it's now 14 years since his death, aged 75, after a battle with prostate cancer.
In his time with us, he was one of the best-known faces on the big and small screens, but few people knew him better than the friend and colleague who wrote so many of his gags, Colin Edmonds.
Indeed, in his will, Bob left his beloved and priceless joke books to Colin, who still turns to them for inspiration and laughter every day.
"About 25 years ago, comedy changed," says Colin. "It became the new rock 'n' roll, and I said this to Bob, who agreed.
"It was suddenly fashionable, and Bob just said we had to embrace it.
"That, if you study Bob Monkhouse's career, is exactly what he always did. He studied new performers, what they were doing and the audience reaction.
"He'd then accommodate his own material accordingly. Being the only one who did that, I ran out of performers after he died who were really relevant.
"Not wanting to be the old git in the corner, I turned to writing books. I wanted to keep a pen in my hand and my fingers on my old keyboard I've always used.
"I write steampunk novels, Victorian magicians solving crimes that defy logic and baffle science.
"Bob and I were always sci-fi fans, and things like The X Files and Twin Peaks appealed to us.
"So I wondered if I could write a comedy Victorian detective drama, Smoke And Mirrors, and sent it to a well-known producer.
"Ripper Street, however, had just been commissioned, so that put the kibosh on it.
"It sat on my shelves for months and I got despondent. My wife asked why I didn't turn it into a novel, and I redid it, added the steampunk element, and made a far more interesting story."
Steampunk, in case you don't know, is a weird mix of Victoriana, crime, dark themes with bizarre humour, and such oddities as steam-powered flying boats.
It's certainly the kind of thing the late Bob would have approved of. As Colin reveals, he was always up to date — in fact, sometimes well ahead!
"Occasionally, I'd go along to clubs Bob played in, and after one show, he and I had a conversation in a car park," he explains.
"We were getting out the car and he said: 'Oh, by the way, my wife Jackie and I have rewritten our wills and I'm leaving you the gag books.'
"I said: 'Oh, yeah, well, that's very kind and I appreciate it, but you are going to see me out!' I then completely forgot all about it.
"Time went by and when Bob passed away, his agent called me and said: 'Just to let you know, darling, Bob's will is being announced tomorrow and he's left you the books.'
"He said: 'The Guv'nor was good as his word!' The thing is, I had known these books all my working life with Bob, contributing to them since my teens right through to those later years, when Bob and I were pretty much joined at the hip.
"So I'd always known they existed, and at the beginning, I looked at them from afar, but then got closer to them. Bob was very protective of them.
"When we were doing Wipeout, one of the last series he did for the BBC just before he passed away, he would ask me to look in the books for certain jokes.
"I could read them off and they would go into the chat. We had a lot of shared interests and similar humour.
"This is why it worked with us — the joke you write for Bob Monkhouse might not be the joke you'd write for Terry Wogan."
When he wrote for Sir Terry, another much-missed British TV icon, Wogan felt Colin almost became him!
"I have worked with some great people, like my chum Joe Pasquale, and you write differently for each performer," says Colin.
"For instance, I'd need far fewer words for Terry Wogan, who spoke in a very relaxed, laid-back way.
"Terry was marvellous. He was one of the most articulate, nice men I have ever met, and perfectly capable of writing his own material.
"But now and then, he'd not have the time and he'd ask me to write something for him.
"I think he got to trust me, as he once said to me in an email: 'I'm beginning to think you are really me!'
"The producer said that when he read my Eurovision scripts, he could almost hear Terry's voice, and I told him, well, that was my job, to write in Terry's voice."
Having sold his first joke at the age of 16, Colin reckons he was born to do this stuff.
And he reveals that Bob said that you have to keep at it, to keep your funny bones working.
"Bob said: 'You've got to write jokes every day, or your comedy muscle loses its tone,'" he recalls.
So who makes Colin roar with laughter, and would have been appreciated by Monkhouse?
"Larry David of Curb Your Enthusiasm is a genius," he says.
"And I'll tell you who I love in this country.
"Reginald D Hunter. He makes me laugh hugely, and I love that look he has, where he can just say a few words that aren't funny and reduce the audience to hysteria.
"Joe Pasquale is a natural clown with funny bones and we are great friends.
"And I was thrilled when League Of Gentlemen came back.
"Psychoville is another you must see, dark and very funny.
"I love Vic Reeves and Bob Mortimer. Their golden moment was Shooting Stars, with Ulrika Johsson in it.
"She is the best female presenter I have ever worked with.
"When we did Gladiators at the National Indoor Arena, there were 6,000 people there and Ulrika was utterly nerveless.
"When she co-hosted the Eurovisions here with Terry Wogan, she was the multi-linguist who did the scores and was again utterly nerveless. Ulrika impresses me enormously.
"I'm just glad to have had this career. I'm from a working-class background, and when I told my family I wanted to write jokes for people on telly, my mother said: 'People like us don't do things like that.'
"Perhaps I saw that as a challenge, so I have used it to prove people wrong ever since.
"I had the temerity at 16 to send jokes off to Bob Monkhouse.
"I got a reply saying: 'These jokes are awful, but they show enormous potential. I started when I was your age and I know what it's like.
"'So if you'd like to send me some more jokes, I will always be happy to look at any original material you send me.'"
And the rest, for Colin Edmonds and the unforgettable Bob Monkhouse, is history!
For more on Colin, visit www.steamsmokeandmirrors.com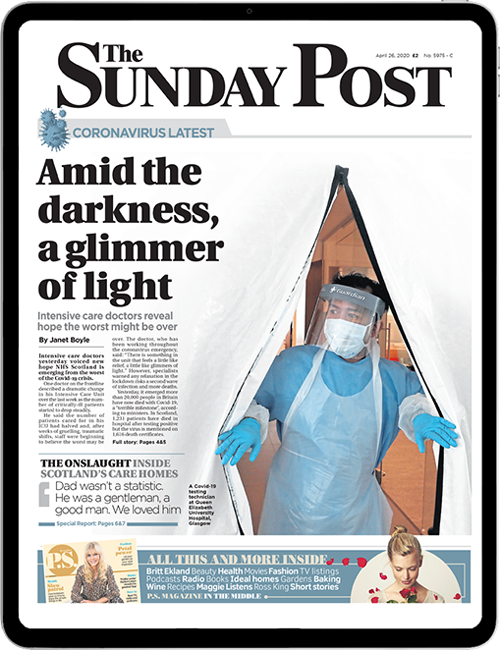 Enjoy the convenience of having The Sunday Post delivered as a digital ePaper straight to your smartphone, tablet or computer.
Subscribe for only £5.49 a month and enjoy all the benefits of the printed paper as a digital replica.
Subscribe