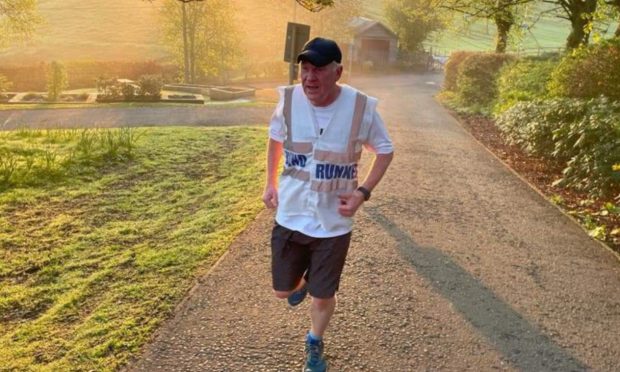 When Scott Cunningham takes to the starting line for the Glasgow to Edinburgh ultra marathon on Saturday, his mind will drift back not only to 12 months ago but 30 years earlier.
Both times he was in ­hospital, fearing for his life.
On October 7 1993, Scott was in the Southern General in Glasgow, the final remnants of his sight fading due to what he would later discover was a rare degenerative eye condition.
Then, last October, he was rushed by ambulance from Wishaw Hospital to Hairmyres in East Kilbride, having suffered a massive heart attack while out running.
It makes what he will attempt on Saturday even more remarkable, when the 53-year-old becomes the first blind runner to tackle the lung-bursting G2E Ultra.
Scott, from Larkhall in Lanarkshire, said: "Fifty weeks on from a heart attack, I'll run 56 miles, and I can't wait."
Scott signed up for the race just a week before suffering a heart attack. He and running mate David Mooney were on their usual Saturday early-morning route when Scott felt ill.
"I thought it was ­indigestion at first," Scott said. "As I continued, I felt the pain spreading across my chest. I told David I was struggling but I didn't tell him my symptoms. We were running in an area called Heart Attack Hill, because it has a steep incline with a couple of turns.
"I said to David 'let's step it up and try to hammer out the indigestion or trapped wind'. But, of course, you can't run off a heart attack."
Scott managed to complete the run, made it home and took a cold shower. He felt worse and called his partner, Janice – who was walking his guide dog, Lincoln – and asked her to come back immediately.
"I was standing up, holding on to the wall, trying to keep the engine going. I felt if I sat down, it would be over."
There was a 40-minute wait for an ambulance, so Janice drove him to Wishaw Hospital.
"The pain was ­incredible by this point," he said. "The doctor took one look at me and said, 'Oh no'. I was told they were taking me by ambulance to Hairmyres Hospital in East Kilbride, where a team of medics would be waiting. It was the first time I'd ever been in an ambulance.
"I asked the paramedic if the morphine they'd given me would wear off soon, as I had tickets to see Deep Purple."
Once at Hairmyres, Scott realised how serious the situation was. "They flipped me straight on to the operating table. There wasn't even time to do the paperwork," he said.
"The first of four stents were put in through my wrist – I was told I had suffered a massive heart attack and the four main arteries were blocked. I was lucky to get there in time. If I had gone to bed to try to sleep it off I wouldn't have woken."
Scott was told that, had he not been so fit, he likely wouldn't have survived. He owed his life to running, but wondered if he would ever pound the streets again.
"The first couple of weeks, I was only allowed accompanied five-minute walks, and I couldn't have Lincoln on the harness in case he dragged me. It took a few months, but I got back to running on February 18, just a few miles on the flat. With every step I was waiting for a twinge, but there's been no issues.
"By the end of March, David and I did the same route as that morning in October, and I ran up that hill I could barely walk six months before. I was so happy. In recent weeks we've done 32 miles and 42 miles, so I feel ready for the ultra."
The race will be tinged with sadness, however, as six weeks after his heart attack, Scott's original running buddy, Jim Kirk, suffered a fatal heart attack.
"I started running in late 2016 and Jim was by my side. He was even fitter than I was, but both of us had genetic conditions we didn't know about. It will be an emotional race for a lot of reasons – that I'm still here, that the wee man isn't, and that it will be 30 years since I lost my sight.
"Thirty years ago, I was in the Southern General in Glasgow, my eyesight fading as the optic nerves died. I had no sight, no job, no hope and felt there was no point to me being here. I would escape Thursday to Sunday in drink, then sober up on Monday and remember I was still blind.
"I was heading towards the gutter until I was offered my first guide dog, Ike, and things grew from there. I built my confidence and self-esteem, went to Motherwell College to learn to live and study as a blind person, got my HND and earned a job in the civil service. All my spare time was dedicated to giving back, and that's where I gained the experience in fund­raising, which has led to my career – I'm the community and challenge events officer in Scotland for SSAFA, the Armed Forces charity."
Scott has undertaken ­charity walks, treks and marathons over the years, so far raising an incredible £350,000 for the Guide Dogs charity. He was made an MBE at Buckingham Palace in recognition of his efforts.
"I owe it all to the four incredible guide dogs I've had. Who knows what would have happened without them. I'm going back to my blind skiing group in January – I would never have taken up skiing, trekking or running without the confidence they gave me."
Scott is fundraising for the Guide Dogs charity again with this latest run, and he has been given the honour by organisers to start the race on Saturday.
"Last October, I thought the fundraising had slipped by – I thought everything was slipping by. It's thanks to the NHS, Janice and David I'm still here.
"It's allowed me to celebrate the 30th anniversary of this brilliant adventure which has had more ups than downs.
"My motto is, if the mind can perceive it, the body can achieve it, and that's what will happen when I cross the finishing line in Edinburgh."
---
To donate, visit justgiving.com/page/blindg2e2023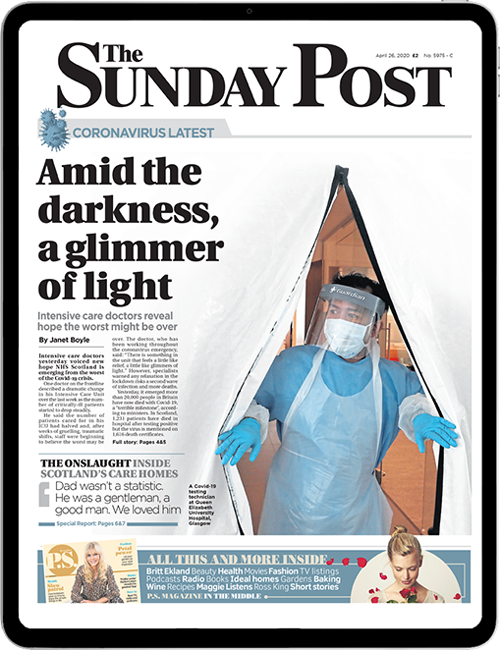 Enjoy the convenience of having The Sunday Post delivered as a digital ePaper straight to your smartphone, tablet or computer.
Subscribe for only £5.49 a month and enjoy all the benefits of the printed paper as a digital replica.
Subscribe