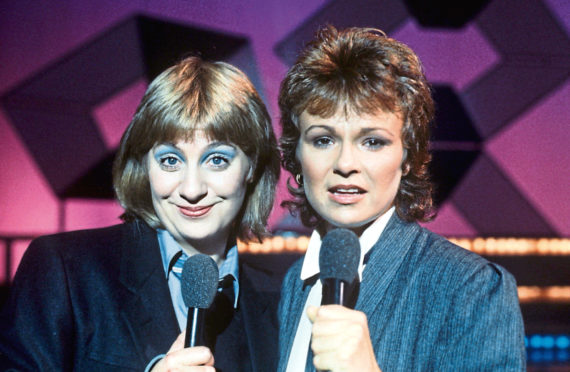 When new movie The Secret Garden comes out in April, it will be a rare treat.
A classic version of the film, based on the book by Little Lord Fauntleroy author Frances Hodgson Burnett, was made a century ago but is now considered a lost movie.
So to get a new version will be great, especially as the wonderful Julie Walters will grace the big screen yet again as Mrs Medlock.
A role previously played in various versions by Maggie Smith, Honor Blackman and Billie Whitelaw, any other actress would feel under pressure with a lot to live up to.
Not so Julie, who turns 70 this Saturday and has shown she can turn her hand to any role and set a new high standard.
It's fair to say she's had an incredible 70 years.
Dame Julie Walters reveals she's been treated for bowel cancer
Born on February 22 1950 in Edgbaston, Birmingham, her father was a builder and decorator, her mother a postal clerk born in County Mayo.
Naughty at school, Julie was eventually asked to leave and got her first job aged 15, working in insurance.
Within a few years of that, she was training as a student nurse at her home city's Queen Elizabeth Hospital, working in the ophthalmic, casualty and coronary care wards for a year and a half.
It was more fulfilling, possibly, but still not her dream job, and she next found herself at Manchester Polytechnic, studying drama and English.
The girl who was too wild and disobedient to sit quietly and listen to her teachers was now enjoying a bit of learning.
It paid off, and by the 1970s she was working in Liverpool theatre with the likes of Bill Nighy, Pete Postlethwaite – with whom she'd live for five years – Alan Bleasdale and Willy Russell.
By the latter stages of the decade, she had formed a brilliant partnership with Victoria Wood, the great comedian who we lost at just 62 in 2016.
Wood had appeared on New Faces in 1974, which would lead to her clinching a wonderful opportunity on That's Life!. The consumer show needed an off-the-wall segment, and Victoria was just what they were looking for.
She was also just what Julie Walters was looking for, and together they made a formidable, hilarious duo.
Nobody who was around back then will forget Mrs Overall, Julie's character in Victoria Wood As Seen On TV. It was the end result of their time together in theatre, and it remains a British telly comedy classic.
Wood And Walters, in the 1980s, was their own series for Granada Television, and the pair would often get back together over the years, always creating a great chemistry.
If the 1980s would prove even better for Walters' career, they also delivered in the love stakes, too.
She and Postlethwaite, another great British talent we lost aged 64 in 2011, had gone their separate ways by the close of the 1970s.
In the new decade, Julie fell head over heels for Grant Roffey, who was about as far from the world of telly, cinema and luvvies as you could get.
He was a patrol man with the Automobile Association, and they enjoyed a whirlwind romance and went on to have daughter Maisie Mae in 1988.
These days, Grant runs their organic farm in West Sussex and presumably does his own car repairs when required.
Julie's big breakthrough of the 1980s, romance aside, was TV classic Boys From The Blackstuff in 1982, following it up with the unforgettable Educating Rita on the big screen the next year.
In Boys From The Blackstuff she played Angie, wife of Chrissie, Michael Angelis' character.
In those days, before we could simply watch most shows whenever we fancy on iPlayer and the like, it was shown first on BBC2, and it was only word of mouth that saw millions hearing about it too late.
So the Beeb simply showed it again, just weeks later, on the much higher-profile BBC1. It was a sensation, and Yosser Hughes' "Gizza job!" became a catchphrase used across the UK for years to come.
Julie Walters, however, also got plenty of attention, and her career really was going into overdrive now.
Starring alongside Michael Caine in Educating Rita proved that beyond all doubt.
She had created the role on the stages of the West End, so she was the ideal person to play Rita in the movie, and boy, did she and Caine work well together.
Dublin's famed Trinity College and University College were very photogenic filming locations, and Willy Russell's Pygmalion/My Fair Lady-style tale was a sensation.
The story of an Open University student, Susan White, who calls herself Rita, and Professor Frank Bryant, it is as powerful today as it was on its release.
He's the jaded teacher who has turned to the booze, irritated beyond belief by his students and the pretensions of his literate world.
Then along comes the dissatisfied Liverpool hairdresser, determined to avoid getting pregnant because she is sure there is much more to life if only she can find it.
She finds it in great books, and her enthusiasm is so strong that it even begins to make the jaded professor put his bottle away and fall in love with literature again.
Alas, Rita gradually finds this wordy, brainy new world can be just as pretentious and annoying as her old life, and the professor goes off her when he sees signs she's becoming as pretentious as everyone else in his life.
With great support from the marvellous Maureen Lipman and Michael Williams, it was a landmark movie, and not just in Julie Walters' life.
One critic reckoned that Walters and Caine made "a beautifully odd couple", and it's well worth another look today.
The part of Pauline, the title character's mother, in 1985's The Secret Diary Of Adrian Mole was another TV highlight of the 1980s, while she was fantastic as brothel-keeper Cynthia Payne in 1987's movie Personal Services.
Julie Walters proved that she could effortlessly play anyone from the utterly naive to the most worldly of women, and she made it all seem easy.
She could also act opposite all sorts of folks – she got the role of June, the lead's wife, in Buster, starring with music star Phil Collins, and followed it opposite Liza Minnelli in Stepping Out.
In TV movie Wide-Eyed And Legless, she was alongside Jim Broadbent and Thora Hird.
As we said, she can bring the best out of all kinds of actors, brand new or seriously experienced.
There had been a bit of disappointment, however, about Buster.
Phil Collins had played a petty criminal, but when the movie was accused of glorifying crime he is said to have advised Prince Charles and Princess Diana to avoid the premiere and avoid bad headlines.
On a lighter note, Dinnerladies, a BBC sitcom with Victoria Wood, was another success with her old sidekick, but the Noughties saw her finally getting some real recognition.
Julie won a Laurence Olivier Award for her sterling work in All My Sons, and there was an Oscar nomination and a Bafta for her role as the ballet teacher in Billy Elliot in 2002.
She has also, of course, been Molly Weasley in the Harry Potter films and played Annie Clark in Calendar Girls.
Julie also showed how far she'd come from that unruly schoolgirl when she published her first novel, Maggie's Tree, a darkly humorous tale.
She was also great as Rosie in the film version of Mamma Mia!.
Julie was delighted to be given a star on the Birmingham Walk of Stars, saying: "I am very honoured and happy that the people of Birmingham and the West Midlands want to include me."
The year 2010 saw her portray the late MP Mo Mowlam in a Channel 4 drama, and she continues to do a great job with everything she works on to this day.
A remarkable woman with plenty of highlights from her 70 years, and more to come.