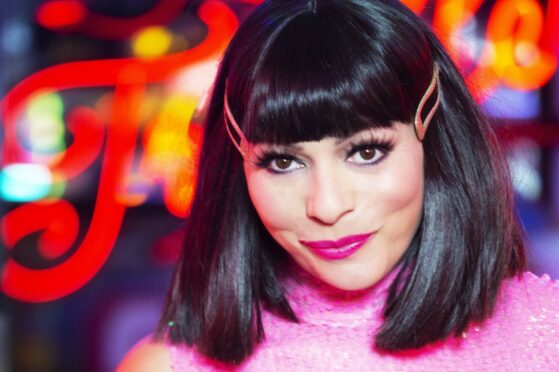 "Sometimes people post articles from Smash Hits and I think, 'I was really gobby.'"
Alison Clarkson is remembering the days she was a pop star the first time around – those days when she slagged off her competitors in music magazines, wore silver hot pants and rapped on Top Of The Pops.
Clarkson, or rather her pop star alter ego Betty Boo, is as much a signifier of life in Britain at the start of the 1990s as John Major, Nessun Dorma and Polly Pocket dolls. With two Top 10 singles in 1990 – Doin' The Do and Where Are You Baby? – Betty Boo was a homegrown pop phenomenon. Boomania, the title of her first album, turned out to be a self-fulfilling prophecy for a while.
As Betty Boo, Clarkson brought a back-of-the-class naughtiness to the world of pop. "She's a Mean Rap Vixen!" the 1991 Smash Hits Yearbook declared, "But She Lives With Her Mum!"
These days, more than 30 years later, Clarkson lives in Wiltshire with her husband, Paul Toogood, her Burmese Blue rescue cat Barry (the singer David Gray, no less, had to vouch for Clarkson's suitability as a cat owner), a serious tennis obsession – she's going to be a tennis coach, she tells me – and now a revivified pop career.
Last year she put out a new album, Boomerang, to huge acclaim, her first since 1992's Grrr! It's Betty Boo. There's another album on the way, as well as deluxe reissues of her previous two LPs, which she is releasing on her own record label.
And she's lined up to play at the nostalgia fest that is Let's Rock Scotland at Dalkeith Country Park on June 24, alongside the likes of The Human League, Tony Hadley of Spandau Ballet and Wet Wet Wet.
Clarkson can't wait, she tells me.
"They are brilliant fun because everyone there wants to have a great time, first of all," she says. "They get dressed up, they know your songs. What's a buzz for me is people rapping back Doin' The Do, which is quite a fast rap. I'm amazed people can rap along to that.
"And the energy is so good and they can take their kids. It's a great day out. But also seeing the other artists is great. The last one I did, I saw Tony Hadley and he said, 'Oh, at last I get to see you. Normally you're gone by the time I do my show.' So I was like, 'All right Tone, don't worry'."
Life is for living
Now 53, Clarkson has retained the same joie de vivre that made her younger self so appealing. "Life's for living and enjoying," she says.
And yet the Betty Boo back story – the story of a half-Scottish, half-Malaysian kid who grew up in London in the 1970s and '80s – is one that takes in devastating grief and impossible shyness.
Betty Boo is Clarkson's secret identity, in a way. Betty Boo is full of moxie. Clarkson maybe not so much. There were times, she admits, when she hid behind her pop star image.
"I am impossibly shy. Sometimes I can't even speak, I am so shy. Unless I know people. I go red sometimes as well."
There's a dichotomy at play here, though. Because when she was 17, she did an impromptu rap in front of the incendiary hip hop group Public Enemy when she spotted them at a McDonald's in Shepherd's Bush (a video of her performance can be found on YouTube). If that's not moxie, what is?
As a result, Clarkson and her group, The She Rockers, disappeared to America to tour with Chuck D, Flavor Flav (later infamous for his issues with addiction and violence), Professor Griff and the rest of Public Enemy. She didn't tell her mum she was going.
"That was naughty of me. My father had just passed away and I think I was probably running away," Clarkson says now.
"I got to see the world. It was pretty hardcore going to New York and being on tour with them."
Did Public Enemy look after her? "They did. We lived in Professor Griff's house. These are quite radical people, but they're actually real softies deep down. Flavor Flav used to drive us around as well which, actually, looking back, wasn't a good idea. I'm glad we're alive," she says, laughing.
Her American adventure is a reminder that there was always a self-belief in Clarkson that coexisted with the shyness. Growing up in working-class London, she had to fight to get anywhere, she says.
"When I was at school, the teachers weren't very encouraging. I went to a terrible comprehensive school where everyone bunked off. But I really wanted to make something of myself. And in fact I went to the careers office once and said, 'I want to be a vet.' And they said, 'I don't think so. You've got ideas above your station.'
Rap career
"And I thought, 'Well, maybe I did have ideas above my station but isn't your job to try and help me see my dreams through? Or at least steer me in the right direction?'"
Rap was to be her salvation. "It started being a hobby for me, a way of escaping. It was quite grim growing up in London in the '80s under Thatcher, from a working-class family. I suppose going rapping in the hip hop scene and making a name for myself helped me make a mark."
Rapping on the Top 20 hit Hey DJ I Can't Dance (To That Music You're Playing) by The Beatmasters introduced Betty Boo to a wider world.
"That was '89, and from there I took the baton and wrote Doin' The Do in my bedroom. I bought a sampler, a sequencer computer and a keyboard and taught myself how to use it. In those days nobody was making music in their bedroom. It was so complicated in those days. It's not like now when you can write music on your iPhone."
Betty Boo emerged fully formed, a tough-cookie rapper for the Just 17 generation with a glam rock-inspired look that mixed up Lady Penelope, Emma Peel and Ziggy Stardust.
And for a while Betty Boo was huge, having hits and winning Brits. In 1994 Madonna, no less, asked Clarkson to sign to her record label. Who knows what might have been?
But, tragically, Clarkson's mum was diagnosed with cancer and Clarkson dropped out of music to look after her. "I was in the process of making my new record when my mum passed away and I just put everything on hold," she recalls.
She didn't give up on music. For many years she has earned a living writing songs for other people, including Girls Aloud and Sophie Ellis Bextor. Her song, Pure And Simple, was a No 1 hit for Hear'Say and won her an Ivor Novello award.But turning 50 made her think it was time to revive her pop alter ego.
"I hit the big 5-0 and I thought, 'Hang on a minute, you have to do this now because if you put it off any more you're just being silly.' So I started it and then lockdown happened and that was a chance for me to really, really tap into my inner teenage self."
She has been bowled over by how well her return has been received over the last 12 months. "Overall, the love has been amazing. I did my first headline show in London last year. It sold out and the queues were going around the corner. It was so good to hear people's stories about what Doin' The Do meant to them growing up, especially for kids who hadn't come out as gay yet and they didn't know how to tell their parents. I had no idea it had that impact."
She was also an example to kids like herself. "I've spoken to lots of people who are Asian and mixed race and they said it was so nice to see someone who looked them on telly."
Back in 1991, Betty Boo appeared on a Channel 4 show called Star Test. She was asked to pick five words that summed her up. She chose "generous", "shy", "moody", "cruel" (she even called herself "Bitchy Boo" on the show) and "stubborn".
Do those words still apply?
"Yeah. I've learned not to be too bitchy these days. I've run out of bitchiness. Still painfully shy. A bit moody, yeah, but I'm much better."
Alison Clarkson is still doin' the do, then. All these years later.
---
---
Scotland's Bootiful
Alison Clarkson's upcoming trip to Dalkeith to play at Let's Rock Scotland is, in a way, something of a homecoming. She is proud of her Scottish roots on her mum's side.
"I love Edinburgh and I love Scotland, full stop," she says. "My family were from Edinburgh. I've got some second cousins who still live there that I'm looking forward to seeing when I come up.
"I really do feel connected to Scotland. It's so special and magical as a place, especially Edinburgh itself because I spent time there as a little girl. We used to go on holidays to a place called Silver Sands. Is it Aberdour? I used to tell kids at school that's where we went and nobody had a clue. Being Scottish was like being foreign. Being half-Malaysian as well, it was all a bit like that."
There is a story that the late Seymour Stein, the music executive who discovered The Ramones, Talking Heads and Madonna, once serenaded her grandmother with Scottish ballads? It's true, she says.
"At the Brits. I took my nanny there as a guest. After the awards there was a big do at the Grosvenor Hotel, or the Waldorf; one of those posh hotels. And he came over and sat down and started singing these traditional folk songs to my nanny. I was amazed that he had this knowledge of Scottish music. It really impressed her."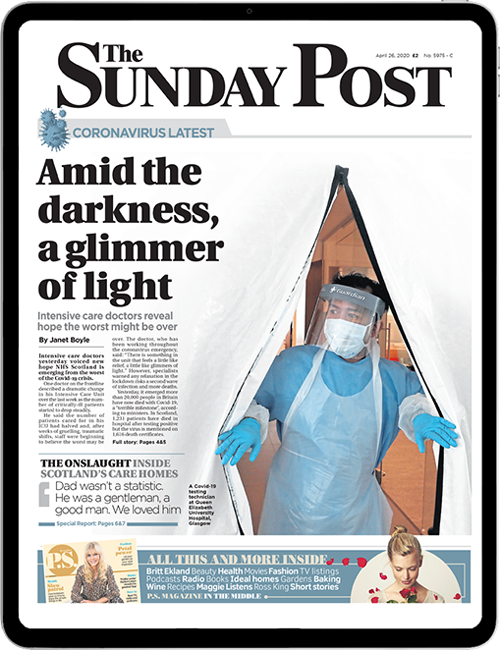 Enjoy the convenience of having The Sunday Post delivered as a digital ePaper straight to your smartphone, tablet or computer.
Subscribe for only £5.49 a month and enjoy all the benefits of the printed paper as a digital replica.
Subscribe