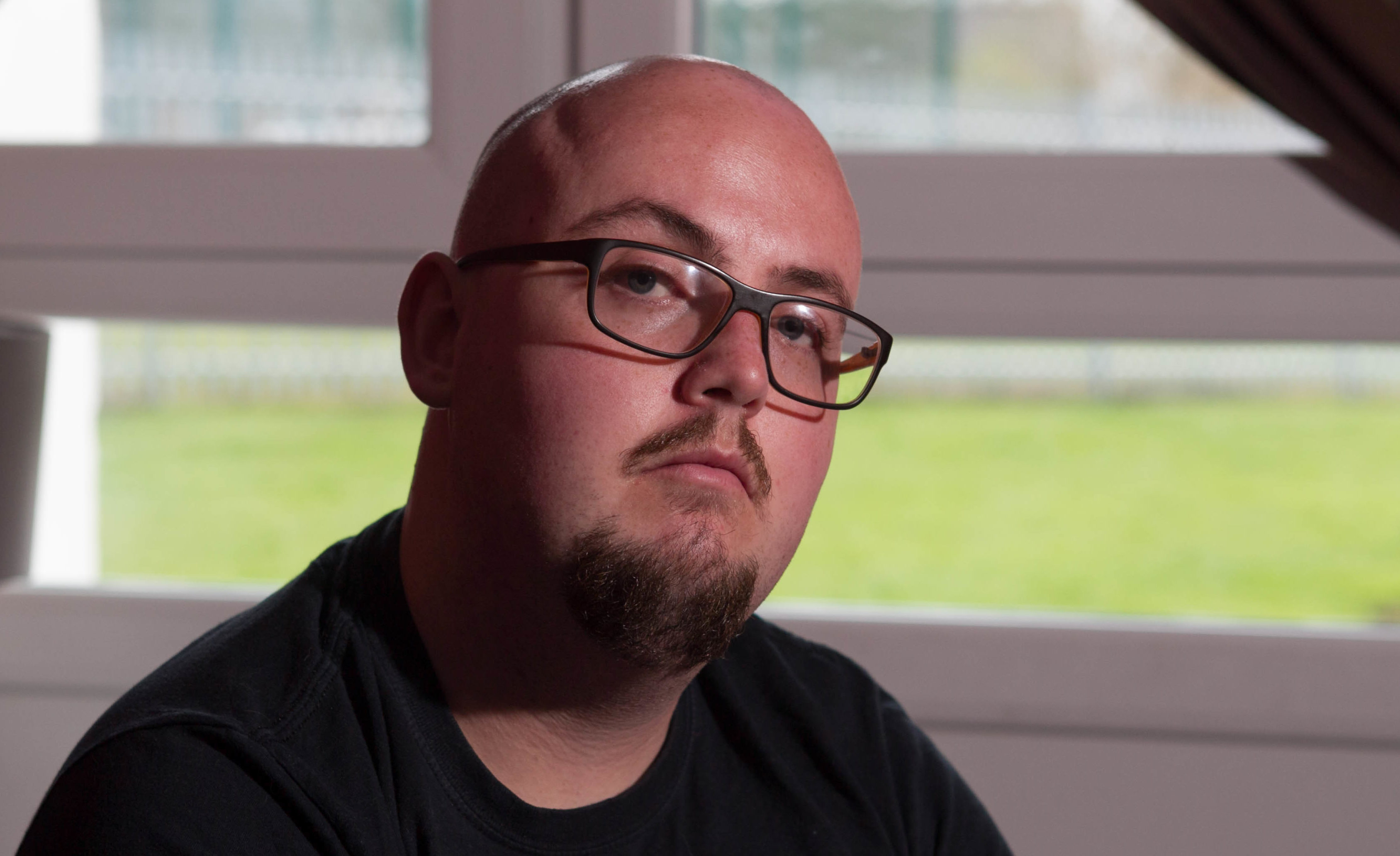 A YOUNG man with multiple sclerosis has told of his shock after being accused of lying about his condition and ordered to hand back almost £20,000 of benefits.
Michael Forsyth was diagnosed with the debilitating condition just a week before his 21st birthday and started claiming the Personal Independence Payments, which replaced the Disability Living Allowance.
But he has now been ordered to pay the money back after he was covertly followed by a surveillance team from the Fraud and Error Service.
His mobility car was also taken away last week and Michael, 26, says he now suffers regular panic attacks and is paranoid about going outdoors for fear of being spied on.
Medication for his anxiety and depression has been doubled as a result and the stress has worsened the symptoms of his MS.
Michael, who lives in Lanark, said: "When the surveillance team came to my house and showed me the DVD footage they had taken of me I felt violated. They made me feel as if I had never had an illness."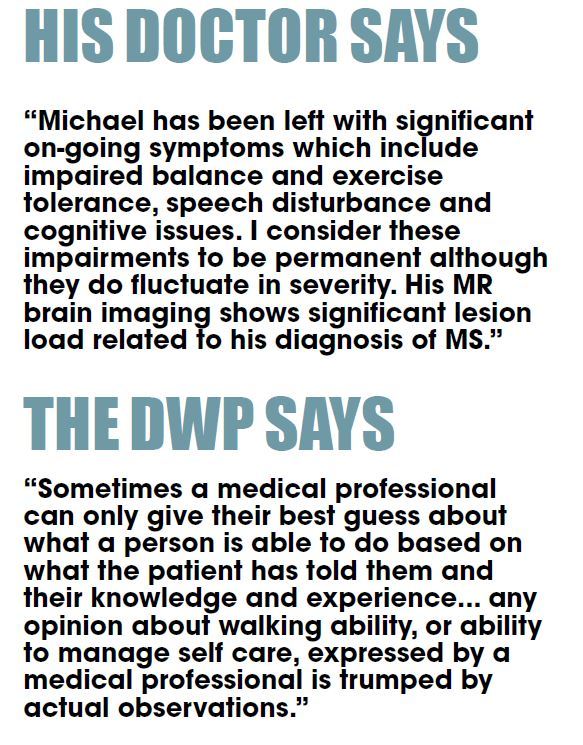 He says when he was evaluated for PIP in March 2015 his MS was particularly bad and he was in a wheelchair during the assessment.
But last June the surveillance team recorded Michael regularly walking his dog without any type of aid, exercising and cleaning his car. They also looked through his Facebook history and saw pictures of him at T in the Park, on the pitch at a charity football match and building a cabinet.
But Michael says he was with the MS Society, which he had joined to help raise awareness, at the music festival and at the football match, when, he says, he only kicked the ball a few times.
He said: "And yes, I did clean my car but what they didn't see was me having to go to bed for hours afterwards because I was exhausted.
"The nature of the illness means I can't say what I'll be able to do from day to day."
He has been to his GP surgery 38 times in the last year for a variety of complaints related to his MS such as fainting, depression, tonsillitis, migraines, insomnia and falls.
Because his PIP has been stopped, Michael's Employment and Support Allowance has also been affected and he has also been ordered to pay back £1,436.35, which will be taken from his weekly payment of £125.55 for the next four years.
Although he has yet to be told how he is expected to pay back the £17,881.82 PIP sum, he expects it will also be taken from his weekly ESA.
The Department for Work and Pensions have shared their findings from the surveillance operation, including the revised scores for the 12 activities used to determine whether someone should get PIP and how much.
Activities include eating and drinking, washing, going to the toilet, communicating and getting around.
Michael's revised scores, based on the evidence gathered, were zero for all 12 activities. He has now appealed the decision.
As part of his appeal he received a letter from his neurologist at Queen Elizabeth University Hospital in Glasgow, who confirmed that following the diagnosis of MS, Michael developed "further significant symptoms with worsening leg weakness, arm weakness, dysarthria (speech problems) and double vision."
He added: "Michael has been left with significant on-going symptoms."
But the response from the DWP insisted this was just an "opinion" and didn't give the full picture.
The letter stated: "Sometimes a medical professional can only give their best guess about what a person is able to do based on what the patient has told them and based on their knowledge and experience … any opinion about walking ability, or ability to manage self care, expressed by a medical professional is trumped by actual observations."
They added that Michael's initial assessment was a "clear and blatant exaggeration" adding that he had "deliberately misrepresented his needs."
According to the DWP, nearly 3.1 million PIP decisions have been made, and of these 9% have been appealed and 4% have been overturned.
Opinion: Niall Sommerville MS Society Scotland
"Once again, we have a case highlighting how the current welfare system doesn't work for people living with MS.
"The fluctuating nature of MS means current benefits assessments aren't suitable.
"MS is a lifelong condition with a range of hidden and unpredictable symptoms – something the current benefit system seems incapable of understanding.
"Since the introduction of PIP, one in three people with MS on the highest disability benefit have seen their award reduced after reassessment.
"The UK Government urgently needs to fix this broken system.
"Having MS is hard enough.
"It should not be made harder by a welfare system that doesn't make sense."
Critics: PIP isn't working
PIP benefits have been dogged by controversy for five years.
A survey by the Disability Benefits Consortium found 79% of respondents said assessments had made their health worse, due to stress.
Although parts of the benefits system is being devolved, it is thought it may be 2021 before the Scottish Government is in full control.
Scotland has one of the highest rates of MS in the world, with more than 11,000 people living with it in the country.
MS stays with you for life, but treatments can help manage the condition and its symptoms.
MS affects almost three times as many women as men.
To receive support or for information on benefits and MS, contact the free MS helpline on 0808 800 8000 or visit the website at mssociety.org.uk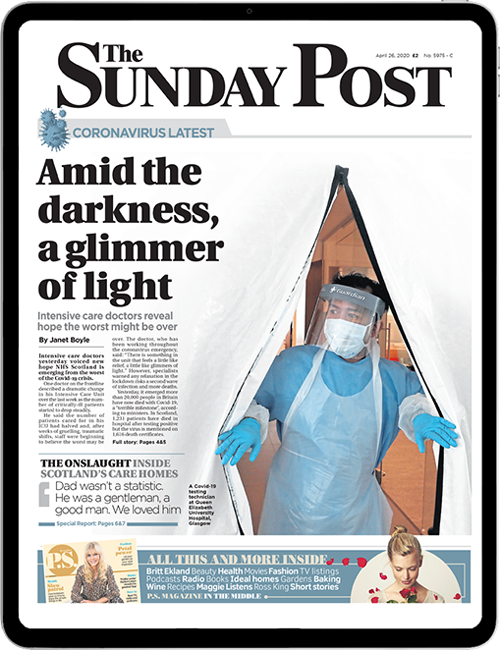 Enjoy the convenience of having The Sunday Post delivered as a digital ePaper straight to your smartphone, tablet or computer.
Subscribe for only £5.49 a month and enjoy all the benefits of the printed paper as a digital replica.
Subscribe