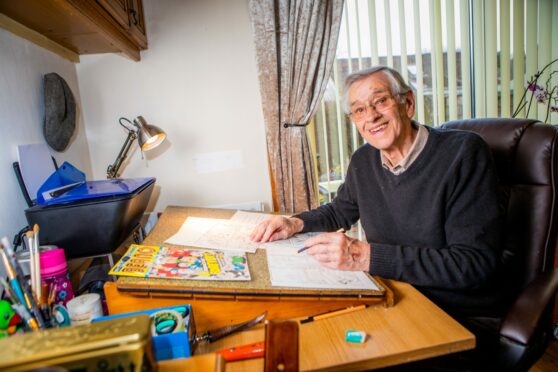 Some things have changed in Class 2B over the years, but not that many.
Two new pupils, Harsha and Mandi, may have arrived, Spotty might have become Scotty and Fatty, Freddy. However, The Bash Street Kids' aptitude for anarchy and capacity for chaos remain are one of life's constants as is the artist who has, for 60 years, drawn Beanotown's most lovable delinquents.
David Sutherland, 89, has not been drawing the world's peskiest pupils since the very start, a strip called When The Bell Rings in the Beano in 1954, the brainchild of DC Thomson comic editor George Moonie, who was inspired by the antics of schoolkids in the playground opposite his office.
However, since 1962, Sutherland, who lives in Broughty Ferry, has been solely responsible for the artwork, his brilliant comic artistry bringing life to the words of countless writers and today he looks back on an acclaimed career that has cemented his place as one of the greatest comic artists ever.
The Kids and their decades-long rampage of pranks, wheezes, and straightforward mayhem have delighted generations of children, and the artist who created the classic strips and unforgettable characters, admits he enjoys them just as much.
"After all these years I still feel very fortunate to love the job that I do. It feels like quite an achievement when the script matches the kids' antics and that is always my goal," he says.
"Keeping the artwork in harmony with the scripts has always been my motivation and I have enjoyed every moment. Sometimes ideas don't come too easy and there has been a lot of blood, sweat, tears and ink involved. The ink is the easiest one to conquer, just blot out mistakes with white paint!
"I always look forward to reading the current week's script. It could be a busy one or a nice easy one. If it's a busy script, then there is less time available to spend on humour. Afterwards, I enjoy opening the Beano and having a good chuckle and hope that the children are having a laugh along with me."
He is quick to acknowledge the role of the strips' writers and says creation of a classic comic depends on teamwork, a perfect marriage of words and pictures.
"Having a script with a clear visual image helps. I have worked with many scriptwriters over the years and I try to personally interpret their written ideas and create the visuals to match. Each writer has a unique style and so I try to match the expressions to their script. It helps when a script makes you laugh or creates an exciting visual in your mind, then I can't wait to draw it.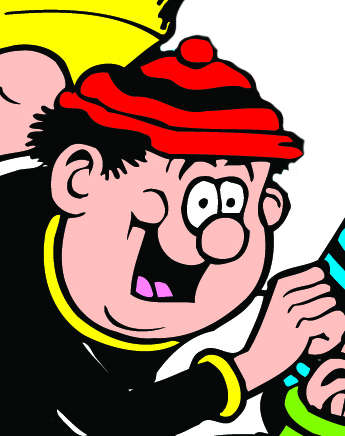 Born in Invergordon in 1933, Sutherland was the youngest of three. Sadly, tragedy struck when his mother died when he was only two and his father had to work to support his three young children, The siblings moved to Stirling, where his father's family were able to help bring up the children. Shortly after, the family moved to Kirkintilloch near Glasgow.
He learnt his trade at Rex Studios, illustrating adverts for all manner of products. When there, he attended evening classes at Glasgow School of Art to add to his qualifications. He also illustrated cinema advertising posters and was the only artist approved to draw Disney characters in the UK.
In 1959, he entered a drawing competition organised by The Sunday Post's publishers, DC Thomson in Dundee. His artwork made such an impression that he was offered the chance to illustrate adventure strips for the comics.
"I didn't win the competition but I did win a prize," said Sutherland. "I was delighted because there was a fantastic number of artists who had competed. The editor of the Beano, Harold Cramond, then took me under his wing and helped me mould my career in comics, and for that I am truly grateful."
Before The Bash Street Kids came his way, he cut his teeth on picture stories such as Danny On A Dolphin, and The Great Flood Of London.
"These detailed stories helped me gain confidence in my work. Harold Cramond then asked me to draw Dennis The Menace and Gnasher, so I was thrilled to get such an iconic figure to be my first comic strip," continues Sutherland.
"Having drawn Dennis for a short while, I was reasonably confident when I was asked to draw The Bash Street Kids. At that time, I was having to produce four cartoon pages every week."
His ability and versatility were obvious to the editor and soon he was copying the styles of the other comic artists, working on some of Beano's most famous strips, as he understudied for such legendary comic creators as Baxendale, David Law and Dudley D Watkins. But, Sutherland explains, ghosting for such an artist like Watkins, the artist behind Post icons The Broons and Oor Wullie, was something of a challenge.
"He was one of my heroes," says Sutherland. "In both picture stories or cartoons, he was pretty unbeatable. I feel certain that a great artist was looking over my shoulder!"
However, it is on The Bash Street Kids that he would create his greatest legacy. Sutherland replaced Leo Baxendale on the strip in 1962 and he continues to draw it to this day. It was Sutherland's success here that saw the Kids double from a single page to two and move to the Beano's coveted centre spread. He has drawn well over 3,000 individual instalments in the comic, and when you include all of the specials and annuals one would imagine it's now well over 4,000 episodes.
"I was average at school with the exception of art and always looked forward to that class," he said. "The character in The Bash Street Kids I would like to be would be a mixture of all of them, as I love all their good and not-so-good moods! However, if you were to push me, the one I'd like to have been at school would have been Sidney. He is always in the middle of things but never dominant.
"From an artist's point of view, Plug is my most favourite character because he has fantastic pliable features and actions that illustrate his character. I don't really have a favourite strip as there has been so many good ones over the years that have made me chuckle."
One would imagine having a dad as a comic superstar was special for daughters Lorraine and Fiona, but it took a wee while for this to seep through. But Sutherland admits it didn't stop him adding his own brood into the Bash Street mix. "Both have been added into the comic with their antics over the years. When they were young, they knew I drew for The Beano, but they really weren't aware of the popularity of the comic. It wasn't until later that they started to pay more attention to my work. They have always been proud of me and still enjoy seeing what I'm working on."
But times change, and Sutherland knew he had to go with the trend of modern comic life and comic characters as Bash Street's nine iconic kids became 11. "In recent years some new characters have been added," he says. "It takes time developing new personalities and that can be challenging. However, I always try my best to bring the characters to life as if they have always been there. It was strange to begin with as I have known the original characters for more than 50 years but times change. I am happy to go with what is required."
---
A priceless man with a special talent
His comic creations might be a teacher's nightmare but Dave Sutherland has been a dream to work with during an inspirational career spent making children laugh, according to colleagues.
Countless scriptwriters have enjoyed working with a man who has always delivered his art on time and to an unimpeachable quality.
Writer Craig Ferguson is one of them and first met him in 1985 as office junior on the Beano. "No matter how well you imagined your script being brought to life, Dave always made it even better with subtle background details and unexpected perspectives," he says.
"I remember a Bash Street Kids strip where a woodworking teacher was required to be drawn for a couple of frames and Dave come up with a flat-capped figure in braces, with a tiny saw behind one ear and with his socks disappearing into tiny wooden planks in place of shoes! Without doubt he was a master technician and master humourist."
Beano content editor Claire Bartlett is the lucky person currently charged with handling his artwork on a weekly basis. "If you ask any of our current freelance artists, they will say that Dave Sutherland was a huge inspiration when they were growing up reading the Beano," she says. "Even more so, Wallace & Gromit creator Nick Parks cites him as being a huge influence on his own career.
"I found out very early on in my script-writing days that Dave doesn't need extraneous information about what to put in each panel in the script. He knows what is funny and what will work. To unfurl his artwork when it arrives is such a joy, as you spend the next 10 minutes spotting all the extra humour he has added to the background of panels that were never scripted. To us, Dave is priceless."
"What makes Dave so very special to work with is his absolute lack of arrogance, despite having such a colossal talent and such a huge respect from the comic world."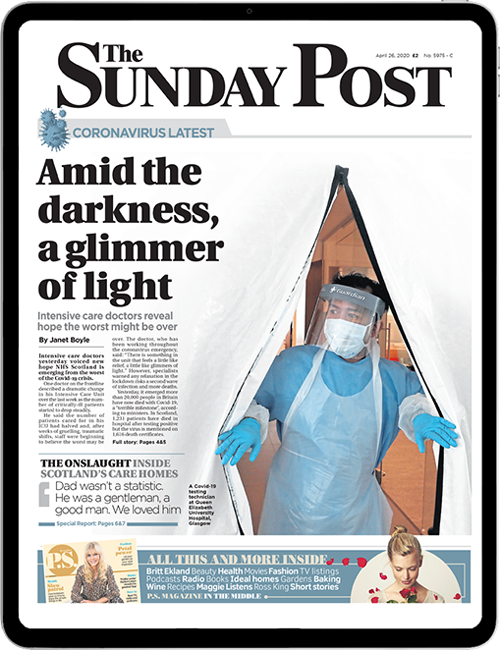 Enjoy the convenience of having The Sunday Post delivered as a digital ePaper straight to your smartphone, tablet or computer.
Subscribe for only £5.49 a month and enjoy all the benefits of the printed paper as a digital replica.
Subscribe