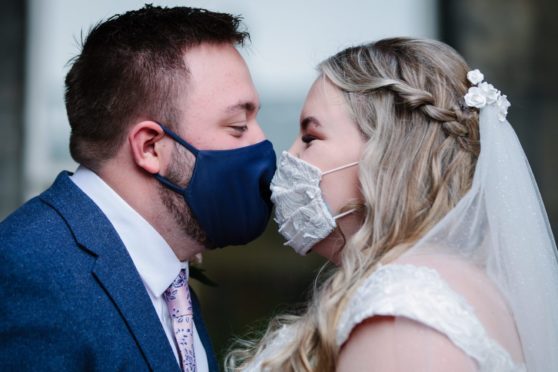 The pandemic may have us locked us down again but life – and love – goes on and, after an enforced break, Scotland's registry offices have continued to celebrate the happiest days during the darkest times.
The Edinburgh Registrar's Office for Births, Deaths and Marriages was among those lying empty during lockdown. Weddings were postponed, citizenship ceremonies moved online and new parents stayed at home with their babies, instead joining a growing waiting list for birth registrations.
The daily death toll, however, continued to rise dramatically as Covid-19 claimed hundreds of lives across the city. From their living rooms, home offices and kitchen tables, a small but dedicated team of 20 registrars worked seven days a week to achieve a heart-breaking but essential task – accurately registering every death across Edinburgh to inform the Scottish Government's daily Covid-19 figures.
Presiding over it all has been Karen Watson, registration service manager, who cannot thank and praise her hard-working team highly enough for their continuing efforts, especially as her main office in the city's Old Town has now reopened to new families and brides and grooms.
"Everything changed in 24 hours but we had to think on our feet and keep going. Sleep became a rare occurrence but it's starting to feel like we're coming out the other side of it," said Karen, 57, who has worked in the registrar team for 40 years.
In April alone, the team registered 654 deaths, more than double the amount from 2019. "Early on, the sheer volume of death registrations was very upsetting. It is also one of the most rewarding parts of the job, to know you've helped someone through that difficult process, especially when someone has passed away before their time," she said.
"My team has been tremendous."
Now back in the office, Karen's registrars have been working through a huge backlog of birth registrations, and making sure brides and grooms finally make it to the altar.
"We were facing a backlog of over 2,000 birth registrations since March," said Karen.
"We were given 24 hours' notice that weddings were back on outdoors in June. It was incredible how quickly, with the help of our council colleagues in parks, we were able to create a lovely venue in Dunbars Close Gardens. Couples have been so grateful that we've made their wedding possible."
One positive lasting legacy of Covid-19 is a streamlining of processes that Karen hopes to make permanent, including registering deaths over the phone.
"There has probably been more positives for us than negatives in terms of the way we work," she said. "People had to register deaths in the office but doing this over the phone, in the comfort of their own home, is easier for those who are bereaved. I hope it's something we can continue."
---
The newly-weds
Newlyweds Jessica and Ethan emerge hand-in-hand from the Alexander Suite of the Edinburgh Registrar's Office, thrilled and relieved to be married at last.
After a whirlwind of cancelled wedding venues due to Covid, the young couple have travelled 160 miles from Holmfirth, West Yorkshire to tie the knot in a small ceremony in front of close family.
"I feel so relieved and happy to finally be married. It's been such a rollercoaster," says Jessica, 20, her dress glittering in the blazing September sun.
"Planning a wedding is stressful at the best of times but we're onto our third date and sixth wedding venue. A reception venue cancelled just last week but my mum found us another one. It has been stressful but it was actually easier to plan a wedding in Scotland," she says.
The couple, who have been together for five years and got engaged in January, originally planned to marry on September 18 at a local Yorkshire vineyard, with 60 day-guests plus another 60 for the evening reception.
"We've no idea when coronavirus will be gone, so we decided to get married and have part two when things calm down. At least we won't be as nervous," adds the bride.
On their first visit to Edinburgh, the couple married in a traditional ceremony. At least the unpredictable Scottish weather was on their side. "We've planned so many different weddings," says the groom, Ethan, 21. "At least we've been lucky with the weather."
Although marrying in masks, perfectly designed to match Jessica's dress and Ethan's suit, was a surreal experience, the couple say their ceremony was perfect, and praise the Edinburgh Registrar's Office for ensuring their day went as planned.
"One of my biggest worries was wearing a face mask walking down the aisle. I was worried about my makeup! It was surreal but at least we could take them off to say our vows," adds Jessica.
Social distancing restrictions meant only 12 guests could attend the ceremony, which was live-streamed to other family members and friends via the video conferencing app, Zoom. Ethan's grandad, Keith, watched the wedding on his phone outside in the courtyard. "It's a shame but I don't mind. I'm just so happy for them," he says, beaming with pride.
The bride added: "We were sad to not have everyone here but the main thing is we got married in front of our close family."
Before jumping in a taxi to their reception dinner at Riddle's Court, followed by a 10-day honeymoon around Scotland, Jessica said: "I can't believe we've done it. Now we can just relax and celebrate!"
---
The new parents
Starting a family in the middle a global pandemic isn't what first-time parents Alyssa and Tom Parker expected nine months ago. Today, however, they are over the moon to register the birth of their first son, Owen Arlo Parker.
While some families waited months to bring in their newborn, little Owen is just 19 days old when he arrives at the Edinburgh Registrar's Office for his birth certificate. He remains fast asleep in his pram for the milestone moment.
"Registering Owen's birth and getting the certificate was a lovely moment. We weren't concerned as we trust the staff here know what they're doing," says new dad Tom, 32.
Owen was born at the Edinburgh Royal Infirmary on August 29 at 2.52 am, following an eight-hour labour and an emergency C-section.
"I was definitely a little scared but excited," Alyssa, 31, recalls. "This is the busiest time of year for having babies but the midwives were amazing and the aftercare was great.
"I felt lucky that Tom was there for the delivery as I wouldn't have been able to do it alone. The women that have are so brave."
Tom, a climate change researcher at the University of Stirling, adds: "I had to leave about an hour after Owen was born, which I wasn't expecting but the staff need to do their job."
Tom, from York, met Michigan-born Alyssa nine years ago in America. They travelled the world together before settling in Edinburgh three years ago.
The pandemic has meant Alyssa's family in the US have only seen Owen on video calls.
"I was 20 weeks' pregnant in March so we've basically isolated throughout the pregnancy," adds Alyssa, who is on maternity leave from her job with The Royal Society for the Protection of Birds charity.
"It has been hard, not seeing many people during my pregnancy and after the birth, especially my mum and dad. They have a flight booked so they'll make it here soon."
Smiling at her snoozing baby boy, Alyssa adds: "We've been tired but every day seems to get a little better. He's here now and that's what matters."
---
The concierge
With her sharp three-piece suit, vivid pink lipstick and sparkling diamante accessories, wedding concierge, Heather Smail, is a familiar and friendly face.
Her job for the past three years has involved escorting brides and grooms to their wedding suite, cracking jokes to settle pre-wedding nerves, keeping the best man in check and making sure every guest is seated before the bride walks down the aisle.
The gran and mum-of-one says her dream job has been hard in the past months. However, she has risen to the challenge with professionalism and warmth.
"Being a wedding concierge is the happiest job in the world," beams the 61-year-old as she waves goodbye to her third wedding party of the day.
"We can have up to seven weddings a day and each is different. It's a wonderful thing to be part of."
Since the onset of the pandemic, Heather's role has extended to providing empathy and support to grieving family members as they say a final goodbye to their loved ones. As the death toll in the city rose during the pandemic, Heather relocated to the Main Chapel at Mortonhall Crematorium.
"I stood in as a Chapel Officer as some of the staff had to self-isolate. In the first 12 weeks, I sat through 527 funerals. Eight funerals a day, five days a week. It was constant," she recalls.
"It was so hard, especially being limited to 20 people. That was heartbreaking. I wear a visor so people can see my face. It's important people know that, emotionally, I'm there for them. I had to say to myself, this is a celebration of life otherwise I would've been very low.
"It has been hard because I'm a very tactile person. After a couple has been married, I'd usually give them a cuddle or offer to soothe a crying baby. Not being able to do that has been difficult but necessary. It's still the best job in the world though."
---
The trainee
Brooke Cairns has spent the past year learning on the job in the busy Edinburgh Registrar's Office as one of the team's hard-working modern apprentices.
However, no amount of training could prepare the 20-year-old for suddenly having to walk shocked and grieving families through the process of registering the death of a loved one suddenly taken by Covid-19.
"I had only registered two deaths myself before the lockdown. Then it was all I was doing while working from home," she says. "I was anxious at first. So many of those deaths were unexpected, it was awful. Registering a death is obviously a very sensitive and horrible time for anyone but afterwards, people are usually so thankful that we've helped them."
Brooke is now determined to pursue a full-time career in the Registrar's Office. "This is the first job that I've enjoyed. It's so interesting and very rewarding," she says.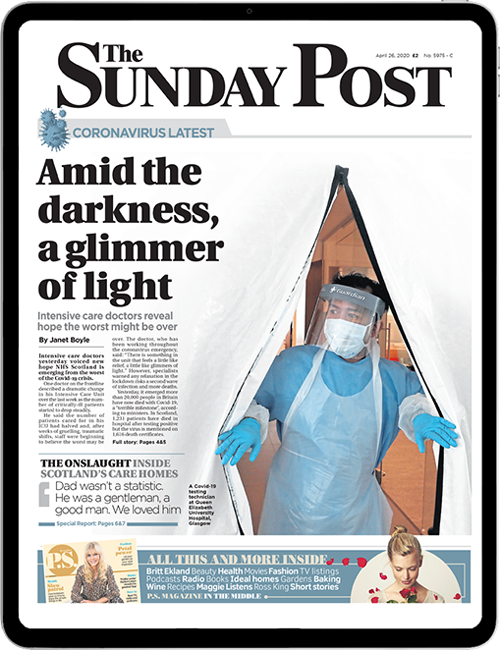 Enjoy the convenience of having The Sunday Post delivered as a digital ePaper straight to your smartphone, tablet or computer.
Subscribe for only £5.49 a month and enjoy all the benefits of the printed paper as a digital replica.
Subscribe