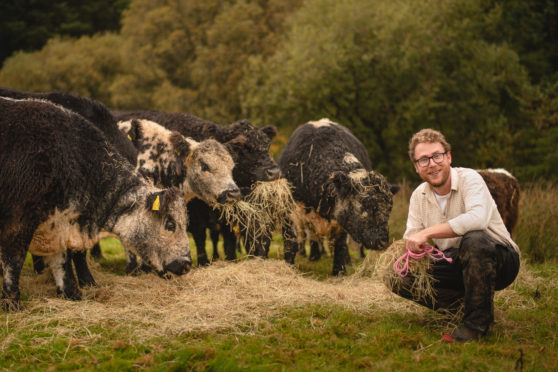 Farmer Patrick Laurie's neighbours looked on in amusement when he turned the clock back to follow his grandfather's way of rearing cattle.
But the old ways are paying off, as he is now the proud owner of a thriving rare breed herd – and seen the return of threatened wildlife to his land.
The writer and conservationist went back to "slow" farming, shunning modern technology in favour of ancient traditions and clapped-out machinery, and tools that have long been abandoned by other farmers.
In his book, Native: Life in a Vanishing Landscape, which comes out next month, he tells how he invested in an archaic breed of Scottish cattle, Riggit Galloways, and how his traditional farming methods have encouraged birds and hares to proliferate on his farm in Galloway.
"In a tiny way, I'm doing something good in the middle of the world's disastrous climate change and biodiversity crisis," said Patrick, 34.
He believes that going back to native cattle breeds and an old-fashioned, hands-on way of managing them could be the way forward for farming – and a way to conserve Scotland's natural heritage.
Patrick's interest in traditional farming began with his concerns about the dwindling numbers of curlews, coastal wading birds that were once common on farms such as the one he grew up on, but now are increasingly rare.
"The birds used to be absurdly common, and now they are nearly gone," he said. "We've lost three-quarters of our curlews in Galloway since the 1990s, and some parishes have lost them all."
It was while working for a charity that promoted conservation in agriculture that Patrick discovered the overlap between farming and curlews.
"Managed correctly, farms can produce a wealth of wildlife," he said. "I was assigned to follow some case studies where cattle were used to improve the land for curlews. I envied the farmers who were pumping new curlews into the sky every summer against the odds, and I began to wonder if I could join them."
He had fond memories of his grandfather and his herd of Galloways, a hardy native breed, which has mostly been replaced by fast-growing imported breeds as agriculture has intensified. Patrick began to build up a herd an ancient breed of Galloways – the Riggits – a tough, small animal with a white stripe down its spine and a scruffy, thick coat that gives them an endearing appearance and has earned them the nickname "teddy bear cows".
These quirky animals are perfectly adapted to the windswept hills and moorlands of Galloway and thrive outdoors even in the wildest winters. "Galloway cows have a particular knack for digesting rough grass," said Patrick. "They're born hungry, and they'll fatten on feed many other breeds would refuse to sleep on."
The rare 17th Century Scottish breed, unlike pliable crossbred Charolais-Limousin-Angus cattle, are semi-feral and hard to control.
"In the old days, gathering pens were sealed with granite posts and reinforced with railway sleepers – if you came across old pens without explanation, you could assume they were built to contain dinosaurs," said Patrick. "My first heifers were absurdly independent. I was ready to care for them, but they didn't need anything from me. They came out of the lorry, vanished into the whins and I didn't see them again for a week.
"I'd been told they would be low maintenance, but I found they were no maintenance. They made it clear that my duty was to feed them and then get lost."
He had to learn how to handle his cows the hard way. "You can't push Galloways," he said. "The old hills called for tough, resilient beasts, so we bred them to have a mind of their own. Press too hard and they'll turn away or stop altogether.
"Movements must be made with a light and guiding touch. If it doesn't work, just walk away and try another time.
"At first they wouldn't obey me. I'd blast them with curses and tore the shirt off my back in fury, but my anger just thrilled them and it made them worse."
Despite their thrawn nature, Patrick grew to love his bolshie herd. "Galloway Riggits are a magical breed that are as hardy as the old farmers who used to handle them."
His desire to revert to farming methods last seen 50 years ago led Patrick to quiz retired farmers, who watched in disbelief as he returned to the old ways and bought a run-down tractor and plough rather than using a combine harvester for the oat and turnips he grows for cattle feed.
He also hand-ties sheaves of oats, pulls turnips by hand, and scythes grass for hay – a backbreaking task compared to much quicker and easier silage.
Bringing back the old ways also brought back the wildlife and now Patrick's farm teems with endangered birds and animals.
"Combine harvesters are really efficient, taking up 95% of the crop, but my methods only harvest 65%, so there's plenty of food left in the field for wildlife."
Soon he was seeing more hares, whose young are often mauled by combine harvesters, as well as yellowhammers, skylarks, meadow pipits, cuckoos and birds of prey such as kestrels, hen harriers, hawks and owls, all attracted by the voles and mice.
A pair of curlews has returned to the farm, but it's difficult to reverse the damage to their numbers and for their young to survive predation from foxes.
"I'm only one person, doing what I can. I'm afraid it's hard to turn the fortunes of curlews around."
Conservation is all very well but, having seen his father leave farming to become a solicitor, Patrick knew he also had to make his farm pay.
"Curlews don't pay the bills. Our beasts have to do much more than drift around and help the birds.
"It's easy to get tangled up with the fine details of conservation and wildlife, forgetting that everything depends upon finance and a stable business."
His Riggit Galloways do pay their way. Because their muscle is laid down slowly, chefs from Canada to New Zealand prize the superb flavour and melting texture of Galloway beef.
"I burned with pride to hear Galloway beef being celebrated across the world. Maybe I couldn't make conservation pay the bills, but there was clearly cash to be found in fine farm produce."
From buying his first heifer seven years ago, Patrick's herd has grown to 12 breeding cows and a bull, and he sees the farm as a lifetime's work he can leave to his baby son, Finn.
"I've taken huge value from knowing where I'm from and from having a sense of place. Even if Finn goes off to live in Las Vegas, I know I'll have given him a grounding in this place."
Patrick has seen other farmers' attitudes to his methods change and would like to see more farms go back to the old ways.
"They can see the point of what I'm doing and are more open-minded," he said. "Farming is in a precarious state and they are looking with interest at what I'm doing.
"I hope in a small way that this kind of farming helps save our vanishing landscape."
Native: Life in a Vanishing Landscape by Patrick Laurie is published by Birlinn and comes out on April 2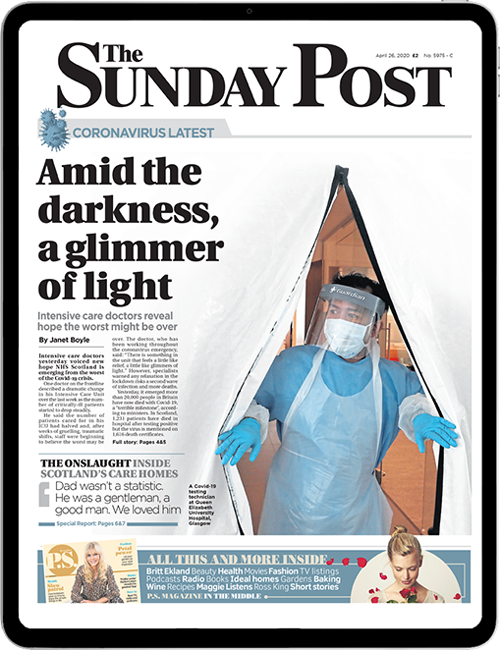 Enjoy the convenience of having The Sunday Post delivered as a digital ePaper straight to your smartphone, tablet or computer.
Subscribe for only £5.49 a month and enjoy all the benefits of the printed paper as a digital replica.
Subscribe