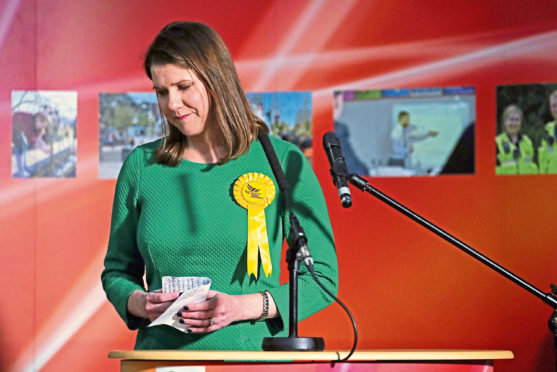 The decision taken by the Lib Dems and the SNP to support Boris Johnson's calls for a General Election in November was a disaster for opponents of Brexit and built on "astonishing arrogance", critics have claimed.
They spoke out as a new book, called Left Out, details how Lib Dem leader Jo Swinson was convinced her party could win up to 200 seats in the election before joining the SNP in supporting the Tories' calls for a poll intended to break a deadlock in the Commons.
Instead, her party won only 11 seats and Swinson, who was described by opponents as delusional after insisting she was a potential Prime Minister during the campaign, lost her own in East Dunbartonshire.
Boris Johnson won a majority of 80 and has used it to drive through Brexit while, in recent days, threatening to redraft the Withdrawal Agreement in preparation for a no-deal exit from the EU.
Ian Murray was returned as Labour's only MP in Scotland in December's General Election. Yesterday, he said: "It was always a mistake to hand Boris Johnson the election he so desperately craved. We knew that from all the polling.
"The Tories had a simple 'get Brexit done' message – that's now been exposed as a fraud, and the SNP gained from a Tory victory to increase their tactics of grievance – and not for the first time.
"The Lib Dems, though, were guilty of astonishing arrogance and abandoned the People's Vote campaign at a critical moment to pursue an aggressive election strategy, joining forces with the SNP, and ultimately getting their just desserts.
"We're now saddled with a dangerous and incompetent Johnson government with a huge majority that we all predicted. Short-term political opportunism was put ahead of the country, and we're all paying the price for this reckless backroom deal."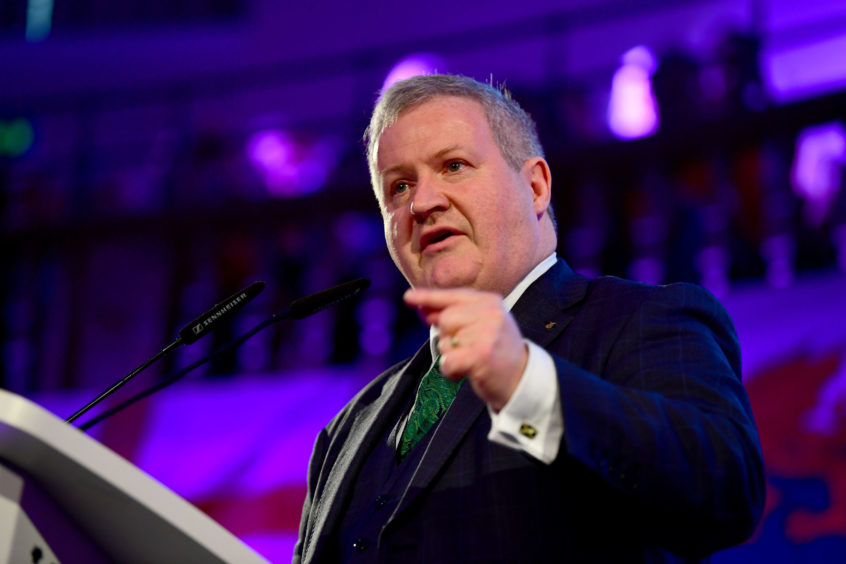 Left Out reveals details of how Swinson and SNP Westminster chief Ian Blackford joined forces to make a last minute U-turn on their opposition to a General Election and, in a surprise move, backed the Tory government's calls to go to the country.
Mr Johnson last week set Britain on a collision course with the EU after threatening to renege on key aspects of the withdrawal agreement he struck last year. The UK Government's Internal Market Bill seeks to override parts of the Brexit deal and defy international law in a move that EU negotiators suspect is an attempt to crash the talks and usher in a no-deal Brexit.
The bill has been widely criticised, including by Nicola Sturgeon, who described it as a "full frontal assault on devolution".
Johnson's bill is likely to be passed thanks to his 80-strong majority in the Commons, in stark contrast to his position this time last year when he had no working majority, 21 Tory MPs had the party whip withdrawn for voting against the government and even his own brother had resigned from his Cabinet. Johnson failed three times to call an early election, but he was handled a lifeline by the Lib Dems and SNP when they proposed holding a General Election to secure a Brexit extension. Blackford said this was necessary in order to "remove the risk of a devastating no deal Brexit".
According to Left Out: The Inside Story Of Labour Under Corbyn, private polling in the summer for the Lib Dems suggested they were leading in 73 seats.
Authors Gabriel Pogrund and Patrick Maguire suggest its effect had been to "intoxicate" leader Jo Swinson and her inner team. "They had travelled to Bournemouth for their conference the previous month as if under the influence."
Former Labour MP Chuka Umunna – "a voice Swinson had come to value alongside the old sages of her parliamentary party" – had even suggested the Lib Dems could win 200 seats. "An election promised riches untold since the days of Cleggmania."
The incentives were also "obvious" to Nicola Sturgeon. "For one, the intensity of the Brexit drama in the Commons seemed directly proportionate with the SNP's strong position in the polls. In this alone they found common cause with Johnson – fatigue with the European question, and with it the dysfunction of Westminster, spelt electoral opportunity."
Alex Salmond's trial was also looming. "No matter how inclement the weather or scant the winter light, a winter election made far more sense than any alternative. Where the SNP went, the forces of political gravity demanded Labour follow."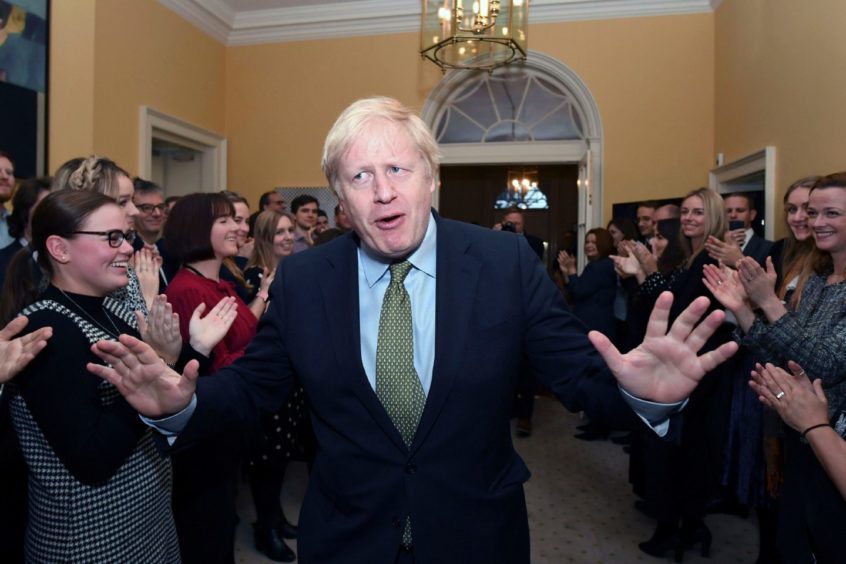 After Mr Umunna met with parliamentary clerks to discuss legislation, the Lib Dems sought support from the SNP. "Swinson called the man whose party would unseat her: the SNP's Ian Blackford, who quickly gave his blessing."
On December 12, the Tories won a landslide majority of 80 and Jo Swinson lost her East Dunbartonshire seat to the SNP after leading her party for 144 days.
Political strategist Alastair Campbell, who was communications chief for Tony Blair, told The Sunday Post: "I will never understand why the Lib Dems pushed for it, and once the SNP moved, it was virtually impossible for Labour to hold out. The Tories were desperate to get to an election without resolving Brexit, and the opponents of Brexit played into their hands."
Mr Campbell, who was an adviser to the People's Vote campaign, said "we will never know" if Boris Johnson would have been forced to concede a second Brexit referendum if there had not been a General Election.
"But I felt at the time we were closer than ever to getting a second referendum, but that as soon as this sense of inevitability of an election gathered pace, it was all over," he said.
But James Mitchell, professor of public policy at Edinburgh University, said securing a parliamentary majority in favour of a second referendum would have been "highly unlikely".
He said: "I can't see how Johnson could have been forced into a second referendum. He would have done everything to oppose this and so too would many others in the Labour Party. We are where we are largely because of Labour divisions."
Professor Michael Keating, chair in Scottish politics at Aberdeen University, said Britain is closer to a no-deal Brexit than ever before.
He said: "Johnson got his deal not because he got a majority, but because he caved in to the Europeans over Northern Ireland. What is clear is that the mandate he got made it makes it much easier to deliver a no-deal Brexit.
"He couldn't have got no deal out of the last parliament. No deal is made more likely by the election result because Johnson can now deliver it if he wants to.
"We're looking closer to no deal than we've ever been in the past."
Ian Blackford said: "We ended up in a situation that the Withdrawal Agreement Bill was presented to parliament and there was a significant number of Labour MPs who voted for a second reading.
"That was a hugely significant moment because it indicated that, despite what the Labour whips were doing, there were Labour MPs who were willing to support the agreement that Boris Johnson had brought forward.
"In that sense there was no other alternative at that point but for people to take the responsibility and have a General Election.
"What we were looking for was for others to step up to the plate and do what we did, which was to spend the election campaign fighting for Britain staying in the EU.
"We delivered and it was the fact the other opposition parties couldn't do so that has left us in the position that we are in."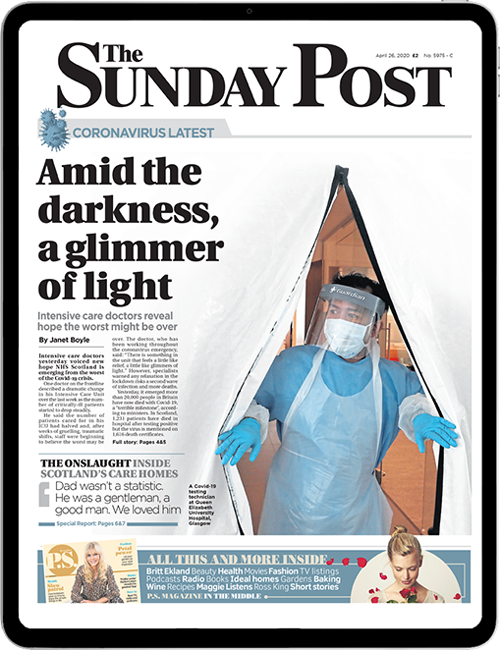 Enjoy the convenience of having The Sunday Post delivered as a digital ePaper straight to your smartphone, tablet or computer.
Subscribe for only £5.49 a month and enjoy all the benefits of the printed paper as a digital replica.
Subscribe