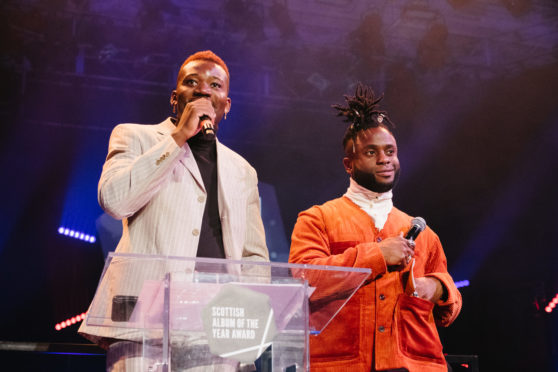 A number of acts previously involved with the Scottish Album of the Year (SAY) Award have had their say on their top picks from the last year.
Twenty of the best Scottish albums from the last 12 months will be announced as the SAY Award longlist at an event in Edinburgh next week.
Young Fathers picked up last year's top prize for their album Cocoa Sugar, and there are plenty of acts in the running for top spot and a prize of £20,000.
Mogwai guitarist Stuart Braithwaite said: "The record (alongside all the releases on Rock Action, obviously!) that I'd love to see on The SAY Longlist is Throne by Heather Leigh.
"She's a fantastic experimental musician and it'd be great for her music to reach as many people as possible."
Previous SAY Award winner Kathryn Joseph said: "All my parts are crossed that The Twilight Sad get the win they deserve. It Won/t Be Like This All the Time is a perfect and beautiful record and they are the best of all humans."
It was a sentiment agreed by Stina Tweeddale of Honeyblood, who said: "The Twilight Sad's It Won/t Be Like This All the Time is an exceptional album that cements the band as a pillar of Scottish music. It really blew me away.
"It brings them to a new dimension of bigger and better without destroying the central elements of their unique sound.
"Carla J. Easton's Impossible Stuff sees Carla step into her own with this record and push through into a more vulnerable place with her song-writing while still holding on to her pop sensibilities. I absolutely love it."
Niall McCamley from The Spook School said: "Free Love's album is so fun, so catchy, so dreamy. I feel they can take me to a party and also gently put me in a state of meditation.
"The Kapil Seshasayee record always blows me away, it is so important and relevant, and it sounds so good. The Hector Collectors are just so much fun and I love their brains!"
This year sees the SAW Award moving to Edinburgh for the first time. Live at the Longlist takes place on Friday July 26 at the Queen's Hall, while the final will be at the Assembly Rooms on Friday September 6.
Tickets for Live at the Longlist are available here.