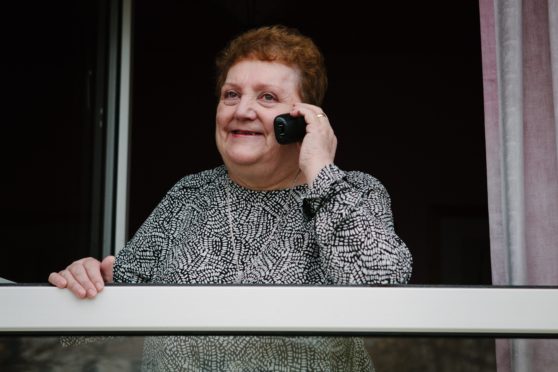 Most of us are lucky enough to have someone to talk to, someone to reassure us in these uncertain, worrying times.
But some Scots are alone in the lockdown, forced to cope on their own with the fears the rest of us can share.
And for many elderly, who are, of course, most at risk from Covid-19, living alone, with no one to turn for help, advice or just a friendly word, life can become unbearable.
It's been inspiring to see communities and charities across the country rallying round to help our most vulnerable during these troubling times.
And today, we are asking Sunday Post readers – famously big-hearted – to help fund and strengthen a hotline that will reach out to those who are most in need.
National charity Age Scotland has been swamped with hundreds of callers looking for words of comfort or guidance and has now launched a Friendship Calls initiative. Ten volunteers have so far been enlisted to make follow-up calls to people flagged by the charity's operators as needing extra support or, often, just a blether.
---
DONATE TODAY
Text AGESCOT to 70490 to donate £10
Call 0333 323 2400
---
Brian Sloan, Age Scotland's CEO, said: "The money raised by Sunday Post readers will allow us to double the number of calls we can answer on our helpline, and so vastly increase the number of Friendship Calls we can make every week to those in need.
"Just £10 will ensure that two people receive a Friendship Call. It will also ensure this service is there for our older vulnerable people, for not just days or weeks but in the months to come."
He revealed calls to the charity's helpline had increased tenfold from 70 per week to 700 in the past two weeks alone.
He said: "People have been phoning for information and advice but actually we've been finding that about one-third of these calls are people wanting to chat and hear a reassuring voice.
"One caller told us they hadn't spoken to another person for two weeks. We need to remember that tens of thousands of older people are having to stay at home because they are most vulnerable to this virus. Thousands of them will already have felt lonely and isolated, and will only feel more secluded as this crisis continues. We have to make sure that we are there for them."
The Scottish Government has tasked Age Scotland with taking 1,500 calls a week. While it can give callers important information, including advice on accessing food and medical prescriptions, the need to keep isolated people socially connected has become paramount. As well as the mental health impact, studies have linked acute loneliness to high blood pressure, heart disease and obesity, increasing mortality by 10%. It is also linked to a weakened immune system, leaving lonely older people at greater risk of infection.
Even before the Covid-19 pandemic, 100,000 older Scots had admitted to feeling lonely, while 200,000 would go for several days without receiving a visit or a phone call.
With strict self-isolation measures keeping older Scots confined to their homes, loneliness could have a devastating impact on many people's health and wellbeing.
---
Where your money goes
£10 would pay for two friendship calls to an older person
£25 would pay for a week of daily calls
£100 would sponsor a helpline adviser for one day's worth of friendship calls
£500 would pay for 100 friendship calls
---
Edinburgh-based psychotherapist Ronen Stilman explained: "When we are isolated, we become withdrawn physically and then psychologically.
"That can lead to things like depression and anxiety but also the unintentional reduction of self- care. People could stop eating or following good hygiene practices, which is so important right now. There's also an increased risk of psychosis – our connection to reality. Isolation can exacerbate this, so you could potentially see an acceleration of things like dementia.
"But regular contact with others can help to bring a person's body and mind into rhythm, as they are required to focus on the present.
"Establishing a human, social connection is incredibly important because it can greatly reduce stress and anxiety, which is why something like a friendly phone call can make such a big difference to vulnerable people."
The Age Scotland helpline is free and confidential, available Monday to Friday, 9am to 5pm, on 0800 12 44 222.
---
"Life can be scary and lonely. It's nice to be able to talk about happy things"
Margaret Foley, 76, is a widow who lives alone in Glasgow. She explains what receiving a Friendship Call from Age Scotland volunteer Alice means to her.
I've certainly shed a few tears in the last weeks and have been feeling uptight and anxious. I've lived alone since I lost my husband, John, six years ago to cancer. We were married for nearly 50 years and I really miss him. My son's family is self-isolating because he has very bad asthma. I can only speak to them on the phone because my computer broke three weeks ago. It's nice to hear their voices but it's heartbreaking not being able to see my two grandchildren.
Most of my friends have passed away, too, so I've been feeling very alone and Covid-19 has just compounded that loneliness. I'm high risk because I have diabetes and COPD. I called the number for Age Scotland after I saw it on a letter from the Scottish Government. Two days later, I got another call from Alice. It was lovely to hear her voice and for someone to take the time to find out how I was doing. I liked that we could talk about things that weren't about the virus. It gave me a chance to forget about all that for a while. It was nice to get that call because I did feel very alone. I don't like living by myself right now.
With everything that's going on, it's very frightening. It's easy to fall into a depression when you are alone anyway but it's even worse now.
That's why the phone call was so nice. Alice was so friendly and caring. She told me she had the same anxieties as I did, so I didn't feel so alone. It was very reassuring and hearing her voice after I hadn't spoken to anyone in a while. That meant the world to me and truly lifted my spirits.
I can't recommend these Friendship Calls highly enough. It's exactly what we need in these times. The world is scary right now but you've just got to get on with it. I have faith that these brilliant scientists will make a vaccine. We'll be OK and we will be able to meet again, as the Queen said.
In the meantime, we just have to have patience. Organisations like Age Scotland will help people like me through this.
---
"Sometimes a little chat can brighten a lonely day"
Sheona Dorrian, 26, leads Age Scotland's small group of volunteers who are making vital Friendship Calls to older people living in isolation across Scotland. She explains how these caring calls can have a huge impact.
This is a really hard time for older people who need to stay home, especially anyone who lives alone and doesn't have family nearby. A phone call seems such a simple thing but it can have a huge impact. People will simply ask if they can have a chat because they haven't spoken to another person in days. Many also say they feel quite lost because isolating has stripped back their routines and they feel cut off from the outside world.
Having a conversation with someone on the phone can help take their mind off things. Very often people will come on the phone sounding confident, but once they start chatting will become emotional and break down in tears. One woman called asking about her food delivery but then spoke about her family, and her newborn grandson. She told me she was scared she would never get to meet him.
Another main concern is people becoming overwhelmed with conflicting information in the news. We get a lot of people asking what they can and can't do and we just need to give them the NHS and Government advice. But once they get that reassurance, they feel much better.
We can advise on where people can arrange food and medicine deliveries but mostly we talk about little things like what's on their mind, what worries them, things they miss doing and what they've been watching on TV.
Before the pandemic, the number of older people living by themselves or feeling lonely was the equivalent of one older person in every street in Scotland. These Friendship Calls are vital right now because that number is just going to go up and loneliness really can do harm to people's health and well-being.
My main concern is people don't know that we're here for them. I know it can feel daunting calling someone you don't know but that's what we're here for. These calls make people's day a little brighter and that's so important right now.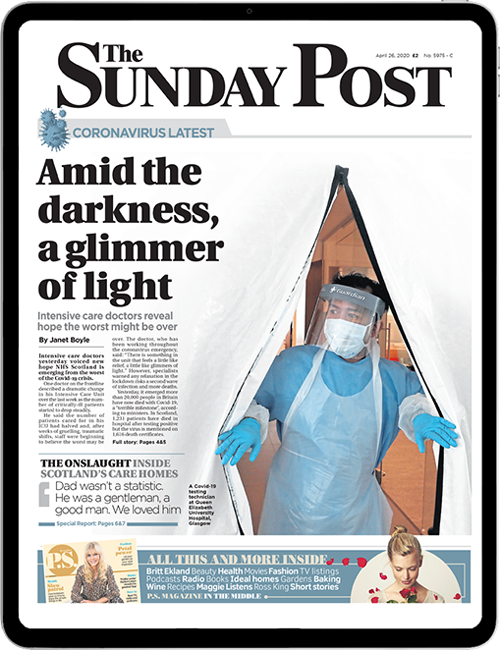 Enjoy the convenience of having The Sunday Post delivered as a digital ePaper straight to your smartphone, tablet or computer.
Subscribe for only £5.49 a month and enjoy all the benefits of the printed paper as a digital replica.
Subscribe