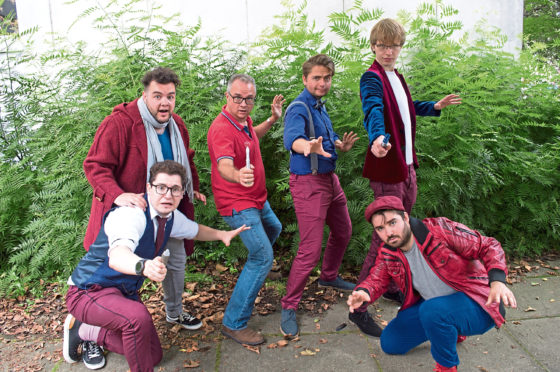 "Honestly, officer, I was just pretending to be a Dalek."
Well, what else could you say to a member of the Edinburgh constabulary when you're found standing in some bushes pretending to menace some oddly-dressed chaps while brandishing a sink plunger and an egg whisk?
To be honest, this wouldn't have been the first time I'd been in these particular bushes, which are to be found outside Edinburgh University's Potterow student union.
Because, 30 years ago, this was one of my regular watering holes and – alas – "kicking out" time was never followed by "give the lads 10 minutes to have a wee first" time.
On this occasion, I was trying to take photographs to illustrate Any Suggestions, Doctor?, an improvised Doctor Who parody show currently enjoying its fourth hit run at the Fringe.
And I wasn't half-cut and craving a post-pints kebab.
The reason for the unusual photoshoot venue was simple. This being the Fringe, the boys didn't have access to their stage set and props as the venue – the aforementioned union which is rebranded the Pleasance Dome for the Fringe – was in constant use before their time slot.
So into the shrubbery with various kitchen implements we went.
Which I suppose was quite fitting as we improvised a solution to taking photos for an improvised show.
I was joined by five of the seven-strong cast, all 20-something "Whovians" who have turned their passion for the long-running sci-fi show and comedy performing into a successful stage show in which audience suggestions prompt where the Time Lord and his (or her) Tardis will materialise.
It could be an alien planet, a spaceship or, more likely, a branch of a well-known high-street store as Harry Whittaker, one of the troupe, explains: "People are very big on retail!
"Tesco, vampire B&Q, infinite Ikea, Superdrug, Lidl – we've done it all. One scenario had the Doctor having to take all the bags for life he had stuffed under his console back to Tesco."
His colleague Charles Deane adds: "What's interesting is that a lot of the more common locations – Gallifrey, Skaro – are suggested but they don't get through when we do the 'cheer-off' to decide.
"I think people don't tend to vote for those places because it's a parody and they want something a little bit odd."
What the team do – by definition as every show is different – is more like the hugely-popular "monster of the week" Who tales than some later series where there was an over-arching storyline running through every episode.
"Yes," says Harry, "but these are elements for us to have fun with and parody in the show because everyone accepts Doctor Who is wonderful and is a British institution but it does have tremendous failings!"
Before every show, the cast ask the audience to suggest a title as well as a setting and Charles says: "Yes, we get a lot of Daleks!
"We got one the other day, 'Doctor Who Meets A Self-Aware, Suspicious Egg' which was brilliant."
Harry adds: "We get a lot of crossover suggestions. You get a lot of passionate sci-fi fans in and they think they want to see the Doctor battle Luke Skywalker.
"That might be a cool idea for five minutes but you really don't want to watch an hour of it. Oddly, the main one people want to see this year is Harry Potter and Doctor Who."
"We've been to Narnia already," laughs Lewis Dunn, "and we had one episode set in Equestria which is the fictional land from My Little Pony – I'm the only person in the troupe who knew that!"
As Charles notes: "The point about being an improviser is that we can go anywhere you want and do anything you want but you're going to have to watch this for an hour and while we're experts on Doctor Who, we don't know nearly as much about Narnia or Harry Potter."
Mind you, one man who likes the crossovers is Alex Rushfirth, one of the two musicians who provides the show's live soundtrack.
He says: "I agree that it's more fun when it's original but for me it's nice to get the chance to blend the Star Wars theme with the Doctor Who theme, or the Jurassic Park theme."
Just like in the TV show, with its ever-changing main character, the Doctor changes as the audience chooses which of the cast plays the Time Lord for each performance.
Says Matt Stallworthy: "This year someone from the audience rolls a big blue dice because in previous years someone was always chosen more often than the rest.
"In our first year here I was picked a lot but I think that was because my costume had a bow tie, and Matt Smith was the Doctor at the time and he wore one.
"And the year that Jodie Whittaker was announced as the Doctor, Louise Jones was picked a lot, maybe as a 'try before you buy' thing!"
Charles adds: "We also started with the idea of each picking a specific Doctor we'd do an impression of – if you picked Lewis he'd be David Tennant, or Harry would be Paul McGann – but we very quickly realised we're not impressionists and it restricted what we could do."
Now, the troupe are all Whovians but it's clear Harry is the Gallifrey uber-geek who keeps them right.
He says: "The audience varies from comedy fans to die-hard Doctor Who fans and if we get a very obscure reference, I'm usually the one backstage who says, 'Don't panic, I remember this from series three, episode four!'
"My dad was a massive fan of the classic series and used to buy the VHs tapes for me. He took me to the Doctor Who museum in north Wales and arranged for the guy who ran the place to dress as a Cyberman and chase me round – I nearly soiled myself!
"We've got passionate fans, some of them come in costume, but at the end of the day they just want to see Doctor Who live in front of them.
"They get we're doing a theatre show not just for them, we want to make it inclusive and enjoyable for everyone, so they don't mind us messing about with the show's history a bit.
"Mind you, I made a joke about K9 before one show and the audience booed me!"
Any Suggestions, Doctor? Is at the Fringe until August 25. For tickets visit www.edfringe.com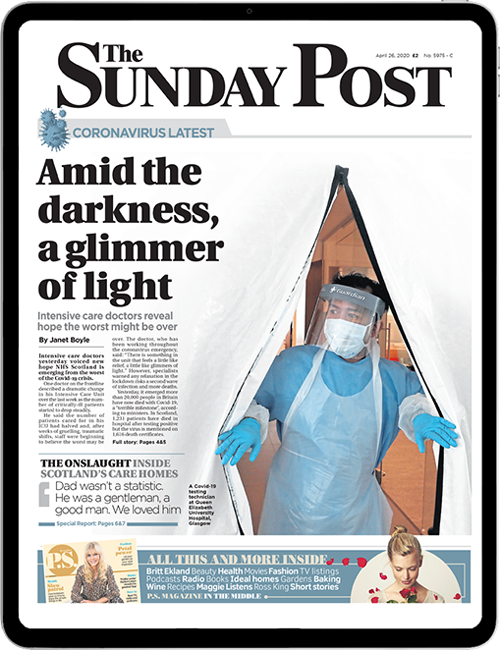 Enjoy the convenience of having The Sunday Post delivered as a digital ePaper straight to your smartphone, tablet or computer.
Subscribe for only £5.49 a month and enjoy all the benefits of the printed paper as a digital replica.
Subscribe