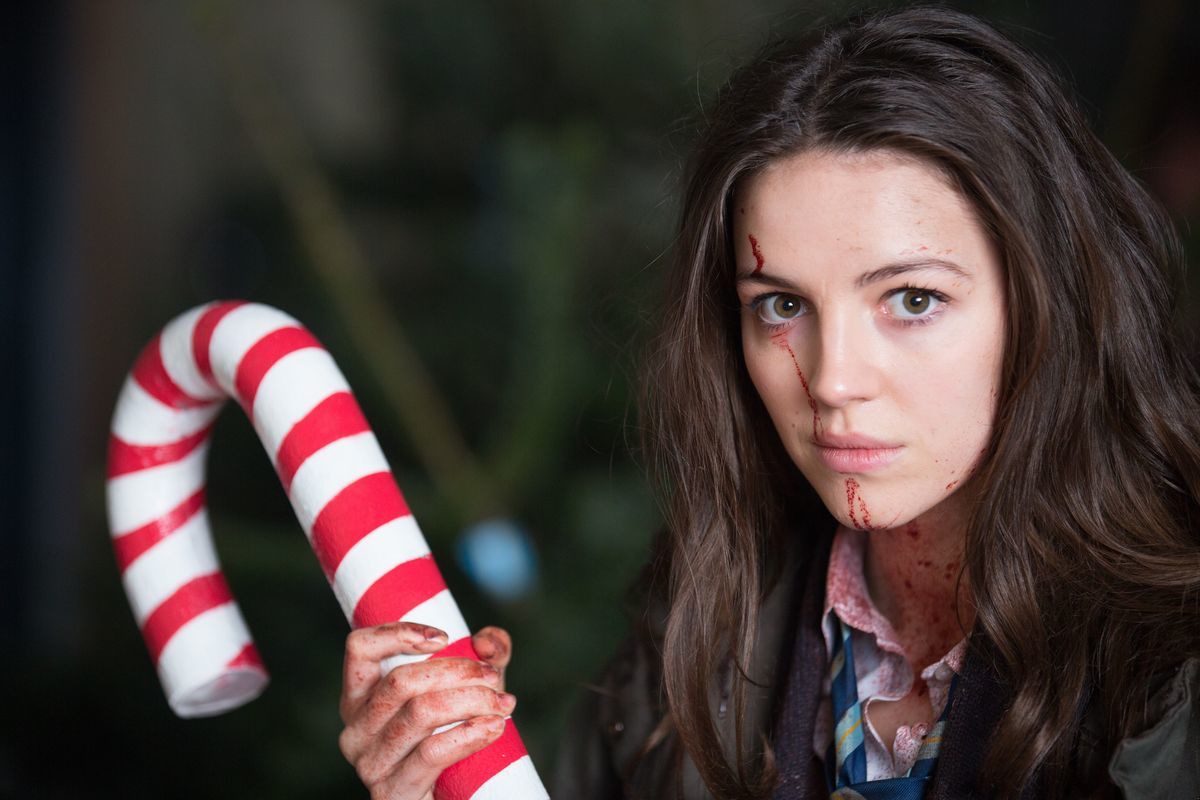 IT'S delighted audiences at festivals across the world, and now new movie Anna and the Apocalypse is heading to one just across the water from where it was filmed.
The zombie musical, set at Christmas, was shot in Greenock and Port Glasgow and will be one of the top attractions at the Dunoon Film Festival, with film lovers given a chance to see the movie weeks before it arrives in cinemas.
"Cinema's a dying art and it's festival audiences who are the real true champions of it," says the film's Glasgow-born director John McPhail.
"They want to go out for that evening with their friends and enjoy being in a cinematic experience. It's so easy nowadays to just find something on Netflix or Amazon.
"I'm a big fan of festivals, regardless of how big, small or prestigious, just to encourage people to come out and watch films together on a big screen."
With zombie make-up on offer, the screening in Dunoon promises to be a full experience, and it's fans' immersion into the world of Anna and the Apocalypse that has really pleased John.
"I've found it a lot travelling with Anna, people want to put on nights, zombies have turned up at so many places and people have been cosplaying the film," he says.
"That's who I make films for, audiences that are going to throw themselves into these crazy worlds and fall in love with the characters and story.
"We've got a WhatsApp group with the cast and crew and we all send each other pictures. Some of the stuff I've been seeing is crazy and absolutely brilliant. It's been nuts."
33-year-old McPhail picked up a number of awards for directing 2015's Where Do We Go From Here?, with his career stemming from a childhood love of films – including getting into horror movies from the age of just nine.
"I grew up with films," he explains. "My mum loved John Carpenter, one of my favourite directors. She would say 'you need to watch The Fog it's brilliant' and I'd be sitting there terrified!
"For years I actually wanted to be a cinematographer, and it wasn't until about six or seven years ago I started directing, made my first short film. I really enjoyed it and bossing people about!
"No, I love working with people and being collaborative. That's the best part, I got to just hang about with my pals and make a film."
Having previously worked on romantic comedies, he relished the chance to work on his favourite genre for Anna and the Apocalypse, albeit with a few nerves.
"I loved it, but I was terrified." he says. "I wanted to make sure I did everything right by what I would want as a horror fan."
John wasn't, however, a musical fan, until he started doing his research for directing this one.
"If you'd have tried to take me to a musical before I made this you'd be taking me kicking and screaming," he laughs, adding: "My favourite musical was South Park: Bigger, Longer & Uncut…"
John admits he's now fully fallen in love with the genre and hails the cinematography of West Side Story and the hilarity of Legally Blonde.
His current project sees La La Land meet Shaun of the Dead, so was it a challenge for John to bring the zombie, Christmas and musical elements into one melting pot?
"Yes and no," he says. "All I'm doing is telling a story and making sure that everything has its purpose and reason for being there. Does this sequence call for an action sequence? If it doesn't we won't put it in.
"It's the same with the music side of it. We never wanted to think: 'it's been 15 minutes, we'd better batter a tune in'. Everything had to help move the story along or develop our characters."
To that end, the first 15 minutes of the film introduces the characters and allows the viewer to become invested in their lives.
"The way I wanted to work it was that first 15 minutes would be just the kids, no zombies," John explains. "That's the way I like to tell stories. I like you to know who the characters are and want you to love, support and champion them.
"From there, we can then get off and running and be as crazy as we wanted and have as much fun as we wanted."
In a world with plenty of zombie movies, Anna and the Apocalypse – soundtracked by Roddy Hart and Tommy Reilly – offers something a little different to the usual.
"A lot of people go into it expecting it to be a mad B Movie, something really stupid, and they come out crying," John laughs. "That's been the wonderful thing about it – it's a coming of age story, no matter how mental it sounds."
Of course, an extra facet for fans north of the border is that the film is set in Scotland. Scenes were mainly filmed in Greenock and Port Glasgow, where John moved to be close to the set.
"I moved back to the place I'd shot my very first short film in the old Greenock halls of residence," he says. "It was really nice to be back where I started. It's such a beautiful place with the views, but at the same time it's rough."
John can't wait for Anna and the Apocalypse to finally hit UK cinemas, with a November 30 release date slated for what he hopes will be a festive hit.
He says: "I'm so excited. It's one of those things where you want to please your home audience. These are people I've grown up around, this is my market, my country and I want to do us proud."
The film also serves as a tribute to Ryan McHenry, known for his viral Vine hit Ryan Gosling Won't Eat His Cereal and who co-created the BAFTA winning Zombie Musical.
Anna and the Apocalypse is the feature-length version of that short, which Ryan had put into motion before sadly losing his battle with bone cancer.
"So many people that worked on this knew Ryan personally and very well," John, who took over directing duties, says. "It's a big achievement for all of them, they've all really done him proud with what we've made.  
"This has gone through such a crazy journey. It's great for his family to see his creation doing so well, it's his legacy. It must be hard for them also but such a lovely thing."
Anna and the Apocalypse has already been recognised with a couple of Scottish BAFTA nominations, including for Best Feature Film, and John admits he's delighted to get a nod from his peers.
"We've all worked so hard on this film and the Americans are receiving it so well it's given us a bit more of a clout internationally," he says. "It's not just drama, we can do anything over here and here's an example of it.
"I'm delighted we've been recognised and excited to see how it turns out, there are some really excellent films up for those awards."
Also receiving recognition is Ella Hunt, who stars as the titular Anna, with a nomination for Best Film Actress for her role.
"I love this cast," John says. "These kids are just incredible… well, I call them kids but they're in their twenties! But they're my kids and from the moment that they all met they just fell in love with each other and it was amazing.
"They came in together for rehearsals and they all felt like they were back at high school again, running about the corridors causing chaos.
"They were all made-up in blood playing switch and scrabble in the green rooms and the energy and enthusiasm they brought to every scene was just incredible.
"We'd be two hours behind, the rain coming down sideways and it's freezing cold. They'd be getting out the car laughing and joking, all wrapped up in coats with hot water bottles.
"I'd just beam because I knew these kids would come in hit their marks, deliver their dialogue and do it with everything they had regardless of wind, rain, sunshine or snow.
"I always like my casts to have an input in their character and their stamps are all over them."
Dunoon Film Festival runs from Friday 9 to Sunday 11 November, visit http://www.dunoonfilmfestival.org
Anna & The Apocalypse is in cinemas from November 30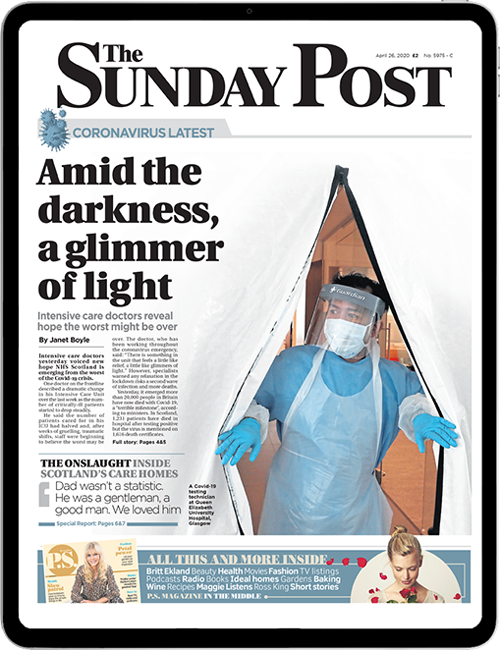 Enjoy the convenience of having The Sunday Post delivered as a digital ePaper straight to your smartphone, tablet or computer.
Subscribe for only £5.49 a month and enjoy all the benefits of the printed paper as a digital replica.
Subscribe