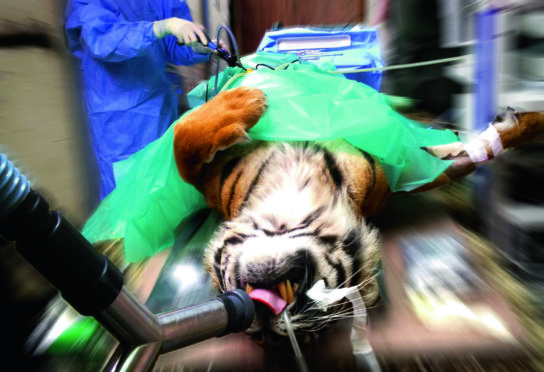 While his work takes him worldwide to treat rare and exotic creatures, ask Romain Pizzi about a hedgehog with a broken limb or a red squirrel with a stomach upset, and he will be equally as passionate about rectifying the problem.
Indeed, the latter made me contact him when I was hand-rearing squirrel kits. During his time at the Scottish National Wildlife Rescue, I had the fortune to meet Pizzi. Later, I sent a text about my patient and a reply came: "I'm currently operating on a giraffe in China, but when I reach Holland, on my way home, I'll ring you." And he did.
Born and raised in South Africa, where he later qualified as a veterinary surgeon, he has been based in Scotland for two decades. His CV is as mind-blowing as the extraordinary patients he treats.
Pizzi was an honorary professor in zoo and wildlife medicine at Nottingham University for 15 years and has taught and mentored wildlife veterinarians worldwide. He was a specialist surgeon at the Royal Zoological Society of Scotland for a decade, provided the veterinary service at Scotland's National Wildlife Rescue for 18 years, and was previously the pathologist at of London Zoo.
He has worked with conservation charities, rescue and rehabilitation centres and zoos in more than 40 countries. The world's leading expert in wildlife surgery, he has pioneered many procedures, operating on everything from elephants to eagles and tigers to tarantulas.
But he is not, as he adamantly points out, the stereotypical crusading wildlife vet. "Everyone imagines the wildlife vet clad in khaki, alongside a weather-beaten Land Rover in the African savannah, dart gun in hand," he says. "It's a nonsensical image!"
He laughs while we chat about some of his most daunting patients. He is humble, and you will never hear a whisper of muscle-flexing bravado nor boasting about wrestling with crocodiles and lions.
"You must think of ways around everything – not only how you will carry out the necessary procedures, but how to reach some of the patients in remote areas.
"For example, placating secret police with drunken karaoke; building brain surgery equipment in the jungle from a beer keg and mattress pump before an operation; smuggling a battered suitcase containing everything that would usually occupy an entire operating theatre to avoid corrupt customs officials; or spending five days travelling on boats through the rainforest to get to a makeshift theatre with a stone operating table – and this is all before I put a scalpel on my unusual patients."
Pizzi must often identify the cause of an animal's suffering without letting it see him.
"Wildlife vets have become masters of maximising the health information from animals without actually catching them. The most disgusting samples are frequently the most revealing. All excrement is a bonanza, helping us assess wild populations' health without disturbance.
"Surgery is legalised violence! Stab a baby gorilla with a knife, and you will be prosecuted for animal cruelty. Yet do the same in a blue robe and gloves, it is called surgery and is perfectly acceptable, even if the victim dies."
Even when dangerous patients are anaesthetised, Pizzi says operating can still be a terrifying business.
"Anaesthesia is hours of boredom interspersed with moments of sheer terror. If they happen to wake up inadvertently, my patients can quickly kill me. Having an endangered Asiatic lion blink and lick her lips while I had her anaesthetised makes one think rather quickly.
"I often have to improvise. Much of my work involves using mundane objects – a broom is one of the most useful pieces of capture equipment.
"Whether approaching an anaesthetised zoo leopard that might still wake up or encouraging a grumpy porcupine into a crate, a broom gives just enough safe distance from being bitten or impaled and is unlikely to hurt your patients."
Patient aftercare is also an issue – not least because the animal can't be told to keep the injured area clean or still. "Even if a howler monkey would be co-operative and rest after I have fixed her broken arm, she needs to return to her group as soon as she is awake. Otherwise, she risks being attacked, thrown out or even killed.
"Watching a patient dangle from its freshly shaved arm just hours after surgery is a nerve-racking test of my surgical repair. I use special bone plates that lock the screw heads firmly and act as a rigid internal scaffold.
"A beaver's dense fur is essential for its waterproofing, insulating it from freezing winter waters, so I can't even clip the fur before I operate. Instead, I painstakingly shampoo the area before carefully parting the fur with a comb, ready for my tiny incisions.
"Wildlife patients test our surgical techniques – no wonder when the Association of Laparoscopic Surgeons of Great Britain kindly awarded me honorary life membership, they called me surgery's crash-test-dummy."
His tales are astonishing. From the hippopotamus with severe toothache – an angle grinder was used for the dentistry – to root canal surgery in big cats, operating on suicidal walruses, removing kidney stones in otters, and working with captive breeding Scottish wildcats with fecundity issues. "Laudable as conservation breeding is, the mental health and social life of individual animals can be forgotten," he says.
"Imagine waking up with a groggy anaesthesia headache in a different place alongside a stranger you have never met to discover this is now your spouse for the next few decades.
"Imagine how a middle-aged female Western lowland gorilla must feel or a Scottish wildcat. It is no surprise that some partnered animals won't breed despite genetic matching.
"They just don't like their internet-dating selected match. When natural breeding is difficult, researchers often turn to assisted reproductive technologies. This covers everything from artificial insemination of giant pandas to cloning, and even genetic engineering to resurrect mammoths."
Sadly, during the course of his work, Pizzi sees terrible cases involving crime and cruelty. "I hate snares with all my being," he says, "having witnessed the damage they cause through treating victims of all sizes in the countries where I work. I live for the day when they are illegal worldwide, recognised for the barbaric and inhumane devices they are."
Pizzi's job can be depressing – post-mortems on suspected poisonings of birds of prey continue despite the law. Or perhaps it will be the discovery of plastic inside cetaceans. And life is never sure – one day, he could be working at home here in Scotland with translocated beavers, the next heading to a steaming jungle. "Perhaps surprisingly, looking at dead animals can have the most significant conservation impact of all veterinary work.
"Infectious diseases might appear natural, but epidemics are due to human disruption of the natural world. Animals congregate as people and farming displace them from the habitats they have occupied for hundreds of thousands of years. And evolution is slow. The human population has doubled in my lifetime, and our impact is even more significant, thanks to rampant consumerism.
"Sadly, we know the natural world is in a mess, but this makes it even more important to try our best. Ultimately, humans have caused the problems but, ironically, we are the only species that can fix them.
"The fact more people than ever before care gives me real hope. I hope my book will inspire more to work seriously with wildlife, especially vet students. I wrote it for my children – in case I get trampled by an elephant in Myanmar or killed by a lion in Ethiopia! Ultimately, you must live by example, so when my children get older, I hope what I have done will start to make sense."
Making a difference in this life is what matters, and Romain Pizzi is certainly doing that – and more.
---
Exotic Vetting: What Treating Wild Animals Teaches You About Their Lives, published by HarperCollins, is available now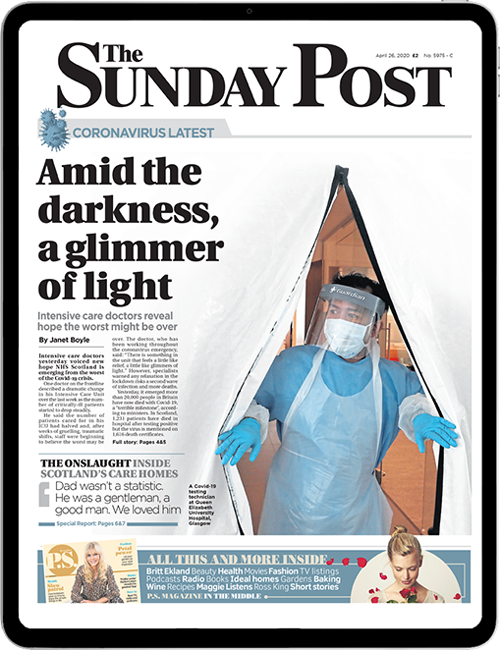 Enjoy the convenience of having The Sunday Post delivered as a digital ePaper straight to your smartphone, tablet or computer.
Subscribe for only £5.49 a month and enjoy all the benefits of the printed paper as a digital replica.
Subscribe