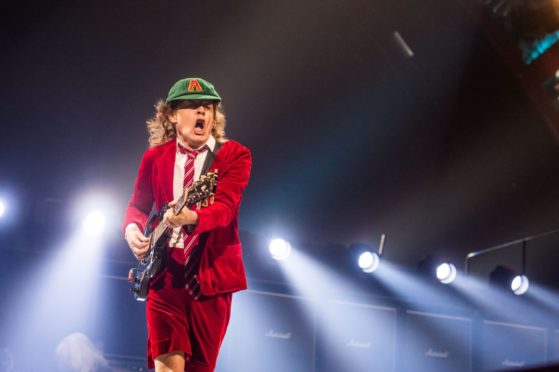 They are rock's greatest survivors and, famously, after suffering terrible loss, came Back In Black, an album that cemented their world domination.
But guitar legend Angus Young admits he feared AC/DC might never play again after another series of body-blows.
The rocker – who emigrated from Glasgow to Sydney almost 60 years ago – confesses the Australian supergroup were on the brink but any fears they had reached the end of the road were forgotten when he remembered his older brother Malcolm's wise counsel: "Keep your head down and keep strumming."
Now, AC/DC are back, again, and with an almighty bang. Their new album, Power Up – their first in six years – has hit the No 1 spot in the charts of 21 countries around the world, including the UK.
It is a tribute to Young's big brother Malcolm, who was forced to quit the band in 2014 while suffering from lung cancer and, later, dementia. Sadly, he passed away three years later, aged 64.
Now, AC/DC are hoping to hit the road again as soon as global lockdown restrictions are lifted, with singer Brian Johnson back in the line-up after solving his hearing problems. Angus said: "Brian has been working with an expert in a new audio technology that he put together especially for him. He kept sending us updates that all was going well. Hopefully, if he got good results using it, he may be able to perform with us again.
"Our management said: 'Are you thinking of doing something?' I said: 'It's time to see who wants to be back on board.' And everyone was.
"We were all excited and jumping about when we got back into the studio. It was hard at first because you think in your head, is it all going to happen? Will we still be able to do it?
"Brian was itching to try his stuff in a live setting. We started playing and he was very happy with the results.
"It was going well so we thought, when the album comes out we'll do some shows. But then the world went into lockdown. So everything was put on hold.
"We didn't take it for granted people were going to like the new album. But it's been good to strike a chord again with the fans. It's been well received.
"Everyone tuning into it likes what we have done. So it's been good. And it keeps the bank manager happy."
Malcolm's role as rhythm guitarist in the band was taken by his nephew, Stevie Young, but the songs on Power Up come from a vast archive of material dating back to the band's 15th release, Black Ice in 2008.
It was Malcolm who founded AC/DC in 1973 after his family left Glasgow to make a new life down under. During the final days of his illness, he encouraged Angus to keep their band alive.
"I think Malcolm would have been proud of this record," said Angus, 65. "Some of these tracks are from around the time of Black Ice, the last record he played on. I said to him: 'Maybe we should try and get as much done as we can.' But he said: 'No, we'll get it later.'
"In hindsight, I'm kind of sad in that respect but I felt great I could work on these songs. I know he would have loved the way I put the record together for him. I was using Malcolm as a guide all the way through the recording. Anything he had done on his own – lyric-wise – I made sure I used them. I kept it the way he would have wanted it. Every time I pick up my guitar the first thing that enters my head is…I think Mal will like this riff I'm playing. That's how I judge a lot of stuff."
When AC/DC released their 2014 album, Rock Or Bust, they hit the road to promote it with a gruelling 17-month long world tour. But the band hit a triple crisis. After years of volume-busting gigs, Johnson was told by doctors to stop immediately or suffer total hearing loss. A specialist said: "Deaf means deaf, son." Axl Rose of Guns N' Roses was drafted in to complete the tour.
Drummer Phil Rudd then hit the headlines when he was sentenced to eight months' home detention for threatening to kill his former bodyguard, and drug possession. Cliff Williams announced he was hanging up his bass guitar due to ill health.
Then in 2017, the Youngs were hit by a double-tragedy when older brother, George, died just a few weeks before Malcolm. With songwriting partner Harry Vanda, George was a founder member of The Easybeats, who had a global hit with Friday On My Mind – covered by David Bowie on his Pin Ups album. They also wrote Love Is In The Air for the singer John Paul Young and produced several AC/DC records.
But with Rudd and Williams as well as Johnson now back in the fold, Angus claims he never thought of pulling the plug on AC/DC. He said: "Malcolm always said 'You keep going.' When he was sick, he had a lot of help on the Black Ice tour. He was on medicines. He was even putting down ideas. Whenever I was with him, he'd be saying: 'We keep going as long as I can do it.' Even when he was in hospital for operations he was the same. He'd be going: 'I want to be with you'.
"The worst part was the decline. Even to the end he had a big smile on his face. That gave me a kind of joy. But I never thought it was the end for AC/DC. I'd been there from the very beginning with Malcolm. I always knew there would be something to do, putting together new tracks, live stuff or film footage."
While AC/DC are rightly regarded as Australia's greatest rock band, Scotland runs through the group like a stick of hard rock. Vocalist Bon Scott – who was born in Forfar, Angus – fronted the band from 1974 until his death from alcohol poisoning in 1980. He'd performed on AC/DC's first seven of their 18 hit albums including classics such as Dirty Deeds Done Dirt Cheap, Powerage and Highway To Hell.
He also sang on the group's first live album, If You Want Blood You've Got It, recorded on April 30, 1978, at their favourite venue, the legendary Glasgow Apollo. Tickets for the show were £2.50.
Angus has never forgotten that night. He said: "It was scary. I was watching that balcony swaying up and down. Once it started rocking in time to the music, you were hoping nothing bad was going to happen. But whenever we were being recorded or filmed, we never thought about that. We always told everyone: 'You'd better make sure you've got all your technical stuff together because once we start, we ain't stopping.'
"That's all we concentrated on, going out to do the show. I'll be honest with you, we were playing to the audience. That's who we were totally focused on.
"You just do your show and hope at the end of it they capture that…and, boy, did they capture that. My brother George and Harry Vanda produced the album. When they got the tapes back and started listening to them, George said: 'I can even tell – just from the audio – when Angus is moving and going across the stage'. He knew where I was on the Apollo stage from just hearing it."
In 1980, Johnson, the former lead singer of pop group Geordie, replaced Scott. He's sung on all 11 ­AC/DC albums since then, including 1980's Back In Black, which has shipped more than 50 million copies and is the third-biggest-selling record of all time.
Angus knew it was good, but that good? "We'd just lost Bon and it was like, do we continue?" he recalled. "We had a new frontman and didn't know if the album would be accepted. It's a hard thing for any band to lose somebody as unique a character as Bon Scott. He was irreplaceable. But when Back In Black came out it really built. It got bigger and bigger…we didn't realise how big it would become.
"I remember touring in the US and somebody said to us: 'You've sold 1.5 million copies of Back In Black.' I said: 'That's great.'
"But he replied: 'You don't understand…that's just in Los Angeles. You've still got the rest of the country to come in.' It was a shock. If you sell a million copies you're doing well. So to sell that many was amazing."
---
The two little boys who left Scotland to rock the world
Angus Young has vivid memories of the big freeze of 1962, the worst winter on record in Scotland where snow was 8ft deep.
It was the catalyst for his parents, William and Margaret, to make the decision that would change their family's lives forever…to emigrate to Australia.
The guitar legend was brought up in a tenement flat in Skerryvore Road, in the Cranhill housing scheme in Glasgow, attending Milncroft Primary School.
Angus has fond memories of his childhood. "It was a happy time for me. As kids, we'd all play football in the street…kick around a soccer ball," he said. "I remember us playing in a little farm area where there were cows. It was a lot of fun stuff.
"We lived just across from the big water tower, which is still there today. That was the view from our house."
When the family took the momentous decision to sign up to the Australian Government's £10 immigration package, they were each given a one-way ticket to a new life Down Under.
"My father wasn't working. He wanted to but there was a lot of unemployment and he couldn't get a job," said Angus, who was eight at the time. "Because of his age he thought: 'They only want to hire young people.' So it was a hard thing to do. But he thought more of his younger children – George, Malcolm and myself – that we'd get a better opportunity in Australia."
In June 1963, the Young family made the 9,000-mile trip to Sydney and, on arrival, lived in a migrant hostel. It was tough but slowly they found their feet.
"What did I know about Australia? Not a lot," Angus admitted. "What little you might have seen was on TV or information from the Australian Embassy. I first thought: 'Do we have to go to school on ponies?' or 'Are there really kangaroos running around?'"
Ten years later, Malcolm and Angus formed AC/DC, whose famous "electric bolt" logo was taken from a voltage label on their sister's sewing machine.
"She always thought I looked really cute when I came home from school wearing my uniform and would sit and play guitar in my bedroom," said Angus.
"She said: 'I've got a great idea… you've got to put him in his school uniform. It would be a great gimmick.'
"Now, I'd feel strange if I had to play without it. When I've got the school uniform on I feel complete. If you see Spider-Man in a movie he's GOT to have his spider suit on. Well, I'm the same."
---
For those about to rock: Celebrity fans salute stadium icons
Sharleen Spiteri

Texas rocker Sharleen Spiteri

AC/DC were part of my growing up musically and visually too with Angus in his school uniform.

I'd play their songs at rehearsals or soundchecks with Texas because our guitarist Ally McErlaine was a big fan.

In 2017, we were playing Carfest in Cheshire – an event founded by DJ Chris Evans – when there was a knock on my dressing room door.

Singer Rick Astley walked in and said: 'You don't happen to know Highway To Hell, do you?' He wanted me to sing it with him and his band.

We didn't have time to rehearse it. I said: 'Let's just do it and have some fun'. It's great to do a song people would never expect you to perform, right off the cuff. I knew Highway To Hell from back to front.
---
Fran Healy

Travis frontman Fran Healy

There were guys at school who were dressed from head to toe in denim. I'm sure they even wore denim underpants.They all loved AC/DC. So my view of the band was tarnished by these spotty guys. Until I got educated.

We once worked with a producer who said: 'You guys are good but you don't know what you're doing'. This was where I got my AC/DC education as far as a rocking sound goes …he used them as the absolute blueprint for early Travis. I wrote All I Want To Do Is Rock off the back of that.

We also used to play AC/DC's song Back In Black as part of our set. I do a pretty good impersonation of Brian Johnson. And our guitarist Andy Dunlop knows Angus's parts inside out.

But I only sing it at the end of a set – and when we are off the next day to recover.
Paul Riley

Still Game star Paul Riley

I was just eight years old when I saw AC/DC for the first time at the Apollo in Glasgow.When they started their set with Riff Raff, it was as if the whole place was going to explode.

That was how music first enveloped me and I've been a massive fan ever since.

In 2001, AC/DC played Milton Keynes Bowl on their Stiff Upper Lip tour. Me and my mates decided to go to see them. I was put in charge of transport, even though I was the only one who couldn't drive.

I hired a transit van. We met at a mate's house on the Friday night…we had our tickets for the concert, the bevvy and a yellow bucket to pee in.

My mate Tam said to his wife: "Mary, you need to go and sit on that chair…we need the couch'.

We loaded it into the back of the van with the rug and a standard lamp. At Milton Keynes, we set up a little living room scene on the camp site. People came from miles around to see these loonies from Scotland.
The Billy Sloan Show – an AC/DC special with Angus Young, BBC Radio Scotland, Saturday, 10pm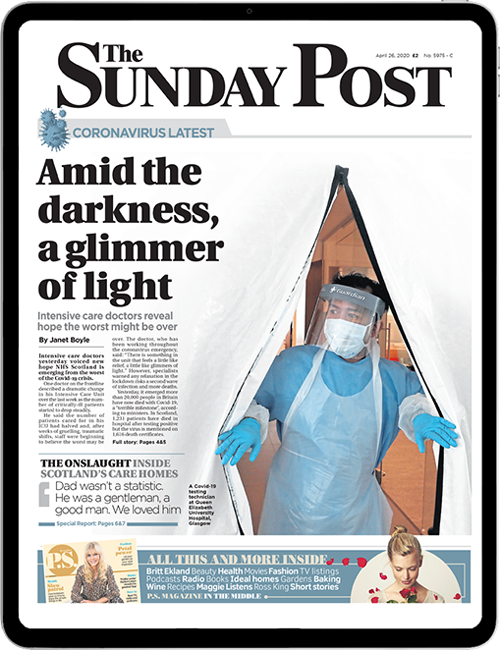 Enjoy the convenience of having The Sunday Post delivered as a digital ePaper straight to your smartphone, tablet or computer.
Subscribe for only £5.49 a month and enjoy all the benefits of the printed paper as a digital replica.
Subscribe