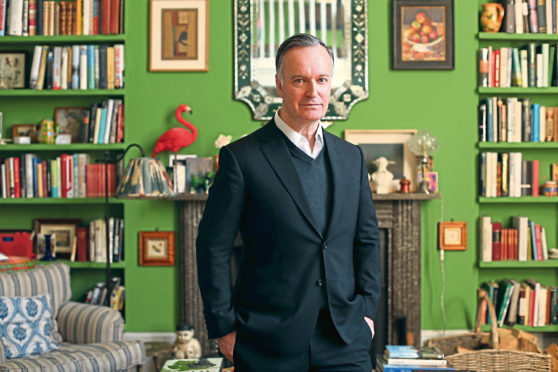 They spoke in a voice he knew and talked of people and places he recognised but – Andrew O'Hagan can still remember his astonishment – they had written books.
Almost four decades later, the acclaimed novelist recalls the shock of recognition he felt in the early 1980s after discovering a new generation of Scots writers.
Authors like James Kelman and Alasdair Gray resonated with the teenager who had grown up in a council house in Kilwinning, Ayrshire, and today O'Hagan hails the cresting of another wave of resonating, inspirational Scottish literary talent.
"I remember a flowering of writers, in Glasgow especially, in the early '80s and how exciting a moment it was," he said. "It felt like working-class voices were finding a way on to the page and into world literature, and it's happening again now, but more so. There is something unafraid and stylish about this new mob and I'm full of admiration.
"There is a sense of hope, even in the dark times we're living in now, and I can see the arts responding and flourishing, not shying away or missing the mark, and trying to give a sense of hope and destiny in their writing, and that's not something every country can say.
"Scottish literature is on fire at the moment. Look at the last two years alone – Kirstin Innes, Jenni Fagan, David Keenan, Graeme Armstrong – these are all fresh names writing at the top of their powers.
"It's incredibly enlivening and encouraging when the literature in our own small country is of world standard and taking on the best writing of any other country you care to mention. Douglas Stuart's experience since winning the Booker Prize for Shuggie Bain has been to see how, internationally, the response to Scottish subjects and Scottish style has been at an optimum in this moment.
"It's almost a kind of enlightenment period, for questions of masculinity, the rights of people of colour and ethnic minorities, the rights of women, and Scotland has turned on all the lights in relation to these topics, and writers have been a big part of that."
O'Hagan's latest novel, Mayflies, is the most personal of his books, in a career stretching back 30 years. It is based on his friendship with childhood friend Keith Martin, who died in 2018 after a cancer diagnosis.
"The friendship of the characters of Jimmy and Tully are a direct reflection of my friendship with Keith, that journey from childhood to the final challenge of adulthood and death. It seemed like a story ripe to tell. It felt like all the energy of my own friendships and experiences had to flow into this – it was as personal as I could make it."
He expected Mayflies to slip out quietly – bookshops were closed and the world was in the grip of a pandemic. Instead, it has become the bestselling book of his career, and he believes one of the reasons why is because it is a subject matter about community and friendship and reminding yourself of what matters most in life, all issues at the forefront of our minds in this year of lockdown and pandemic.
O'Hagan, who lives in London, was recently announced as patron for the Dignity In Dying Scotland group, which is legislating for a change of law to assisted dying, after watching what his friend Keith went through in his final days."To force people in that position who want to die peacefully to go to the bother of raising money and going to a foreign country seems to me a piece of savagery we can well do without in a modern country like Scotland," said the author. "We can lead the way in the UK on this, and give people the respect and dignity in dying they deserve."
He endured his own life-threatening brush with Covid after a trip to Ayrshire to visit his mum when, the writer believes, he contracted the virus from a service station petrol pump. He was to spend 10 days in Crosshouse Hospital in Kilmarnock.
"It was quite a bad case," he said. "Since childhood I've had bronchiectasis – we liked to call it the old Glasgow consumption in our family – and it latched on to that. I wasn't on a ventilator but I was on a Covid ward with other fellas.
"It was quite harrowing at first. I'm in my early 50s but these men were significantly older and struggling quite badly. It was alarming to find myself being quite a fit person one minute, going to the gym and looking after myself, to suddenly being in a hospital ward surrounded by quite ill people. But the camaraderie was good. It's that typical west coast of Scotland thing, and there were as many jokes as groans.
"The Long Covid symptoms have been quite significant. I have real problems with my balance when I'm standing. It's labyrinthitis, an inner ear problem related to viruses."
O'Hagan will share a virtual stage at the Paisley Book Festival this month with two of the new writers he speaks so passionately about – Douglas Stuart and Graeme Armstrong, whose acclaimed debut The Young Team dealt with teenage gang violence – while Scabby Queen author Kirstin Innes chairs the event. Each of the novels shine a light on the complexities of masculinity.
"Both Douglas and Graeme's books came out at a time when the country needed them," said O'Hagan. "The sense of talking about what it was like to be a man…the difficulties and challenges of masculinity was a subject that wouldn't be talked about until my generation.
"There was a sense of it being something soft, or unwelcome to talk about it, but I think people need to discuss the pressures and difficulties associated with masculine behaviour – of gang culture, of fatherhood, of being a son or brother – and what the reality of that is in 2021.
"It's long overdue and for too long was a non-subject. We need to look at it in the context of male depression and male suicide figures – young males are up against it at the moment. Something particularly pressuring in their realities is worth scrutinising and I think Scottish novelists have picked up on that."
So, too, has there been a growing number of novels set in small Scottish towns away from the cities, such as Mayflies, set in Ayrshire.
"These books travel the world and people who thought they had a strong sense of what it was to be a Scottish person in the modern world are getting an update. Part of that update is what it's like in the smaller towns, what the social reality is like or the emotional experiences there.
"They might have heard about Glasgow, Edinburgh, Dundee and Aberdeen, but now they are hearing about Airdrie, Ayrshire, Coatbridge, places on the islands or rural Highland areas.
"It's a new part of the conversation and Scotland was due an update in that sense. As valuable as they are, I think people have had quite enough of the clichés of Scotland – tartan, haggis, Mary Queen of Scots. People are living modern, different lives now and I think novelists have felt a responsibility to get that between the covers."
O'Hagan attended the Old Bailey last month for the Julian Assange extradition hearing. He worked with the Wikileaks founder almost a decade ago on a biography but their relationship ended in acrimony.
"It's one of those stories I do feel the need to keep up with because I wasn't only invested in it, but implicated in it. I might write about it again, as it was 2013 when I wrote about it and we're getting on from there now."
In the meantime, lockdown has afforded O'Hagan more time to work on a novel, Caledonian Road, that he's spent six years writing, on and off.
He added: "It's a huge, Dickensian saga, with a huge cast and lots of interconnections, plots and subplots. It's like one of those novels you might have read in the 19th Century, but set in the now and bringing in a lot of issues of modern life in Britain.
"I've been chained to the desk during lockdown and that's what is needed to finish a book like this. It certainly has kept me engaged and hopefully it will do the same for readers."
---
Andrew O'Hagan will be appearing at the Paisley Book Festival on February 20 at 8pm with Douglas Stuart and Graeme Armstrong in conversation with Kirstin Innes
---
No shortcut to justice: Author of landmark report on Grenfell tragedy urges patience as inquiry continues
As well as being an acclaimed novelist, O'Hagan is also a respected journalist and spent months speaking with people affected by the Grenfell tragedy to produce what, many believe, was a landmark report on the anniversary of the fire in which 72 people died.
It was recently announced that the inquiry into the disaster in west London might not be concluded until 2022, but the author says it is important that it is given all the time it needs.
"I understand people are frustrated and I'd be the same if it was my family, but it's in everyone's interests we excavate the truth and get away from party politics and dug-in positions, all of which emerged from Grenfell.
"We need to get a sober and absolute sense of the truth, and the inquiry will get that.
"The resources being expended are huge, and it's worth it. There is no shortcut to justice.
The justice comes from a thorough and dedicated sifting of the facts and I think the inquiry is pulling out all the stops to make sure everyone is held accountable at every level."
---
SOUND AND VISION
Andrew O'Hagan's latest novel, Mayflies, explores the bonds of teenage friendship and the indelible memories of youth. It is partly set in 1986 and, here, the author chooses the film, book and band that helped define his teenage years.
THE FILM
Me, my pal Keith and a bunch of our pals used to go to the George Cinema in Irvine. We loved movies and when Platoon came out it was a real indictment of needless wars. We were all in the CND, the miners' strikes were happening, and we were raging at the Thatcher government, and that film spoke to us.
THE BAND
The Jesus And Mary Chain. I loved the noise, the feedback, the disruptiveness and the punk ethic of the band. I used to open the windows at both sides of our council house in Kilwinning and blast it out. What a cliché – 16, spiky hair, hated my teachers, so turn on The Jesus And Mary Chain and wig out. That was my 16-year-old self.
THE SONG
The Executioner's Song by Norman Mailer, without a doubt. It's a fantastic blend of fiction and reporting, a tremendous classic of contemporary writing. It's set in Utah and is about murderer Gary Gilmore, who was sentenced to death and insisted they carry it out. Mailer (above) was on the spot to report on it all. When I was 16 I read it every day – it gave me such instruction about what a writer can do to engage with their times. I got to know Norman Mailer later. He was such an encourager of me when I was young and I used to talk to him a lot about that book.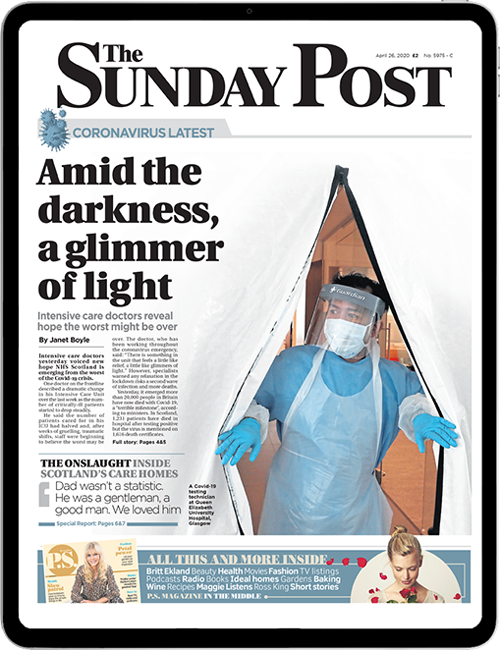 Enjoy the convenience of having The Sunday Post delivered as a digital ePaper straight to your smartphone, tablet or computer.
Subscribe for only £5.49 a month and enjoy all the benefits of the printed paper as a digital replica.
Subscribe