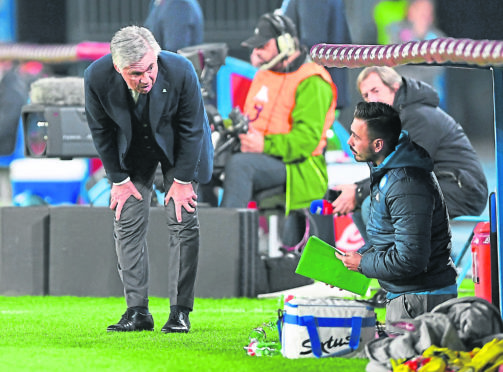 Carlo Ancelotti starts work as Everton manager tomorrow.
The Italian has kept Duncan Ferguson as part of his staff.
Such is Dunc's popularity with the Everton supporters – and players – Carlo could have viewed him as a potential threat.
But he has, quite rightly, taken the opposite view.
He regards the Scotsman as someone who can help take Everton up the table and into a more threatening position in the English game.
David Moyes gave big Dunc his start in coaching at Goodison around seven or eight years ago, and he has clearly worked hard at it.
He has been thrust into the spotlight since Marco Silva was dismissed last month, and he has handled it all very well.
His love for the club and passion for the job has been there of all to see.
Under his charge, The Toffees beat Chelsea, drew at Manchester United and were only a penalty shoot-out away from getting into the semi-finals of the Carabao Cup.
So big Dunc hands over to Carlo with the club in a better state than when he inherited the job on an interim basis.
I hope there are better times around the corner for Everton. They are a proud club with a fine tradition.
With Liverpool flying at the moment – the current European Champions and top of the Premier League – it would be great for the other half of the city's supporters to see their own team making progress.
The rivalry between both clubs is intense, for sure. But there is also a respect. And that's important.
I can recall once or twice being on an open-top bus going through the city to celebrate success, and the streets being lined by tens of thousands of Liverpool supporters.
But I could see Everton scarves in there too – fans of a blue persuasion showing their appreciation for our achievements.
That underlines the mutual respect there is among the fans.
And, as we have all seen in the past, when the city of Liverpool really needs to come together, then it stands shoulder to shoulder, Reds and Blues on the same page.
Liverpool fans will have an eye on how Carlo performs, just as the Everton followers will wait and see if our club wins its first Championship in 30 years.
Come next May, in different ways, it could turn out to be a more than satisfying campaign for both clubs.
On paper, Everton have made an excellent appointment.
Carlo Ancelotti has an outstanding CV and has been successful at AC Milan, Real Madrid, Chelsea, Bayern Munich, PSG and Napoli. He has won domestic titles and Champions Leagues.
By the way, he was also a brilliant footballer.
I remember him from his playing days in Italy. He was talented – and also a fierce competitor.
But it's now all about what he does at Everton. And I have a feeling he will do rather well.
It's great kudos for the Goodison club to get a manager of his stature and standing in the game.
Since David Moyes left for Manchester United in the summer of 2013, they have had four permanent managers. Carlo is now number five.
So they need to stick with this guy, and give him the time and the backing to get things moving in the right direction.
I have already been impressed with the way he has gone about his business.
For me, his backroom-staff appointments show great self-belief and mental strength.
He is bringing his 30-year-old son, Davide, in as his right-hand man. They worked together at Napoli and I'm told they are a good partnership.
I'm certain this is not Carlo trying to do his lad a turn and give him a job for the sake of it.
This will not be nepotism. It will have been a professional judgment call.
Carlo will feel that he is talented and capable of doing the job. There will also be complete trust between the pair and that is vital.
So he shouldn't be derided in any shape or form for bringing Davide on board.
One of Carlo's biggest strengths has been getting the best out of players.
His man-management skills are first-class, something that is so important in the modern game.
He will probably lean on Duncan Ferguson to help with that.
Carlo will also look at the situation with Moise Kean, if there is a need to do so.
The young Italian was in the headlines last weekend after being subbed by Dunc less than 20 minutes after coming on at Old Trafford.
Overall, it was a wee bit of an embarrassing situation for everyone involved.
No player wants to got through that, and no manager wants to do it – for several reasons, the main one being that's an admission that he got the substitution wrong in the first place.
It wouldn't have been pleasant for all concerned but Dunc felt it was necessary to give his team the best possible chance of not losing the game.
That's what he is paid to do.
The decision would have been made with the best of intentions. The easiest thing to do would have been to keep the player on the pitch.
He came on against Leicester in midweek so, clearly, there is no lingering uneasiness.
That will certainly be the way Carlo wants it as he will focus on being on the training ground, and getting his ideas across.
Having happy players makes it easier to do so.
Overall, we will just need to wait and see how it goes, as is the case with every managerial appointment.
One thing we know for sure.
With Carlo arriving to add to the mix that already contains Pep Guardiola, Jose Mourinho and Jurgen Klopp, it should be exciting times for the English game, its sponsors and fans.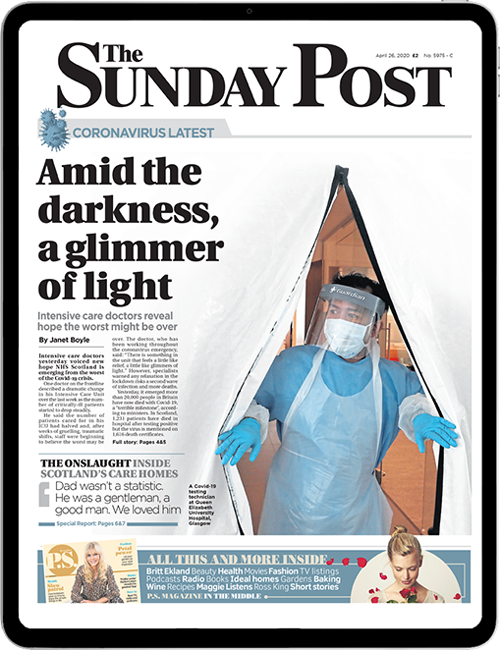 Enjoy the convenience of having The Sunday Post delivered as a digital ePaper straight to your smartphone, tablet or computer.
Subscribe for only £5.49 a month and enjoy all the benefits of the printed paper as a digital replica.
Subscribe