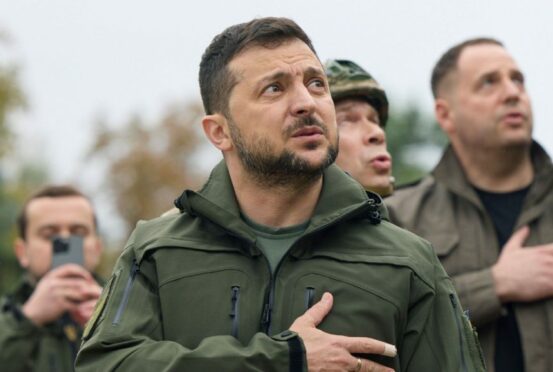 Russian frontline forces may not have "the reserves or morale" to withstand another concerted assault in eastern parts of Ukraine, according to defence experts.
British defence intelligence analysts believe Moscow has established a defensive line between the Oskil River and the town of Svatove following a successful counter-offensive from the Ukrainians, forcing the Kremlin to concede swathes of territory.
The zone is viewed as important partly because it sits along the border of the Luhansk region, part of the Donbas, which Russia has sought to "liberate" as one of its key war aims.
Any substantial loss of territory here would "unambiguously undermine" Vladimir Putin's strategy for the conflict, according to Ministry of Defence analysts, who said it is unclear whether Russia's frontline forces have "sufficient reserves or adequate morale" to withstand another concerted Ukrainian assault in eastern parts of the country.
Another expert suggested a further collapse of Russia defences in Ukraine could be fatal for Putin's regime. Ukrainian forces recaptured more than 965 square miles of territory from Russia in just three days in a lightning strike, which was described as the biggest counter-offensive attack since the Second World War.
Dozens of towns and villages in the north-east of Ukraine were liberated, including the strategically important Izyum, which Russia had used as a base for its forces. Russian forces being caught off-guard and leaving weapons and ammunition behind and the huge loss of territory have led to even Putin loyalists murmuring discontent.
Justin Bronk, a research fellow at the Royal United Services Institute, said: "A second collapse this side of winter would be potentially terminal for the regime in Moscow."
Ukraine has retaken more than 2,300 square miles this month, and Bronk said the success of the counter-attack would bolster Ukrainian President Volodymyr Zelensky's appeal for more funding and equipment.
Bronk said: "The counter-offensive essentially ends any Russian hopes of achieving President Putin's aim in April of 'liberating' all of Donbas. The capture of the equipment is also significant, particularly stockpiles of ammunition, which Ukrainian forces were running really quite low on.
"Politically, it is hugely significant as well because it makes the argument for continuing to support Ukraine, not only with weapons deliveries but also crucially the economic aid that it is going to rely on very heavily to keep going over the winter next year. It's now much easier to make that argument in the West, especially in countries where continued large-scale support was somewhat politically contentious."
They delivered their latest assessment as Putin vowed to press his attack on Ukraine despite that country's latest counter-offensive.
Putin said the "liberation" of Ukraine's entire eastern Donbas region remained Russia's main military goal and that he sees no need to revise it. "We aren't in a rush," the Russian leader said. Meanwhile, bodies have been unearthed at a mass burial site near the city of Izium, in the Kharkiv region, which was recently recaptured from Moscow.
"Tortured, shot, killed by shelling," Zelensky said. "Entire families are buried there."
President's pledge
In a post on Telegram on Tuesday, Ukrainian President Volodymyr Zelensky issues a warning to Russia:
Do you still think that we are 'one nation?' Do you still think that you can scare us, break us, make us make concessions?

You really did not understand anything? Don't understand who we are? What are we for? What are we talking about?

Read my lips: Without gas or without you? Without you. Without light or without you? Without you. Without water or without you? Without you. Without food or without you? Without you.

Cold, hunger, darkness and thirst are not as scary and deadly for us as your 'friendship and brotherhood'. But history will put everything in its place. And we will be with gas, light, water and food…and WITHOUT you!
In Moscow: 'I don't believe in any defeat. Nonsense'
Vladimir Putin may have suffered a humiliating defeat in Ukraine but in Moscow you would hardly know it. People go about their lives in the Russian capital blissfully unaware of the horrendous toll of the war and ignorant of his army's setbacks.
Marina, 56, a housewife and retired accountant, told The Sunday Post: "I don't believe in any military defeat, it's all complete nonsense.
"The TV news says it's a regrouping, and so it is. Our mood? It hasn't changed, and why should it?
"Things have remained the same, though prices have risen slightly."
Some educated Russians can delve deeper on the web and see Western or Ukrainian versions of the retreat from Kharkiv region.
"This looks like more bad news for Putin, and an inexplicable failure by our forces," said Artyom, 39, a web designer, who reads the foreign media.
"But none of my friends believe me. They think we're winning, and slaying the mythical Nazis.
"They don't realise our death toll is as high as 60,000 so far in this criminal war, a tragic figure, as our media do not report it.
"And that's apart from all the Ukrainians killed and wounded by our forces, including those in atrocities.
"But I cannot say this openly, even to my family and friends.
"They might report me for spreading lies about the Russian army, though these are not lies."
Igor, 52, an engineer, receives his news from the state media, and last weekend enjoyed celebrations for the 875th anniversary of the founding of Moscow, attended by Putin.
"The city looked amazing, there's no feeling of war here, none at all," he said.
"In Kharkiv, this was a regrouping of our forces. Anyway it is far from Moscow.
"Our president knows exactly what to do. I believe him because I am a patriot of Russia."
Yet there are other signs that Russians may not be able to ignore as winter approaches.
People's savings are depleting as prices rise, say studies.
"It's true shopping gets more expensive, including my favourite Famous Grouse whisky," Igor complained.
His tipple remains available despite sanctions but has more than doubled in price from £14.60 to £30.70 since the war started in February.
"It's a price we have to pay to defeat Ukrainian fascism," he claimed unconvincingly, sticking to the line of TV propagandists.
But as a report by independent Russian media Meduza revealed last week, Putin's inner circle are turning to alcohol due to their angst over his foolhardy war. The report said he is concerned about the Kremlin booze culture.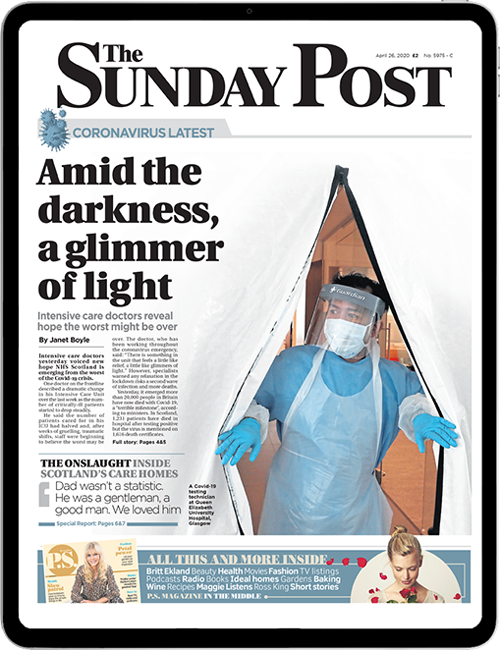 Enjoy the convenience of having The Sunday Post delivered as a digital ePaper straight to your smartphone, tablet or computer.
Subscribe for only £5.49 a month and enjoy all the benefits of the printed paper as a digital replica.
Subscribe