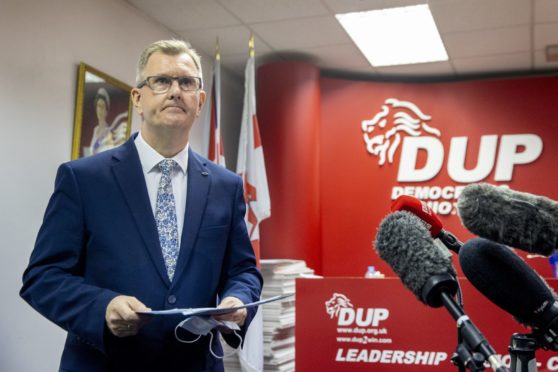 Sir Jeffrey Donaldson vowed to "right the wrong" of the Northern Ireland Protocol
as he became DUP  leader yesterday.
The Lagan Valley MP said the removal of the post-Brexit barriers on trade between Northern Ireland and the rest of the UK would be one of his key priorities in the role.
His pledge came after his leadership bid secured the majority backing of the DUP's electoral college of party politicians. Donaldson received support from 32 of the electoral college's 36 members at a meeting in a Co Antrim hotel yesterday.
Outgoing leader Edwin Poots – who resigned after just three weeks in the job, which he won in what had been described as a coup against former leader Arlene Foster – did not attend the gathering.
After receiving what he described as the "resounding endorsement" of the electoral college, Donaldson vowed to bring the party together again after a chaotic two months.
He said: "It's been a difficult and a bruising period for the DUP. We all acknowledge that and we've all played our part in that. But this morning we are seeing our party coming back together again."
Commenting on Brexit's contentious Northern Ireland Protocol, which has created an economic border between Great Britain and Northern Ireland, Donaldson said: "NI
is given the right under the Act of Union to trade freely with the rest of our own country and all that we ask is for that right to be restored, that we can trade freely with the rest
of the United Kingdom."
---
It is hard to see how a new leader can bring order to chaos. A century ago, it was meant to be so very different

by Allison Morris
It has been a chaotic time for politics – even by Northern Irish standards. In less than five weeks, the country's largest unionist party has had three leaders.
The Democratic Unionist Party, founded by the late Rev Ian Paisley, is in a state of flux, so much so it is hard to see what the latest leader, Sir Jeffrey Donaldson, can do to bring order to the chaos.
It all should have been so different in this the centenary year of the formation of the Northern Irish state. A border, drawn to ensure a two-to-one unionist majority, Northern Ireland was intended to be the promised land for the northern Unionist, who now had control over their own parliament.
This week, a speech by King George V was read at an event to commemorate the opening of the North's first parliament in June 1921.
"I appeal to all Irishmen to pause, to stretch out the hand of forbearance and conciliation, to forgive and to forget, and to join in making for the land which they love a new era of peace, contentment, and goodwill", he said.
Those words are as relevant today as they were 100 years ago.
In short, this should be a time of celebration for Northern unionists. It is, instead, a time of division and enmity. The DUP was instrumental in delivering Brexit – promoted by the party as a way of regaining sovereignty from Europe. Instead, it has resulted in a border down the Irish Sea – anathema to unionists.
And opposition to the Brexit withdrawal arrangements has moved onto the streets. Protests against the so-called Northern Ireland Protocol – which for certain goods treats the island of Ireland as one country inside the EU – have been taking place across Northern Ireland. They have, until now, been mainly peaceful. But the potential for violence is never far away.
As we enter into the July marching season, senior police officers are already making contingency plans should loyalist anger turn to violence.
Tensions are high, the protocol for Northern unionists see the so-called Sea Border as a stepping stone to a United Ireland, with an economic divide brought about as an unforeseen consequence of a Brexit the DUP campaigned for.
Add to that changing demographics and Northern Ireland no longer seems a unionist state for a unionist people – and with that comes fear for the future.
Recent polls show a growing section of society that feels neither British nor Irish but Northern Irish.
The DUP and political unionism in general need to sell the benefits of the union but, instead, they continue to block social change. This makes Northern Ireland a far from comfortable place for that new voting bloc we have come to call "others". Neither strongly unionist nor nationalist, it is a demographic put off by the religiously fundamentalist politics so important to the DUP in the Paisley era.
So far same-sex marriage, abortion reform and even a pension for injured victims of the Troubles have had to be legislated for by Westminster after the failure of Stormont to advance rights-based issues.
The latest DUP crisis, which led to Edwin Poots being ousted as leader after just 21 days – after previous leader Arlene Foster was also forced out – was caused by plans to legislate for Irish language at Westminster. It is a fairly benign piece of legislation that has become a unionist red line.
Our strange form of mandatory coalition, negotiated during the 1998 Good Friday Agreement, was never designed to have the DUP and Sinn Féin as partners in government. They disagree on almost every issue.
If the crisis is not resolved, there could be a snap assembly election in the autumn. That is something the DUP will want to avoid, given the division within the party.
Meanwhile, we all keep one eye on events across the water. A second Scottish independence referendum will only strengthen calls for a border poll on the future of Northern Ireland and that is an eventuality many are still unprepared for.
Allison Morris is crime correspondent and political commentator for The Belfast Telegraph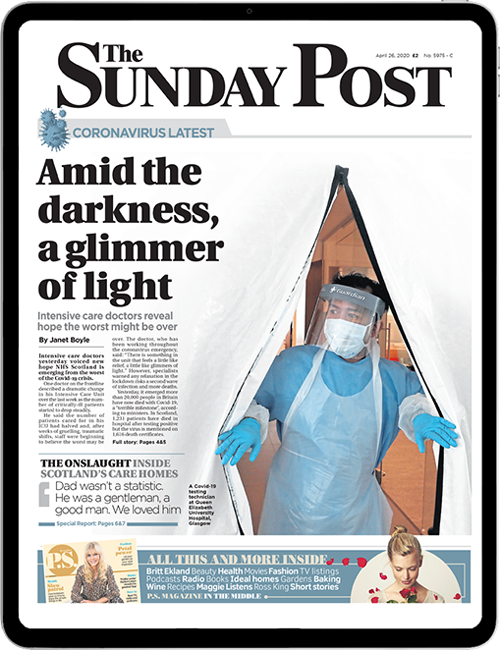 Enjoy the convenience of having The Sunday Post delivered as a digital ePaper straight to your smartphone, tablet or computer.
Subscribe for only £5.49 a month and enjoy all the benefits of the printed paper as a digital replica.
Subscribe