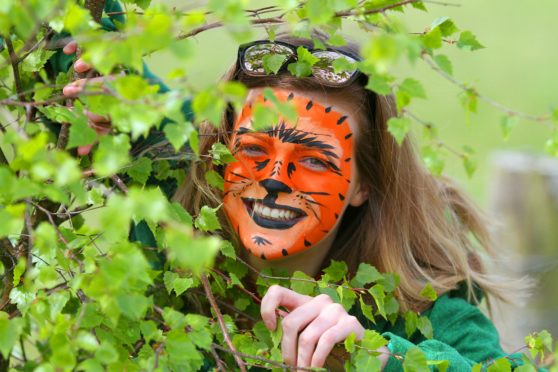 Only a few miles outside Forfar, on a 40-hectare (100-acre) site, lies an astounding wildlife oasis.
Having known the Hill family for many years, this is a story that has intrigued me since the project began in 2001.
In the late 1960s, Michael and Caroline Hill bought Murton Farm, which adjoined their property. Soon after, Aggregate Industries approached them about the possibility of sand and gravel extraction on the land.
The Hills agreed on the condition that once the project was over, the entire area should be restored to the highest environmental standards. Then a fantastic idea began to grow.
Caroline, a passionate educationist and Michael, a staunch environmentalist, would form a unique trust for nature and educational purposes.
They would create a beautiful wildlife reserve, where children could play and learn and where young disadvantaged people could blossom.
Sadly, nearly a decade into the project, Caroline died, but her vision has now come to fruition and is a precious legacy.
It's a glorious May morning as I drive from Aberfeldy to Forfar. Distant hills shimmer in a heat haze and misted dew rises from rivers and lochs.
The soft, lime greens of emergent foliage frames glimpses of bluebell woods. Through the car window I can hear birdsong and smell the pungent blossom.
My first impressions of Murton are of its neatness, its immaculately pruned hedgerows and newly mown grass. This is Murton Farm – an area of eight hectares (20 acres) that is kept in a managed state.
"The reserve is different," explains Alison Elliott, manager of Murton, who is passionate about the development of its work.
"What we call the farm is an area where families bring small children to enjoy our rare breed poultry, kune kune pigs, donkeys, guinea pigs and other animals, a place where they can play and learn in freedom and safety.
"The trust is about providing educational opportunities to encourage learning while developing life skills, as well as maintaining and establishing a nature reserve to encourage people to spend time outdoors.
"It's so important for us all to reconnect with the natural world. We use this wonderful site to provide opportunities for young people aged 14 to 19, who have become disengaged with mainstream education.
"Murton is an accredited training centre for the Scottish Qualification Authority. Young people can complete a range of land-based courses and we have numerous volunteers, some of whom come for years. Some return for full-time employment.
"There are also opportunities for those who don't want to work outside. Some of our volunteers become excellent cooks and others help out serving in the busy tearoom, learning about hospitality and food hygiene. They can gain relevant certificates if they are interested."
Alison, who is a keen hillwalker and has worked with young people doing Duke of Edinburgh Awards, has an effervescent and infectiously positive attitude.
"Being outdoors can help with many things, including anxiety, depression and lack of self-esteem," she points out.
"We don't need to know what has gone wrong in the past or how difficult someone might have been at school. When someone new arrives, we don't judge. It's a clean slate. We have never had any problems."
For the youngest members of the community, there is Murton Tots Outdoor Playgroup – equally as popular with parents as with their pre-school offspring.
Murton also has an outdoor classroom with a large fire pit and several play areas, as well as a large open shed where courses including chainsaw usage, weaving, spinning and willow weaving can be held – even in the worst of weather.
Alison accompanies me through an avenue of birch trees to the start of the nature reserve.
"We are so pleased with this new path, as it enables wheelchair users to access the reserve. This is so important," she says.
We stand at the first viewpoint that stretches out over Murton's extensive wetlands. "We have recorded around 130 varieties of birds, including our pair of little ringed plover that nest here on the gravel."
Murton is an essential area for waders and waterfowl and we hear lapwing and oystercatchers calling. Many more birds winter at Murton.
"To begin with, we gave nature a helping hand by planting all these trees and hedges and the wildflower meadow, but now it's time for us to let nature do the rest," Alison explains.
The barer areas by the path are a mass of new seedling trees, shrubs and wildflowers and with a little rain, nature will burgeon.
From the reeds, a sedge warbler trills and willow warblers and blackcaps add their voices to the native chorus of blackbird, song thrush, chaffinch and wren.
Alison points to the sprawling wildflower meadow, the new plantations and the hawthorn hedging. Before she heads back to her office, she shows me Pollyanna's grave.
This treasured 40-year-old family donkey spent her final years at Murton, where she gathered an adoring fan club.
Set against a backdrop of hazy hills and electric yellow gorse, I see three sizeable lochs. Mute swans, greylag geese and a few herons are busy feeding and a small island has become the perfect safe haven for a colony of breeding black-headed gulls.
One pair of greylag already has goslings. The cacophony of jostling black-headed gulls dominates the soundscape as I walk through the first young wood of oak, ash, alder, willow, aspen, Scots pine, wild and bird cherry. Emerging on the far side, I find the glorious grassland stippled with cowslips nodding their heads in the hot breeze.
Before me is a high wall against a bank. This is something I have been eager to see. Murton Trust was a pioneer in creating one of the largest man-made sand martin colonies in Scotland.
The birds' return in April is eagerly awaited and the cloudless blue sky is thick with their excited cries as they investigate this season's maternity wing.
There are hides to visit and beautifully-built volunteer-made bridges to cross. I meander slowly through another young woodland. Seats and viewpoints edged with drystone walls – also created by volunteers or students – make unobtrusive spots for quiet contemplation.
In the clearings, bees and other pollinators settle on carpets of dandelions, wood anemones and red campion. The golden orbs of marsh marigolds smile from a ditch where orange tip butterflies and damselflies dance.
A red kite passes over, mobbed rudely by crows and a few minutes later an osprey hovers over the loch.
The reserve at Murton is indeed a place of quiet contemplation, a place to experience the power of nature in all its glory.
In May, Michael Hill celebrated his 90th birthday with his family here in this lovely place – a place he and his wife Caroline created with such love and dedication.
As I'm leaving, I'm thrilled to bump into him. Together, the Hills have achieved an outstanding example of habitat restoration proving that both in the urban environment and where man has inflicted massive scars on the landscape, nature has the power to heal.
---
Fact file
You can adopt one of the farm's animals for a year – from £30 for ferrets or £70 for a donkey.
Murton Farm was first established in the 18th Century to produce corn for local mills.
The farm's kune kune pigs are named after Beano's Dennis and Gnasher.
For further Information email murtontrust@murtontrust.org.uk