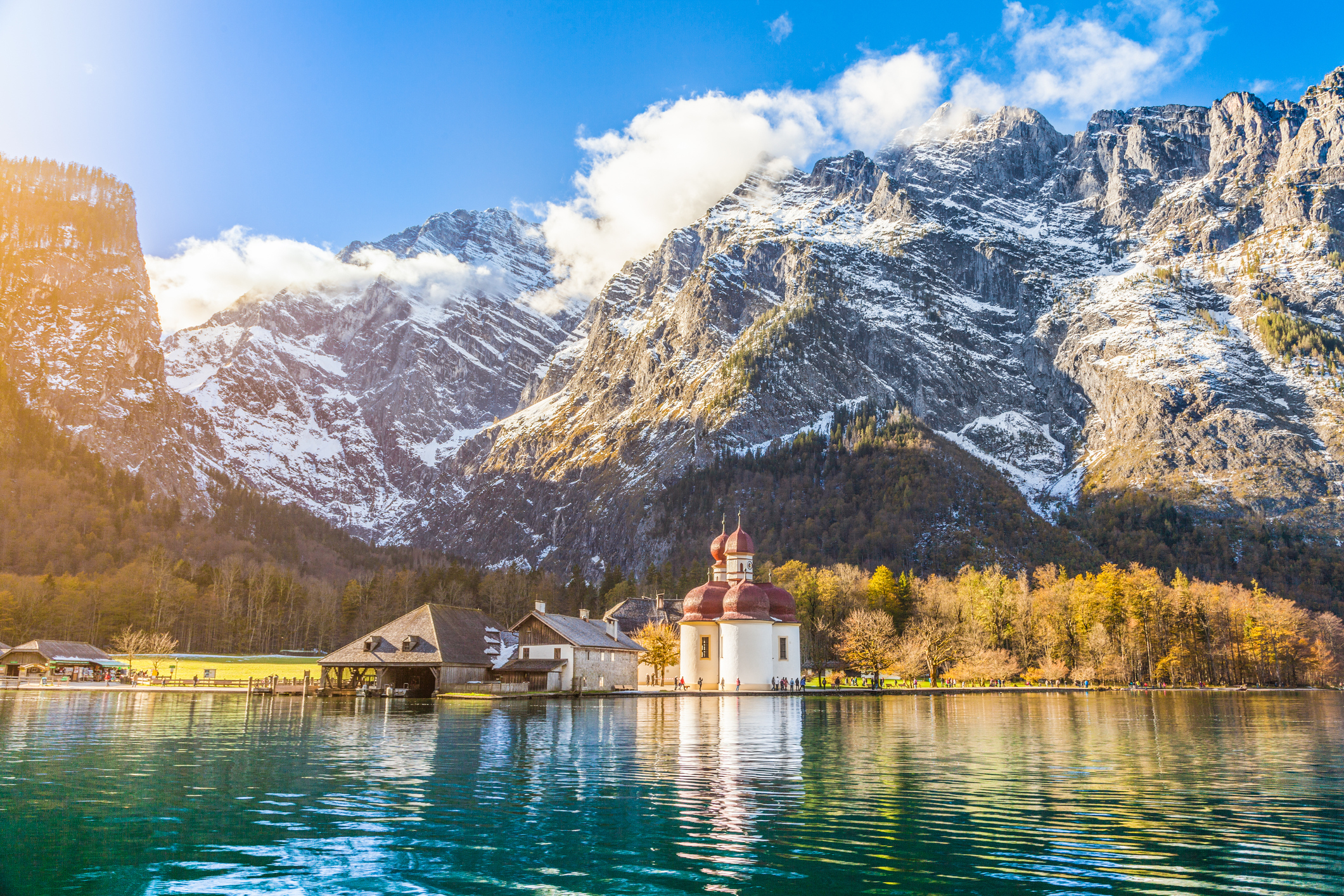 IF you want to avoid the tourist traps and discover a completely new city, country and culture in 2018, we suggest heading off the beaten track.
These 10 under-the-radar European destinations are worth seeking out – before everyone else does!
Lake Königssee, Germany
In south east Bavaria, in the stunning Berchtesgaden National Park, lies one of Germany's most serene alpine lakes.
Boat trips are the ideal way to admire the area's natural beauty.
The surrounding hills are also ideal for hiking – and don't miss a tour of the fascinating Berchtesgaden Salt Mines, which includes a train trip to an underground lake.
Despite being south of Munich, Berchtesgaden park is roughly a 40-minute drive from Salzburg, Austria.
Travel: RyanAir flights from London to Salzburg start at £20. Berchtesgaden is a 40-minute drive south of Salzburg.
Stay: There's a wide range of hotels, apartments and cabins north the lake in Schönau am Königssee and Berchtesgaden to choose from. You'll be spoiled for choice!
Páros, Greece
If Santorini is beyond your budget then Páros is a fantastic alternative.
The Cyclades Island boasts whitewashed villages, blue-domed churches, blonde-sand beaches and fishing harbours overlooked by tavernas, jazz bars and cafés.
Travel: Fly to Athens and get a ferry to Páros for £35.
Stay: Accommodation ranges from impressive budget apartments to luxury hotel rooms.
Isola la Maddalena, Italy
A short ferry ride from Sardinia, the tranquil Isola la Maddalena lies in the heart of the La Maddalena Archipelago.
The island is renowned for its azure waters, sheltered coves, Roman ruins and gorgeous, pink granite buildings.
Stay in the main town, also called La Maddalena, in the summer to make the most of the island's gorgeous beaches.
Travel: EasyJet has flights from Edinburgh to Olbia from £175. A one-hour bus journey gets you to Palau where you can catch the ferry to La Maddalena.
Stay: Most hotels and B&Bs are near the main town of La Maddalena, with glorious sea views.
Le Grau du Roi, France
For the beauty and sunshine of Nice without the crowds or hefty prices, try Le Grau du Roi.
This gorgeous little seaside resort in southern France is ideal for a family seaside holiday. A favourite of Ernest Hemmingway, it boasts beautiful architecture. Take a stroll along the harbour or visit one of the Blue Flag beaches.
Travel: Ryanair offers return flights from London Luton for £40 to Nîmes. From there, catch a train or bus to Le Grau du Roi.
Stay: The central and seafront Hotel Splendid Camargue has rooms from £66.
Trogir, Croatia
Just 30 miles north of Split, the seaside city of Trogir rivals Dubrovnik for historical architecture and atmosphere.
From the elaborate St. Lawrence Cathedral to the stone palaces in the city centre, there's lots to see.
Its medieval old town sits on an island connected to the mainland by bridges.
Travel: There are regular flights from Glasgow and London to Split, which is a 40-minute bus journey to Trojir.
Stay: Hotel Monika lies in the heart of the cobbled city with rooms from £93.
Gdansk, Poland
Look up the beautiful port city of Gdansk on the Baltic coast.
Stroll among the elegant merchant houses of Long Market or visit one of the many stunning red-brick churches within the city walls. Gdansk is also teaming with shops and eateries.
Travel: KLM return flights from Glasgow/Edinburgh cost from £124 while Ryanair return flights from London cost from £30.
Stay: Craft Beer Central Hotel with rooms from £40.
Ria Formosa, Portugal
Most visitors to Portugal's Algarve region will head west from Faro airport, missing the fabulous Ria Formosa national park to the east.
The laid-back fishing town of Olhão is a perfect base for exploring this natural paradise of unspoiled golden beaches, lagoons and nature reserves.
Travel: Return Ryanair flights from London to Faro Airport start at £40. Then Olhão is 15 minutes by car.
Stay: White Terraces apartments and townhouses in Olhão from £185.
Dinant, Belgium
Steeped in history, this beautiful town nestled on the banks of the Meuse is backed by a spectacular sheer cliff face and protected by an ancient fortified citadel.
It's also birthplace of Adolphe Sax, inventor of the saxophone.
Travel: Return flights from Glasgow to Brussels start at £35. A return train fare to Dinant is €26.60 and takes under two hours.
Stay: Rooms at the Ibis Dinant on the banks of the Meuse cost from £61.
Lugano, Switzerland
An alternative to Geneva, Lugano is nestled peacefully on the northern shore of glacial Lake Lugano.
Scale Monte San Salvatore by funicular train for breathtaking views of both Switzerland and Italy. And you'll find plenty to see and do as you stroll among the grand piazzas.
Travel: Fly to Brussels or Milan and travel to Lugano by train or bus. See lakelugano.info
Stay: Hotel Walter au Lac has lake views and costs £182 a night.
Umea, Sweden
Umea's claim to fame is that it was the 2014 European Capital of Culture and is also home to The Girl with the Dragon Tattoo author Stieg Larsson.
This stunning riverside city has a lot to offer, from a cool arts and music scene to amazing restaurants, bars, parks and even Europe's largest guitar museum.
Travel: Fly via Stockholm to Umea.
Stay: Comfort Hotel Winn, £95, a night.