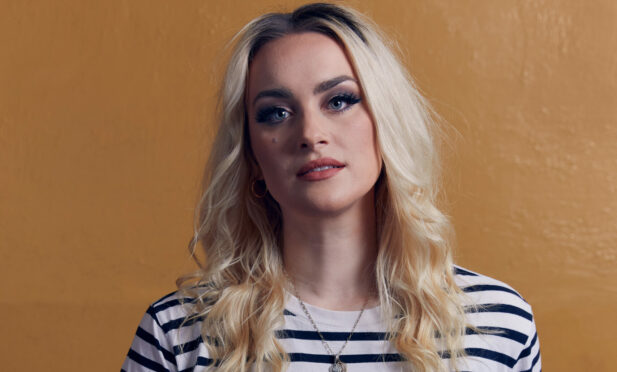 The posters show her taking a plunge into a swimming pool, and Amy Matthews' upcoming Fringe show sees her taking a similar dive into her personal life.
After two relationships end in quick succession, she is left swinging between two states – stability and restlessness. Her brand new hour, I Feel Like I'm Made of Spiders, takes you into her world of breaking up, breaking down and the search for connection.
Amy is co-host of the Snookered podcast with Des Clarke and a cast member on Scot Squad.
---
How are you feeling ahead of the Fringe?
Excited. I can't wait to share this show with people. As an Edinburgh resident I always feel like I get to show off my beautiful city. It's nice to be at Monkey Barrel as well because they're my home club, and it's going to feel like having a little family unit at the heart of the chaos.
How was your festival experience last year?
Mixed. I think that's normal. Did I have amazing shows and feel uplifted by creative people and bask in the excitement of a month-long arts festival? Yes. Did I also have a favourite toilet to cry in? Yes.
What is your show about, and what inspired it?
It's about rebuilding and reconnecting. I had a turbulent year that hollowed me out, and this show is about refilling that space.
I think this show is for anyone who has felt untethered in anyway – that unnerving floating feeling of being between relationships, between calmness, between flats, between jobs, between versions of themselves. It's a show that exists in a synapse.
It's also just got some funny bits about silent discos, Henry VIII and a boy at my school who vandalised classrooms with origami, so a bit of something for everyone I reckon.
This is some of your most personal stand-up you've written, how was the journey of putting it all together?
It's been so creatively stimulating. I have a rule where I don't talk about anything onstage that I haven't properly processed – I think an audience can sniff out when a comedian is still a bit too close to the subject matter and I think it makes for an uncomfortable experience for all involved.
So making sure I could make a funny show about a weird old year was the first thing, and I'm really happy with the outcome.
I'm being directed by the inimitable Elf Lyons, and she's been superb at helping me hone stuff, bring out more theatricality in my work and just generally be a brilliant guiding light.
What are your favourite memories from the festival?
In 2019 Spencer Jones did a 50 minute disco at midnight every night and it was just the most vibrant, funny, gorgeous, wholesome way to round off a day.
It was full of other comics and the public all together, and just felt like a beacon of joy and innocence and fun in amongst all the less nourishing nonsense.
As an Edinburgh resident, how do you feel about the way the Fringe takes over the city?
I'm pretty at peace with it. Don't get me wrong, I have the same gripes as lots of other people, particularly as someone who can usually shave 10% off of a Google Maps walking eta – the street congestion drives me bananas. But I think as a whole it is an incredible thing.
If you were put in charge of the Fringe, what changes would you make?
I'd make a nap station somewhere central.
How would you describe how you feel when your walk on music hits and you take a step out onto the stage?
Calm. I know that's weird. I think there's a real serenity to being onstage. Not always of course, but as far as that 'ITV-Stars-In-Their-Eyes-emerging-from-the-smoke' moment goes, I do feel oddly calm.
I think it's because the noise of everything else falls away. It's hard to worry about council tax when you're trying to make Darren from Fife laugh.
Who else are you looking forward to seeing at the Fringe?
Adam Flood – he's got a new show about reinvention and the bits of it I've seen are so funny and energetic and great. Also I've seen Adam's workspace and he has a corkboard of post-its for the structure of the show, and one just said 'poo man' on it. Quite excited to see what that bit's about.
Eleanor Morton is doing a few dates of work in progress stuff and character comedy; I can't wait to see what that spooky gal is cooking up.
What's your favourite one-liner?
I'm so bad at remembering specific lines from people, but Pierre Novellie has an iconic routine about eating KFC out of a bucket – (it's in his Youtube special – go find it).
It's a long routine but there's a throw-away line in it where he says he feels like if someone shone a torch on him whilst eating it, he'd he'd turn around and hiss. That image makes me howl everytime he says it.
Who'd be your dream…
Podcast co-host / guest
Greta Gerwig – but in character as Frances Ha. Probably my favourite film and I'd love to drink a glass of wine with her and both not know what we're doing with our lives together. If Greta wasn't up for being in character, raw Greta is also wonderful.
I'd ask her if she's seen the viral tweet where someone said Timothee Chalomet reminded them of a medieval shoe. I'd like to discuss that with her.
Karaoke duetter
Hilary Duff, so I could recreate the Colosseum scene at the end of the Lizzie McGuire Movie. I've always wanted to shout 'SING TO ME PAOLO!' into an audience.
Wrestling tag team partner
Amy Matthews, the TV presenter from New Zealand. I think we should fight for our Google rankings.
Comedian to split an hour with
Zelensky. That man could really put a ropey gig into perspective.
---
Amy Matthews brings her new show 'I Feel Like I'm Made of Spiders' to the Edinburgh Festival Fringe, performing at 3pm at Monkey Barrel The Tron from 2nd to 27th Aug (excluding Wednesdays). Tickets here.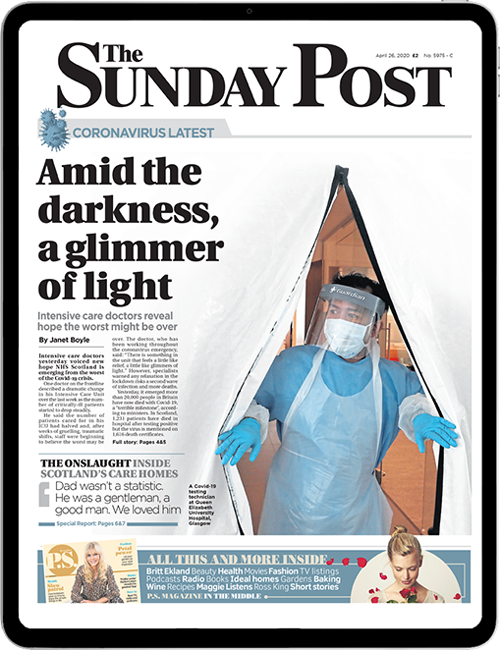 Enjoy the convenience of having The Sunday Post delivered as a digital ePaper straight to your smartphone, tablet or computer.
Subscribe for only £5.49 a month and enjoy all the benefits of the printed paper as a digital replica.
Subscribe