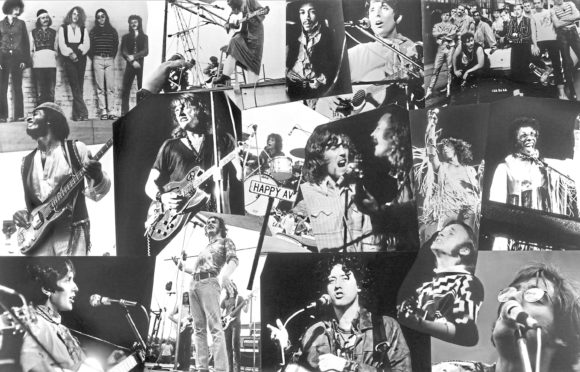 Just imagine how you would have felt, being Melanie on Friday August 15 1969.
The Incredible String Band, due on stage at Woodstock at 10.50pm, decided they didn't like the look of a nasty rainstorm and refused to go on.
Formed in Edinburgh, you might think they'd have been used to rain, but that was the choice – and so the organisers threw Melanie, just 22 and one of only a few solo females at the event, on instead.
Not only did she survive, she positively thrived, and when many audience members lit candles during her set, it inspired her future hit Lay Down (Candles In The Rain).
Born not a million miles from Woodstock, she would also have hits with her take on the Stones' Ruby Tuesday, although many of us remember her for Brand New Key and What Have They Done To My Song Ma.
The great news is, half a century later, Melanie is still in fine voice and still performing.
Arlo Guthrie, another New Yorker, then aged 22, is also still going strong. Surely nobody else at Woodstock had the musical roots he has.
Son of Woody Guthrie, the man who inspired Bob Dylan and a million other folky protest singers, Arlo had a lot to live up to. Woody had died just two years earlier, but his son kept the torch burning brightly at Woodstock.
As did next up, the six-months-pregnant Joan Baez, another master of the acoustic guitar and songs with an angry message.
Married to anti-Vietnam War protester David Harris, Baez had just got into writing her own songs after years of success with her brilliant covers of Dylan and others.
Despite the rain, the cold and the pregnancy, she was another giant of the most famous music festival ever.
At 78, more than 60 years after her first gig, Joan is still going strong, too – they don't make them like that any more.
Quill, the first act on the Saturday morning after the massive crowd got a few hours' sleep, had been discovered in a small bar gig and were invited to perform at Woodstock.
They ended by jamming with superstars like Stephen Stills and Jimi Hendrix, so it must have felt like quite a leap for them.
Agonisingly, a problem in synchronising the video and audio saw the producers unable to use their slot in the movie, and they would gradually fade into obscurity.
With Santana not quite ready yet, they threw in Country Joe McDonald, who would also appear with his band The Fish the following day.
A bigger star Stateside than in Britain, he did just fine, twice, though not as fine as Santana, still in their early days, with a first record just out, who proved a huge hit with the Woodstock crowd.
You could say that nobody at the festival got such a boost as Santana, with their lengthy guitar instrumentals, tons of percussion and their version of rock with a Latin feel.
John Sebastian was surprised by his reception – in fact, he was surprised to even find himself on the stage at all.
The Lovin' Spoonful star was just there to enjoy the action, but acts were running late, the whole thing often verging on chaos, and so he was asked if he'd like to get up and do a few numbers.
It's since been claimed that he was under the influence of marijuana or something more psychedelic at the time, but it didn't prevent him turning in one of the all-time great impromptu shows.
In the hours that followed, the crowd finally got to see The Incredible String Band.
The weather suited them and they did well, but heavy rockers Mountain didn't get so lucky – their amplifiers overloaded and they had to end their set early.
New Yorkers Mountain did well despite Woodstock being just the third concert they'd ever done, and The Incredible String Band were indeed pretty incredible.
Formed three years earlier in the Scottish capital, they were reaching an early peak, having released two of their greatest records at that time.
Living as they did at a farmhouse commune in Wales, Woodstock's wide-open spaces probably felt like home – they were already filling UK venues, and now they conquered America, too.
Canned Heat, a Los Angeles blues band, are still doing their stuff today and were at their peak then, too. Their song Going Up The Country would become something of an unofficial Woodstock theme tune, prominent as it was in the 1970 documentary movie.
Grateful Dead, huge in the USA and not so big here, were often in the news for LSD busts and other hippie naughtiness, but at their best were very talented musicians, and the crowd who knew them well took them to their hearts.
They split up in 1995, the year their leader Jerry Garcia died, and another star of Woodstock no longer with us was the unique Janis Joplin.
Dead of a heroin overdose at 27, a year after the festival, she was an astonishing singer who had previously dominated the infamous Monterey Pop Festival.
She shared a house with Country Joe, another Woodstock star, and later in the year did a memorable TV performance with Tom Jones.
Like several of that gifted generation, however, she would die young, leaving millions wondering what great recordings she would have given us.
The year 1969 was the year Sly and the Family Stone gave us the wonderfully-titled single Thank You (Falettinme Be Mice Elf Agin), and though their performance was in the early hours, it is often referred to as one of the best at Woodstock.
The penultimate act of the Saturday night put in a memorable performance, though they didn't actually get to do it until about 5am, as things had run so late.
The Who did much of their Tommy album, the one that would make them millionaires at last, and even an interruption didn't bother them.
When Abbie Hoffman, anarchist revolutionary leader of the Yippies, or Youth International Party, clambered up to make a speech about the arrest of John Sinclair, Pete Townshend told him in no uncertain terms to get off the stage.
Sinclair had caused a huge hippie storm by being sent to jail for 10 years for marijuana possession. He was eventually released a year or so later and moved to Amsterdam – for obvious reasons!
Strangely, The Who felt it was one of their worst concerts, but everyone else loved it.
They enjoyed the upcoming Isle of Wight Festival far more, another which would see them appear just before Jefferson Airplane.
Massive in the USA, Jefferson Airplane would headline Monterey, Woodstock and Altamont as well as Isle of Wight, a fantastic record.
As it had all run so late, the hundreds of thousands only got a few hours' sleep before Joe Cocker woke everyone with a thunderous, stirring performance.
The Sheffield singer had arrived by helicopter as the crowd was now so big, and his passionate delivery of Beatles classic With A Little Help From My Friends was among the top highlights of Woodstock.
When the following thunderstorm had subsided, Country Joe returned for his second slot before Nottingham rockers Ten Years After took to the stage.
Woodstock shot them to fame across the world, their version of I'm Going Home among the highlights, with singer-guitarist Alvin Lee becoming a huge favourite.
If many young Americans had known precious little about Ten Years After, they knew plenty about The Band.
As their simple name suggests, there was nothing fancy about the Canadian-American group, who would often act as Bob Dylan's band.
Several of them had sensational singing voices, including the drummer, and though they finally retired 20 years ago, their records such as Music From Big Pink and The Band sound as great as ever.
Johnny Winter, the albino blues guitar god, delivered a blistering set next. Many a future blues guitarist would owe it all to what they learned from Winter, who passed away aged 70 in 2014.
Blues was followed by jazz-rock, as Blood, Sweat and Tears took the stage next – their opening number was captured on film before the camera crew were told to leave, as no one had agreed any filming as part of their contract. Shame, because they were apparently great.
As were Crosby, Stills, Nash and Young, who delivered two fine sets, one with acoustic guitars and one electric – with Neil Young grabbing most of the attention.
After the Paul Butterfield Blues Band and Sha Na Na did their sets, it was time for the last act of the festival.
Strangely, by this time the massive crowd had reduced to just over 200,000. The 200,000 or more who had already left, then, missed a real stunner.
Jimi Hendrix, just a year before his death, was already the highest-paid musician on Earth. He had been awake for three days, enjoying the other bands and the backstage banter, and flashed peace signs as he came on.
His astonishing performance of The Star-Spangled Banner has been called the greatest performance of all time, and when Hendrix left the stage he collapsed from exhaustion. A dramatic, fitting end to an incredible event!