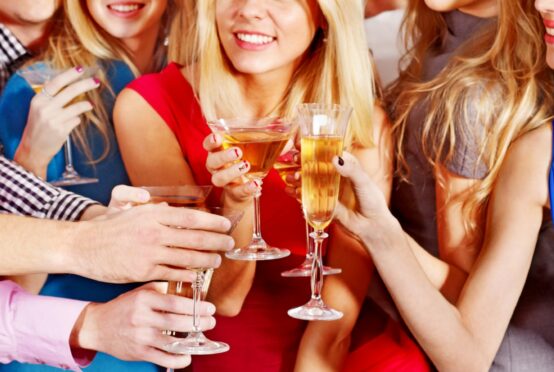 More young Scots are calling time on drinking as social media changes attitudes towards alcohol, according to experts.
Since 2005, the overall amount of alcohol consumed in the UK and the proportion of people drinking have both fallen, and the trend is especially pronounced among the so-called Generation Z as more than a quarter of 16 to 24-year-olds are now thought to be teetotal.
Millie Gooch, founder of the popular community Sober Girl Society, says the "sober curious" movement is thriving online in part due to an increased awareness of the mental health implications of excessive drinking, and the simple fact that young people do not want to risk embarrassing photos being posted on social media without their consent.
"For me, when I first started drinking, I was at university and I would take a digital camera on nights out," explained the 31-year-old, who has now been sober for five years. "As my drinking developed and I got into my mid-20s, and social media became a thing, there was always that worry about instant documentation. These days, people will get drunk and then have to wake up the next day and think, 'Oh God, what if someone took a picture of me and they've uploaded it?'
"It's an extra layer of anxiety for people – they don't want to get too drunk in case people have taken a picture. Plus, it's not great when you wake up and see all these people on social media who have done really lovely things with their weekend and you're hungover in bed with the curtains closed."
Social media, says Gooch, has also made things like travel and starting your own business seem more accessible, and younger people are placing a lot less importance on alcohol because they want to save money for more exciting experiences.
She continued: "Gen Z and millennials are becoming more conscious consumers anyway. We've seen the rise in veganism and sustainability, and for the first time people are actually questioning, OK, why are we just doing these things that have always been done? Actually, are they making us happy?
"As a generation, we are also a lot more discerning about what we want to spend our money, time and energy on. We also get a lot of a lot of people coming to our events who have parents that are part of that really boozy generation, so they've seen the detrimental effects and they don't necessarily want to repeat it."
Amie Grimason, 29, was a social drinker, but went for longer periods without alcohol during lockdown. After deciding to ditch booze entirely, she wanted to meet new like-minded friends and, inspired by Gooch's journey, started her own group called Sober Girls Glasgow in August 2021. The community now has more than 1,000 followers on Instagram, 500 Facebook members, and over 80 people in a group WhatsApp chat.
"I thought initially it would be myself and maybe 10 other women, and we might meet up every so often to have a wee chat," she explained. "In the year and a half since it has just grown arms and legs. It's definitely a generational thing. Most of our parents were brought up with a drinking culture, particularly in Scotland. For the younger generation, there's so much talk about mental health and the link between alcohol and mental health is coming to light more now."
Nicole Ferguson, 29, has been sober for the past 18 months and recently launched a new wellbeing event, Flare Festival, which featured an alcohol-free bar.
"The Gen Z generation are choosing not to drink, which just wouldn't have been the case for millennials back in their early to mid teens," she said. "They're a bit more clued up, and I do think that is to do with the fact that they've got a lot of resources just at their fingertips. While social media can have its downside, it's definitely a plus because you're able spread messages about the different reasons for being sober.
"I know that a lot of people think that you have to have a drink to go out and dance, but says who? Why do you have to have alcohol lowering your inhibitions to be able to just move your body? Before I stopped, going out drinking was so I could go to a club or a festival, but I know now I can still do that while taking away the alcohol."
As the sober-curious movement has grown, so too has the choice for non-alcoholic beverages. The growing "low and no" alcohol market is now worth an estimated £205 million to the off-trade, up £77 million on pre-Covid levels, as well-known brands like Gordon's, Heineken, Kopparberg and Guinness introduce 0% alternatives.
Sonja Mitchell, founder of Scotland's only woman-owned non-alcoholic brewing company, Jump Ship Brewing, has seen turnover triple over the past two years, and is currently planning to open a new purpose-built 20-hectolitre brewery to quadruple production of her 0.5% ABV beer.
The mum of three launched her business in 2019 after struggling to find good-quality non-alcoholic versions of her favourite craft beers, and agrees with Gooch that social media has been something of a "moderating factor" for younger people quitting drinking. However, she says there is also a growing number of people, like herself, who enjoy the flavour and character of alcoholic drinks, but can't stick the hangovers.
She said: "I have always loved beer, it's been my main drink of choice, but I hit a point in my mid-30s when I had three young children and a busy job and alcohol wasn't working for me anymore. Life is stressful and being hungover and trying to deal with that is just not good.
"If you can find a beer that tastes as good as the alcoholic beer you are used to drinking, it's just the easiest way to cut back. The joy of craft beer is the discovery, the flavours, the story, the interesting cans, it's the whole package. If you're into your beer, you can still talk about the beer you're drinking even when it's alcohol free."
Recent research conducted by customer experience consultancy CGA found that four out of five bars plan to increase their range of low and no-alcohol drinks in 2023, and Mitchell says it's an exciting time to be part of such a growing market. Although, brewing alcohol-free beer can be tricky.
She continued: "Overall volume share of non-alcoholic beer is 4% while it's 10% in Germany and 11% in Spain, so we've still a way to go in this country compared to more mature markets for alcohol free. We brew on normal brewing equipment and use similar brewing processes, so everything has to be really carefully balanced and fine-tuned.
"Beer has evolved over the last 10,000 years to be alcoholic, so a lot of traditional brewing practices are about creating the best environment for the yeast to reproduce and to ferment, and we're unwinding all of that. We've only just scratched the surface of the potential."
It's always older people, never my age, who pester me to take a drink
Katie McKenzie, 25, from Glasgow, who works in PR and marketing, on giving up alcohol
"I did the usual teenage thing of drinking at parties, but even when I went to university I was never a massive drinker. I didn't really like the feeling of being drunk, and slowly as I got older, the after effects got worse and worse. I started drinking less and less, maybe a few times a year, and then decided to stop altogether three or four years ago.
"It's an expensive hobby and, these days, there's much more of a focus on wellness and mindfulness for people my age. People are also now more educated on the fact that alcohol is a depressant, so they are spending their nights differently, doing more mindful activities with friends.
"There's so many alcohol-free options now, and in the same way that people are eating less meat, if you see something on a menu that draws your eye, you're more likely to give it a try. So many bars have mocktail menus now, so people don't even need to know you aren't drinking if you don't want them to – that's not something that bothers me, but I do know a lot of people opt for drinks that look like alcohol so people don't ask them, 'Oh why are you not drinking?'.
"Younger people never second guess why I don't drink, it's always people my parents' age, who are desperate for you to 'join in' or 'lighten up' so you don't miss out.
"For me, not drinking isn't anything to do with getting up on a soapbox or feeling sanctimonious. Honestly, drinking is just not that important to me."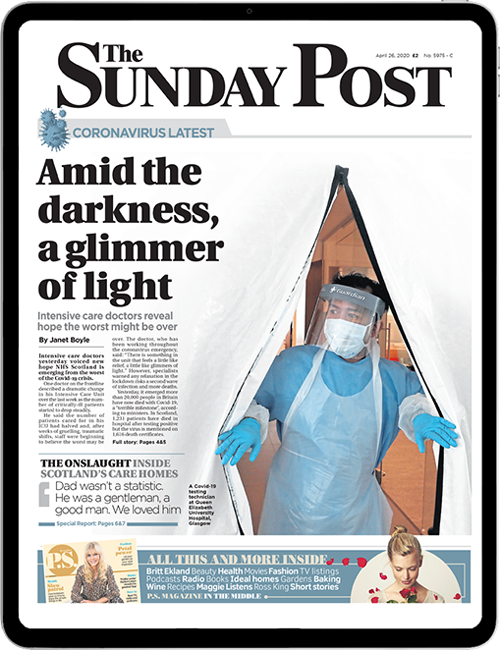 Enjoy the convenience of having The Sunday Post delivered as a digital ePaper straight to your smartphone, tablet or computer.
Subscribe for only £5.49 a month and enjoy all the benefits of the printed paper as a digital replica.
Subscribe