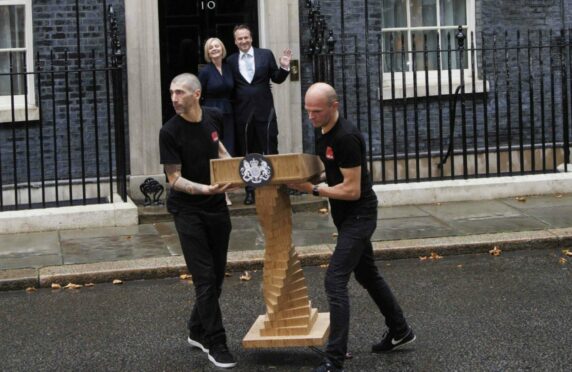 Things can only get better? Alan Johnson is not so sure.
The former Labour MP and cabinet member under Tony Blair and Gordon Brown believes the current Tory government in Westminster has been disastrous for the country.
And he doesn't think for a moment Liz Truss as Prime Minister is going to make things better.
"It's extraordinary," says Johnson as he sits, surrounded by books and guitars, in the East Yorkshire home he shares with his third wife, Carolyn. "I've never known this level of incompetence in government."
These days Johnson makes his living as a crime writer. Indeed, next weekend he's in Stirling for this year's Bloody Scotland festival. But he remains a political animal and any conversation with him inevitably turns to the state of the nation. And it is in a state, he believes, thanks to more than a decade of Conservative administrations.
"What have they got to show for 12 years in government? And Truss is going to change this? Truss is going to stand up to Putin but can't even stand up to Nick Robinson (the BBC journalist) for half an hour?"
He shakes his head at the thought. "If you track everything from 2010, austerity, the disaster that was the EU referendum and the Partygate shenanigans, their incompetence can be seen everywhere," he says, citing hospital waiting lists, crime figures, the sewage being dumped into rivers, even the cost of living crisis.
"They got rid of the only gas storage facility we had in this country, against all the advice. Sheer incompetence."
He would say that, you might think, given his political allegiances. He begs to differ. "I'm not a tribal politician and I don't mix with politicians now, I mix with normal people here in Yorkshire. But diehard Tory supporters are saying, 'What have they got us into?' I would like to think of one good thing this government has done just so I can portray myself as being politically neutral and grown up enough to give credit where credit's due. I'm afraid I can't. I struggle. Can you think of something?"
Now 72, Johnson has retired from political life but it still animates him. It even slips into the day job. After the success of his autobiography, This Boy, and three subsequent memoirs, Johnson has turned his hand to crime fiction, where he sometimes draws on his inside knowledge as a former home secretary to talk about policing and the intelligence services.
His first novel, The Late Train To Gipsy Hill, was a timely tale involving Russian mafia, political poisonings and Ukrainian spies. His new book, One Of Our Ministers Is Missing, takes in teenage gangs, corruption and a contract killer on the streets of Stoke Newington.
"Contract killers are among us," he points out. "They're shopping at Tesco."
Johnson's CV is impressive. After a spell as a teenage postman he became a union leader, then MP and finally cabinet minister, holding five cabinet posts including education secretary, health secretary and home secretary.
Born in 1950, he grew up in London, with his mum Lily, sister Linda and a father they were all glad to see the back of when he ran off with a barmaid. This Boy tells the story of his early years which saw Lily die tragically young at just 42 when Johnson was only 13. Linda was 16 but fought to look after her brother rather than have him taken into care. When he discusses poverty, Johnson knows what he is talking about.
But he also benefited from opportunities provided by the post-war welfare state. His second memoir, Please Mr Postman, is in some ways a defence of the council estate and why getting a council house meant so much to working men and women. "My mum dreamt her whole life of having a council flat, her own front door," he says. "Sadly, she never made it.
"I had a council house when I was 19. My wife was older than me, over 21 – the age of majority then. Judy was four years older than me. She had to sign all the forms because I was underage.
"It was wonderful. Two bedrooms, front garden, back garden, indoor toilet, bathroom. And then it all kind of changed in the '80s. If you were a council tenant and you had refused to buy your own home, there was something wrong with you. I did feel the need to restore the reputation of the council estate. Council housing was a good thing. And it wasn't, as Thatcher seemed to think, for losers."
Two more memoirs followed, including one in which Johnson talked about his teenage dream of being a pop star. But now he has branched out into crime. Fiction is much harder than memoirs, he suggests.
"Fiction to me was the mountain to climb. Writing a memoir you know the plot, you know the character," Johnson says. With a novel you have to conjure it up all out of nothing. "It's climbing the Matterhorn; 80,000 words of a world you've created, with characters that you've created. Once I climbed it I thought I could climb it again. I'm writing the third one now."
How is writing crime fiction different from his previous job?
"In politics you're told the biggest crime you can commit is to mislead parliament. It doesn't seem to be such a crime these days. When you're doing crime thrillers it's your job to mislead people."
Retired from politics or not, it's clear the politician he used to be is never far away. On the night of the 2019 election, which saw Boris Johnson become prime minister, his namesake made an excoriating attack on the then-Labour leader Jeremy Corbyn. Three years on, is the Labour party in a better place? The former Labour minister thinks so.
"It's a proper party of government again and Keir Starmer, my director of public prosecutions when I was home secretary, he's done a proper job, a job as difficult as any cabinet post, to bring us back from that crazy situation."
The Labour party is now back in the hands "of sensible centre-left politicians who are actually serious about taking government again," Johnson believes.
"As serious and hopefully as competent as the SNP have been in Scotland," he adds, "because they are a left-of-centre party with a woman leading them who has been remarkably successful."
He believes another independence referendum is inevitable. "Eventually it's going to happen. Then there will be a debate. But it's absolutely crazy not to allow a referendum."
As for himself, is crime fiction the future? "I'm not planning for the long term now at my age. Short, medium, long term, I just want to write books and if nobody's reading them I'll keep writing because you get into a rhythm. It's like brushing your teeth. You sit down at 7.30am and you write. And it's just such a privilege to be in such control, which you never were in the trade union movement and you certainly never were in politics. Yeah, I'm the king, I decide. I don't need special advisers. It's all down to me.
"Unless…I did always want to be a rock star and I don't think it's too late. But unless that comes along, I'm sticking to writing."
---
One Of Our Ministers Is Missing is published by Wildfire. Alan Johnson is due to appear at Bloody Scotland on Sunday. bloodyscotland.com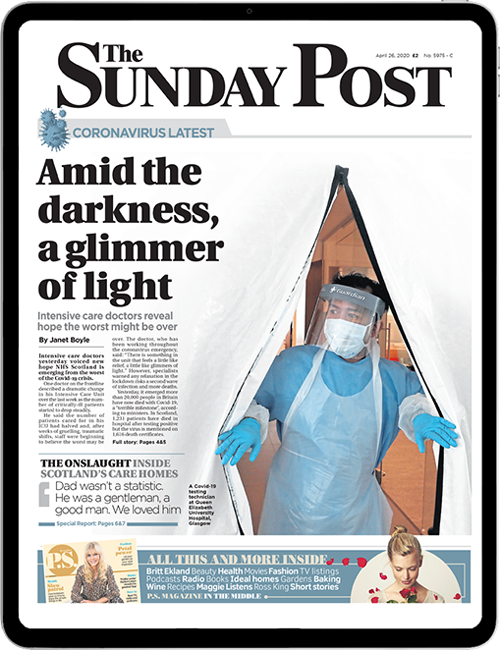 Enjoy the convenience of having The Sunday Post delivered as a digital ePaper straight to your smartphone, tablet or computer.
Subscribe for only £5.49 a month and enjoy all the benefits of the printed paper as a digital replica.
Subscribe