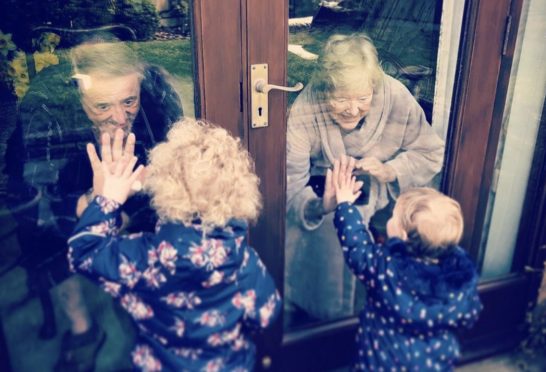 Calls to Scotland's leading charity for the elderly have tripled in a week, according to hotline figures.
Age Scotland revealed how calls have gone up from 100 to 300 a day.
Chief executive Brian Sloan said the ability to take more calls is thanks to an £80,000 cash injection from the Scottish Government to help them cope with heightened need from vulnerable and isolated pensioners.
Age Scotland is using the investment to reach an ultimate target of 1,500 calls per day. So far, call handlers have heard from hundreds of worried older people asking about everything from displaying the symptoms of the virus, to concerns about going out for shopping and collecting prescriptions to fears of being targeted by scammers.
First Minister @NicolaSturgeon has announced £80,000 in further @scotgov funding to help @agescotland expand its helpline offering advice and friendship to older people, their carers and families as demand rises due to #coronavirus
Read more > https://t.co/hV2g8bR21q pic.twitter.com/hP2adrFUXX

— First Minister (@ScotGovFM) March 18, 2020
The charity says it already has anecdotal evidence of criminals posing as good Samaritans, offering to do shopping for the elderly and disappearing with their money.
Mr Sloan said: "We have been asked to get to a level where we can handle 1,500 calls a day. This is our number one priority. We have identified a workforce and are phasing people in that we can move straight on to the phones. It is phased because we don't know how long this crisis could last.
"Previously we handled on average 100 calls each day, just now we have 300 calls a day. We offer information and advice on things like benefit checks, wills, and power of attorney – but now about 70% of our calls are coronavirus related. They range from quite simple ones to some quite distressing calls.
"We had an older person who seemed extremely distressed. We are not medically trained but from the symptoms, you could suspect that they had the virus. In this instance we would be giving out the Covid-19 helpline for medical support, and we ask what other support they might have, or advise they phone 999.
"For all of us these are unprecedented times and we are experiencing new types of calls and acting as quickly as possible.
"Callers can be concerned about going out to the shops to pick up food supplies, or going out for essential medication. They are unable to see family and friends, they want to know who they should let into their house and who they shouldn't.
"We have anecdotal evidence of people knocking on doors, saying they'll get shopping for the elderly occupant, taking the money and then not returning. We know older people are preyed upon by scams, but this is the lowest of the low."
The Age Scotland Helpline is here for older people, their families and carers as Scotland responds to #coronavirus@ScotGovFM @NicolaSturgeon is urging people to call us for reassurance, information, advice and friendship.

☎️ 0800 12 44 222
🖥️ https://t.co/DdjWGJyiJx@scotgov pic.twitter.com/ctIoPbhh01

— Age Scotland (@agescotland) March 18, 2020
Age Scotland is using its £80,000 windfall to invest in technology that will allow the office-based call-handling operation to become a virtual call centre, with staff working from home in line with coronavirus guidelines. It also affords the charity the ability "to scale up" to handle more calls. Staff who have advisory skills but are engaged elsewhere can be redeployed quickly to man phones.
But the chief executive said: "Everybody has a part to play. This is the most vulnerable sector of our community."
He applauded supermarkets who opened early to accommodate older customers or kept online shopping delivery slots for them.
Mr Sloan added: "One thing that has been overwhelming is the offers of help but we have to be careful not end to end up with a Grenfell type situation, where everybody wants to help, to the point of hindering services who can help. We are very pleased to see the Scottish Council for Voluntary Organisations have taken on the task to coordinate the offers of help. They will know how to overcome issues of the elderly knowing who to trust. There will be the identification and checks will be carried out."
Calls to the hotline are expected to escalate further as thousands of pensioners told to self-isolate lose the social care services which allow them to stay in their own homes. Mr Sloan revealed some family members asked to "step in" are "older themselves and isolating as a result of symptoms".
He added: "They don't know what to do. We know social care staff and unpaid carers across the country are going above and beyond to support those they look after, but we must ensure no one with vital care needs is left alone or goes without what they need to live."
Glasgow Health and Social Care Partnership said: "This means we have to concentrate resources on priority services and caring for our most vulnerable service users. We are also focusing on supporting patients being discharged from hospital."
Judith Proctor, chief officer of the Edinburgh Health and Social Care Partnership, said: "We're looking at other ways we can provide support for people. We continue to do our utmost to care for those with the most critical needs in care homes and in the community within the available guidance from the government."
Renfrewshire Health and Social Care Partnership said: "In response to the developing situation all care services are moving to operate at a critical level of service."
Labour MSP Neil Findlay said: "The most vulnerable and elderly are increasingly worried. I hope there are ways we can all do what we can to help."
And Scottish Conservative Shadow Health Secretary Miles Briggs said: "We hope new legislation next week will make it easier for those who are almost finished training and those who have recently left key professions to come back into the workforce to hopefully alleviate this worrying situation."
---
Help yourself
Keep moving. Even some gentle stretches or walking laps round the room can help prevent loss of mobility when you can't get outside.
Keep in close touch with family and friends, by phone or if you have the internet, use online resources such as FaceTime or Skype to see your loved ones.
Stay informed, but don't watch the news all day – it can be overwhelming at times like this. Read a newspaper or limit yourself to one or two TV news bulletins a day.
Accept offers of help, if you need it. You might live independently and be reluctant to admit you need support, but most people will be only too happy to carry out tasks like shopping if they can.
Eat and drink well. Maintaining a balanced diet and staying hydrated are two of the most important things you can do for your physical and mental health.
---
Help others
Stay in touch
Phone your older relatives and friends and ask if they need anything and let them know if they do, you can help out. And while you're on the phone, why don't you have a chat? You could set up a rota with other family and friends to make sure someone is regularly giving them a ring to see if they're OK.
This might also be a useful time to introduce older relatives and friends to technology that might prove helpful during this period, such as Skype or FaceTime. Don't forget snail mail! Everyone loves getting letters and postcards, or just a note through the door. Now might be the perfect time to dust off your stationery set.
Lend a hand
If you're feeling well, why not offer to pick up shopping for an older neighbour or relative? If you are helping an older person, make sure you stay at a safe distance from them (two metres) and make sure you leave the shopping on their front doorstep, knock on their door and step back while you ensure they safely receive it. Maybe help someone to online shop, or find out if you can pick up repeat prescriptions for an older person who can't get to the pharmacy.
Show you care
Why not make homemade cards, send a postcard or even post small gifts to keep people's spirits up. If you know of an older person who is practising social distancing, check to see they have enough things to entertain themselves. Books, magazines, and puzzles are all great ways to pass the time. It's also important to encourage people to stay active if they are self-isolating. Age Scotland's Body Boosting Bingo is a fun game that will raise your heart rate and mood.
Call Age Scotland for help on 0800 12 44 222 (Monday to Friday 9am – 5pm).
You can donate to Age Scotland here.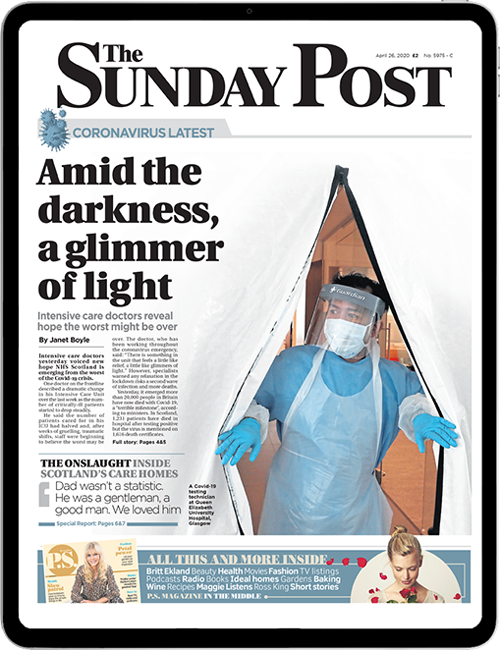 Enjoy the convenience of having The Sunday Post delivered as a digital ePaper straight to your smartphone, tablet or computer.
Subscribe for only £5.49 a month and enjoy all the benefits of the printed paper as a digital replica.
Subscribe