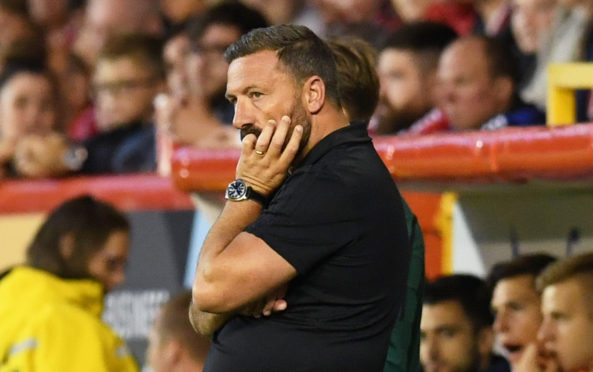 Derek McInnes has ordered his summer signings to target trophies with Aberdeen – starting this season.
The Dons' Europa League ambitions were dashed in midweek when they were rocked by Rijeka at Pittodrie.
Having targeted a place in the group stages, it was a deeply frustrating night for the Pittodrie gaffer.
But he insists his players can get their campaign back on track – and move a step closer to a much-desired trophy win – by dumping Dundee out of the Betfred Cup today.
"Aberdeen have always been expected to win cups," said McInnes.
"Before we came in, and even now, fans will ask how this team – or that team – can win a cup. Why not us?
"They've every right to ask that. But you've got to have a squad that's good enough, and competitive enough, to deliver it.
"Although we've only delivered one, we've certainly put ourselves in with a chance of winning more, and that's what I feel about this squad.
"We've had nine new signings. When we sign them, the discussions are all about the importance of bringing success here.
"We tell them it's a challenging and demanding club, but it's such a rewarding club to work for if you can meet that demand.
"All we can do is try to be as competitive as we can and I believe that, in time, this squad will show we can be competitive again in the cups.
"Hopefully, we're talking this season about winning another trophy rather than just getting to finals and losing them.
"The time for judging my squad will be at the end of the season. I believe that the squad we've put together will prove its worth."
Even with a 2-0 first-leg deficit to overturn, everyone in the Dons camp felt they had a chance of progressing past Rijeka.
But after coughing up a goal inside 10 minutes at Pittodrie, then seeing Funso Ojo sent off, they were left with a mountain to climb.
Frustration was the overwhelming emotion of the night for everyone connected with the club.
But their manager wants his players to use their disappointment as fuel for the campaign ahead.
"Having to experience that, and go through it, is all part of it," McInnes said.
"Hardening them, and getting that experience, will hopefully help us going forward.
"We're out now, but there's no point dwelling on it. My job and the players' jobs will be to analyse that opening period.
"Anything after the sending-off we won't look at because it's unfair to criticise when the game is gone.
"We'll analyse what we could have done better and take it on with us for the rest of the season.
"It's important we don't have any hang-ups from the Rijeka game or any negativity going into the Dundee tie, because that will only help Dundee's cause and make ours more of a challenge.
"It's all about resetting, refocusing and bringing that performance we know is in our team."
McInnes isn't one to linger on "what ifs", but a fit Craig Bryson in midfield might have made a difference against opposition of Rijeka's quality.
The summer capture from Derby County has made only one appearance, from the bench, against Chikura Sachkhere in Georgia.
But McInnes insists that when the 32-year-old is fully fit, Aberdeen fans will see his worth.
"Craig Bryson was brought in as someone who could give us what Graeme Shinnie gave us – drive, experience and leadership. He will give us that," the boss said.
"He's missed the start of the season, but we've got him for two years and it's important we've got him right for the period he's with us, rather than just a half-fit Craig Bryson.
"Hopefully, we can get him up to speed pretty quickly.
"It was his ankle originally and then he's suffered a bit since the game in Georgia with a groin problem.
"But he's been working away with the medical staff and stepping up his work."