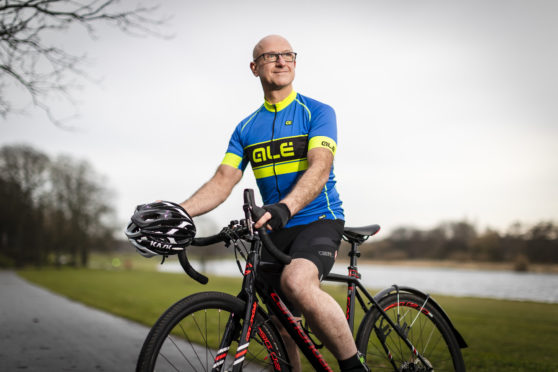 Cycling helped Jon Ruszka pedal his way back to good health after a cancer battle.
Now he will mark 10 years of receiving the all-clear from Hodgkin's lymphoma by taking to the roads with one of his cycling idols, Mark Beaumont.
The 55-year-old will take part in an epic two-day, 265-mile cycle from Dundee, via Inverness, to his home city of Aberdeen and the keep-fit fan believes it's the perfect way to celebrate a decade of beating cancer.
"I think it will be a nice thing to do to mark the anniversary," said Jon, who used cycling to help both his physical and mental health after his diagnosis.
"Cycling helped me put things back in the right order. It puts me in a better mental state and to think things through.
"It's easy to get stressed about things that aren't worth stressing about, but cancer helped me put things into perspective.
"I was unfit and overweight after the chemotherapy and radiotherapy. I returned to cycling and got back into shape and began to enjoy the things I loved before."
An active adventurer, Jon loved skiing and cycling holidays and was planning a trip to France when he received the life-altering news.
"I had a ski holiday planned but I had a sore knee and lost a bit of weight," he continued. "I wasn't too concerned about it, but I went to see my doctor and she found a lump under my arm that I had ignored. I was sent for tests and later diagnosed.
"The darkest moments are until you understand and learn what is happening.
"My daughter, Elizabeth, was six at the time and I was thinking: 'What's going to happen here?'"
Hodgkin's lymphoma develops in the lymphatic system, a network of vessels and glands spread throughout the body. The most common symptom is a painless swelling in a lymph node, usually in the neck, armpit or groin.
Jon, a drilling adviser with fullstream oil and gas company Baker Hughes, was successfully treated at Aberdeen Royal Infirmary after his 2008 diagnosis and says he's indebted to the staff that treated him there.
A cycling fanatic, Jon has challenged himself on bike rides through the French Pyrenees, Italian Dolomites and Spanish Picos de Europa.
He can't quite believe he'll be riding alongside endurance cyclist Beaumont in April, having received an invitation after contacting the world record holder for a signed picture.
Archie and Mark's Big Bike Ride is in aid of The Archie Foundation, the official charity of children's hospitals in Aberdeen, Dundee and Inverness.
Jon's wife, Sue, was attending The Archie Foundation's Storybook Ball fundraiser in Aberdeen and was the successful bidder for a cycling shirt signed by Mark.
Jon later approached the world record holder to ask for a signed photo to go along with the shirt and one thing led to another.
"After a few emails back and forth, Mark mentioned the Big Bike Ride and asked if I would be interested," Jon continued. "From simply asking for a signed picture I've now been selected to be a part of this.
"I've been to some of Mark's talks but I've never had the chance to talk to him personally, so I think it'll be fascinating to ride alongside him and gain a better insight.
"Over the course of the event, everyone involved will become friends and no doubt we'll meet again and go on other trips."
Jon has already raised £3,000 of his £5,000 target and says it's a cause close to his heart.
"I have friends who have benefited," he added. "Everyone knows somebody who has had an experience with the children's hospital. I think it's Aberdeen's favourite charity."
It's not the first time he's raised money for The Archie Foundation. In 2015, a work team took part in a corporate global cycling challenge where 37 teams competed to see who could cycle the furthest.
"Our team of five cycled 10,000 miles and accumulated 460,000ft of elevation gain over 10 weeks," Jon explained. "That's the equivalent of a distance further than from Scotland to Australia while cycling over the full height of Mount Everest 16 times."
---
Donate at justgiving.com/fundraising/jon-ruszka