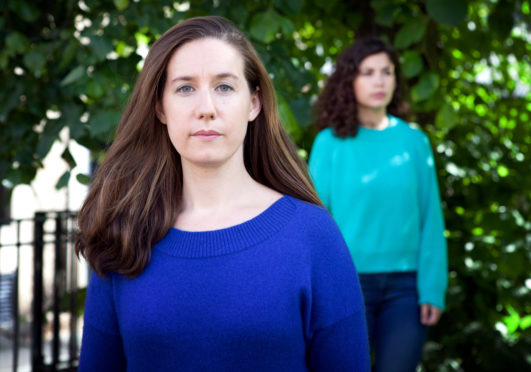 At the border between the US and Mexico, artists recently built seesaws between the slats of the fence separating the two countries.
It meant that children on either side could play together, despite the obvious barrier placed in front of them.
It was this idea of art connecting people and questioning why walls exist between us that writer and performer Jessica Phillippi hopes to harness with her show Illegal.
The show, now running at the Edinburgh Fringe, features Jessica and fellow performer Elena Larios as two women who have both had their lives changed by the immigration system.
The two play all of the characters (around 27 in total) as well as being the main protagonists.
"It's a two-hander drama telling the story of two immigrant women," Jessica says. "Both have their own struggles.
"It started off as two separate stories and then I realised it was actually better to intertwine them. We go inside one character's head and usually when we're hearing what she's thinking it's in verse. It'll keep the audience on their toes!
"It's really fun to do, and a bit different to anything I've ever written before."
Illegal is no work of fiction, with both of the women's stories based on real life.
Like her character, Jessica was an American artist struggling to remain in the UK with the ticking timebomb of an expiring visa on her mind.
She started writing the show about a year and a half ago, when she was waiting to find out if she was to be able remain in the UK.
It's these shores that have been her home for almost a decade, having studied her craft in Glasgow and spent many years in the city.
At the same time as she was trying to figure out what she would do if she was forced to leave a country she loves, things were starting to kick off at the US / Mexico border.
"I had already been reading stories about immigration pretty obsessively but that was when I started to think how much harder it would be to get into my own country," Jessica says.
"The piece started out as a monologue inspired by my own story but I read a story about a woman who was trying to get to my home town, where my parents live. I researched everything I could about her and she became the other character."
Elena takes on the role of a Guatemalan graduate undertaking an extremely risky and illegal crossing from Mexico into the US.
A desperate young mother, she sees her future across the frontier line that has dominated the American political agenda for some time.
Both stories are aimed to show different experiences of what it means to be "illegal".
Jessica recognises she's privileged as a white American, but still sees her future hanging in the balance, tied up in diplomatic red tape and considering the consequences of overstaying.
While for the Gutemalan woman, her journey was illegal all along and could have a huge impact on the rest of her life.
"The show's thinking about the universal immigrant struggle and how we treat immigrants today and I think it's getting worse," Jessica adds.
Edinburgh is a very fitting place to be putting on a show on this topic, with the festival founded on the principle of cultural collaborations between nations in the wake of the Second World War.
"The arts are something that are important in forging partnerships between nations that maybe politics and diplomacy aren't able to do," Jessica says.
Helping to get the show there was a crowdfunding campaign that eventually raised an extra 25% over and above the initial target.
The project has had plenty of backers, from family and friends in America to Scots-born comedian Colin Mochrie of Whose Line Is It Anyway? fame.
"It's been incredible and really great to see the support," Jessica says. "We've even had some people in the States message me saying they can't make the show and donating the amount for two tickets to give to immigrants who wouldn't be able to come.
"We're trying to work on a ticket offer where immigrants can come on a certain day and get in for a cheaper price. We do want people to come and see the show, especially when so much of the inspiration of the show is about the difficulties of staying and one of those is financial."
Jessica currently lives in Surrey but still spends a lot of time back in Glasgow, where she studied at the Royal Scottish Academy for Music and Drama, now known as the Royal Conservatoire.
"I'm always up here for work, once a month at least, so I feel like I haven't left," she says. "I first came over on a student visa and at that time they had a two-year post study work visa which at the time was really easy to get.
"It's now gone, so people who come over to do the same course I did now just stay for the course then leave.
"I fell in love with Glasgow and nine years passed, it's the longest place I've lived besides my parent's house when I was growing up, it's really special."
There are a few references throughout the show to Jessica's love of the city.
"We had to cut a lot of things out but there were a lot love letter bits to the city that I wanted to keep in," she says. "The character falls in love with Scotland and the arts scene and that part of the story is very real.
"I've always found the Scottish arts community to just be so open and welcoming and wonderful."