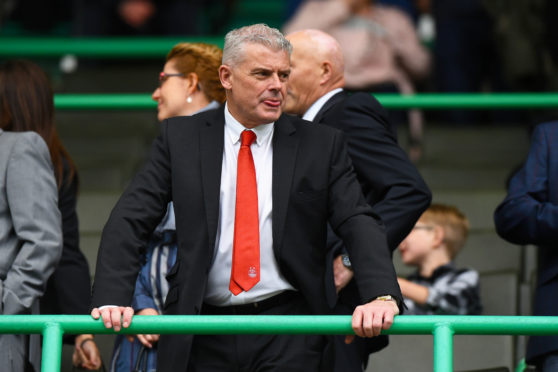 Aberdeen chairman Dave Cormack has called on Neil Doncaster to apologise for the way the SPFL vote on calling time on the lower leagues was conducted.
The Dons chief revealed that the governing body's chief executive called him 20 minutes before the requested deadline of 5pm a week past Friday to say his club's vote was not required.
He was informed there was already a Premiership majority for the resolution to end the lower leagues.
Aberdeen, previously undecided, then came to a decision to vote 'Yes'.
Cormack yesterday backed calls from Rangers, Hearts and other clubs for an independent inquiry into the governance of the SPFL.
Rangers went a step further last weekend and asked for the suspension of the SPFL's chief executive and its legal adviser, Rod McKenzie.
Dave Cormack said: "We wanted to see a situation where the resolution was passed but where 75% of the Premiership clubs would make a decision on ending the season, as opposed to leaving that to the SPFL board.
"We were negotiating, for want of a better expression, on this position.
"Then at 4.40pm, just before the decision, we were effectively told they had got their nine votes and didn't need ours.
"We were told that by Neil Doncaster.
"I don't have a problem with him getting involved. He didn't push us either way.
"We then made a decision, on a verbal assurance that no decision would be made on the season until the majority of clubs were on board, to make a yes vote.
"We didn't vote until just after 5pm.
"I spoke to Neil Doncaster the other day and said to him: 'If I was in your position – I'm not and wouldn't want to be – I would show some contrition for what has happened'.
"It is clearly a vote that was forced down our throats.
"We didn't feel bullied. We felt it was important to get a message across that the decision to call the Premiership should be made by 75% of the clubs."
Cormack supports an independent inquiry into the voting process.
"A non-Aberdeen fan sent me a quote that said: 'For evil to succeed, it is only necessary for good men to do nothing'.
"If that is the feeling of fans across the board, we owe it to the fans to right this situation.
"We would like to see an investigation, with someone independent to chair it."
The US-based businessman now wants those in charge to make some plans for the future.
He said: "The Aberdeen position is that we would be as well taking a million pounds out to the car park at Pittodrie and setting fire to it.
"Every month that goes by is costing us a million pounds.
"We want to see some clear leadership from the SPFL, setting out a terms of reference to get us back playing football.
"It's really important for the executive, led by Neil, to take leadership."
Cormack indicated the resolution, which has caused so much controversy, was unnecessarily rushed.
He went on: "We have to look at options and, even if it's remote possibility, we might want to play the last eight games of the season behind closed doors.
"We will have to wait for the UEFA decision this week.
"It all comes back to the 48 hours we were given on the resolution.
"This needed a lot more time for debate and discussion in a constructive manner."
On the subject of league reconstruction, Cormack urges caution.
He said: "I learned a long time ago in business that the worst time to make long-term decisions is in a crisis.
"From Aberdeen's perspective, we have always been supportive of looking at the Partick Thistle situation, and looking for fairness.
"We have always been in favour of a 14-team Premiership for one or two seasons."
Falkirk chairman Gary Deans is also in favour of an independent investigation.
His club are currently facing relegation, and he believes recent decisions could have been too hasty.
He said: "I asked prior to the vote why we were forcing this through prior to the UEFA deadline.
"I'm now hearing slight suggestions of England playing out their games.
"If that happens, I will be absolutely livid.
"We were told there was no possibility of playing football and we had to end the season."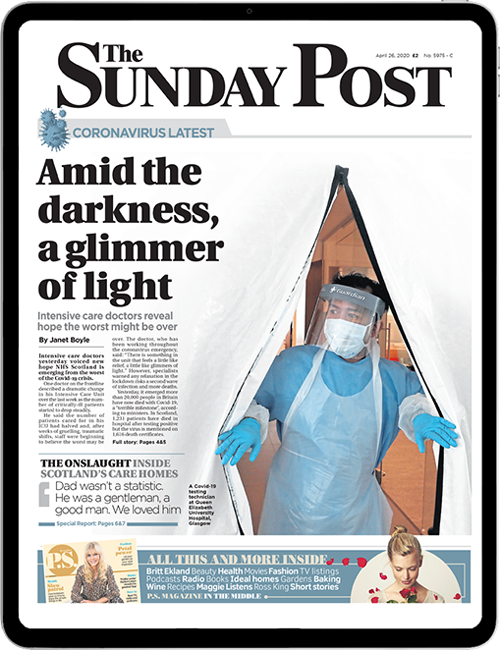 Enjoy the convenience of having The Sunday Post delivered as a digital ePaper straight to your smartphone, tablet or computer.
Subscribe for only £5.49 a month and enjoy all the benefits of the printed paper as a digital replica.
Subscribe