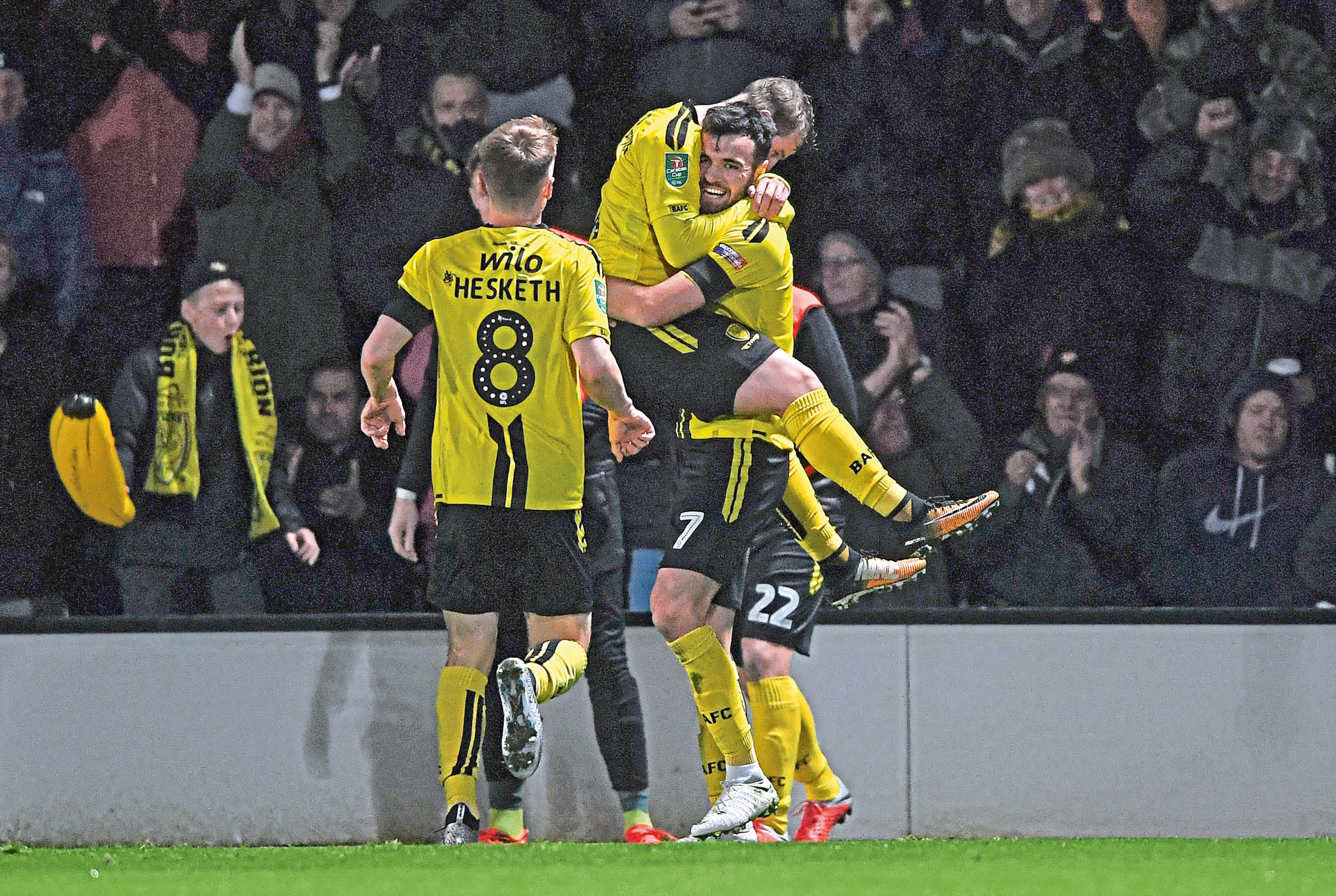 SCOTT FRASER knew who he wanted to face in the Carabao Cup semi-finals long before the draw told him it would be Manchester City.
There was no such thing as an easy route to the Final anyway. Not for the Burton Albion side Fraser is starring for these days.
In for a penny, in for a pound. That was the former Dundee United man's thinking.
Yet tucked away, a trademark 20-yard burst further back in his mind, there was also the whole dream-come-true element to it.
Pep Guardiola's City aren't just adored by supporters. They are beloved by players, too – especially players like Fraser.
As a kid, the 23-year-old attacker didn't just enjoy watching City legend David Silva, he idolised him.
The Spaniard was a man whose playing style inspired youngsters of Fraser's age all around the world to do something joyous – take the ball and run with it.
Silva's devastating, jinking shrewdness is still leaving young hopefuls wide-eyed today.
So when City and Burton – conquerors of Middlesbrough in the quarter-finals – were paired in the draw for this week's last-four ties, Fraser recognised the significance of the moment.
The chance to share a pitch with a childhood hero had just taken a tantalising leap towards coming true.
Then reality slapped him square in the face.
"My phone crashed after the draw!" laughs Fraser.
"The amount of Tweets I was getting. The amount of texts I was getting . . .
"Straight after the draw, I was getting texts from people I didn't even know had my phone number, asking me to sort them for tickets!
"It was pandemonium.
"I think that's partly because it's only six months I've been down here – and I've been doing well – but this is like the cherry on the cake."
And what a cherry it is, too.
Forget about the grind of League One. Never mind your midweek trips to Scunthorpe, Rochdale or Accrington Stanley.
On Wednesday night, Fraser and Albion are off to the Etihad.
The swashbuckling star is more than grounded enough to accept a degree of good fortune played a part in taking him there.
But when you look at the list of clubs Burton have dumped along the way, any questions over whether their young Scot has earned his shot at City's big guns disappear in a puff of smoke.
"It's unbelievable," he says.
"In the semi-final draw, it was us, Chelsea, Spurs and Manchester City, so it was all a bit surreal.
"This is the sort of thing my agent and I spoke about in the summer before I signed.
"It was the thought of just needing one cup draw, one chance against one of the big teams.
"But we've knocked out Aston Villa, Burnley, Nottingham Forest and Middlesbrough, all big clubs.
"To have the chance to go and play City now, it's just . . . wow."
Silva is clearly the main man for Fraser. But start reeling off the names of City's other midfielders – Kevin De Bruyne, Raheem Sterling, Ilkay Gundogan, and even youngster, Phil Foden – and Fraser explodes into genuine, heartwarming laughter.
"It's incredible!" he beams.
"I got a Tweet last month after the draw, reminding me that two years ago I'd just played in a 0-0 draw with Raith Rovers at Stark's Park.
"Now I'm away to be playing Manchester City at the Etihad.
"Even if they're resting boys, they'll still be bringing in the likes of Mahrez, which is unbelievable!"
Fraser's love for David Silva, however, deserves further examination, even if the reasons behind it – one World Cup, two European Championships, three Premier League titles and a left foot to die for – are hardly a mystery.
"I've always loved watching him," he explains.
"I prefer to play either behind the striker or in central midfield.
"It's weird because at Burton we've been playing the same sort of shape as City have been playing.
"It's been a 4-3-3, where one of our boys will just be sitting in the Fernandinho role, then I'll be playing as one of the eights, where Kevin De Bruyne and David Silva play.
"There's wee things like that, and obviously, I've watched Silva since I was younger, players like him and Mezut Ozil.
"So hopefully me and Silva are on the pitch at the same time at some point – that would be incredible."
Not to mention, surely, a chance to land one of the City star's shirts?
"I'll be speaking to him," smiles Fraser. "I'll be making sure I get in one of his ears!"
Albion's Carabao Cup run isn't the only thing Fraser is relishing about life in England.
Having left Dundee United in the summer, there was a degree of trepidation about moving to League One – a contest with a reputation for somewhat "industrial" football.
In Brewers gaffer Nigel Clough, however, Fraser has found himself playing for a man who appreciates the finer side of the game.
"It's been the experience I was hoping it would be so far," he says.
"When I first came down, I was told how physical the league was.
"But with the football we play, I think three or four opposition managers have gone in after games and said to our manager that we're the best footballing team they've played this season.
"It's just about us trying to score more.
"We might be on top in a game, but we'll make one mistake and it costs us because we've not been clinical enough up front.
"We know we've got to get that right. But once we do, there's no doubt that we can be up there challenging for the play-offs, which is the aim."
Promotion to the Championship would provide an immediate reversal of the relegation the Brewers suffered last season.
It would also vindicate Fraser's move south in terms of career progression.
But whatever happens, the Scots star believes working under the exacting Clough has already made him a better player.
"The manager here is a lot more 'on me' in terms of his demands. That's probably the biggest thing I've noticed," Fraser concedes.
"At Dundee United, I probably got away with a bit more than I do down here.
"The manager is always making sure I'm at 100% in training, always making sure I'm doing things right off the pitch, like my diet, sleeping right, all sorts of things.
"He's quite intense on stuff like that, but I think that's what I needed, to be honest.
"When I was speaking to my agent in the summer about where I was going to sign, we spoke about needing to get a manager who won't let me away with anything – one that knows how good I am and how good I can be.
"Nigel Clough is doing that for me."
So is it a 'tough love' situation?
"Aye, very tough at times," Fraser laughs.
"There are times where I think: 'He must hate me,' because he's constantly at me.
"Then you speak to the older boys and they say, with the way he is, it's once he stops speaking to you that you need to worry.
"I take it as a compliment, especially from a manager like him.
"If he thinks I can be better and go higher, I'll definitely take that."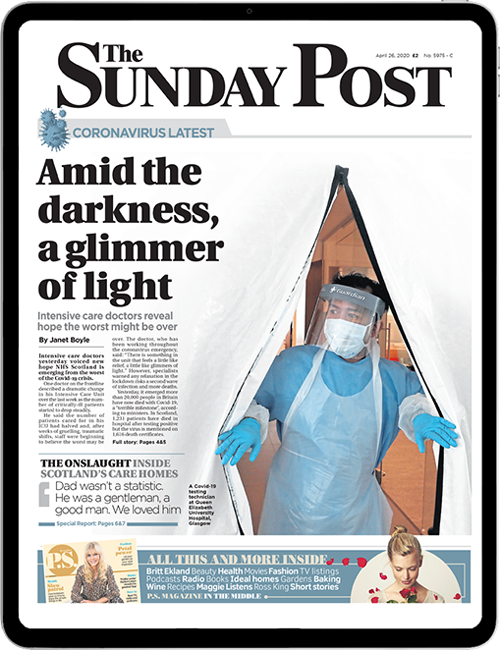 Enjoy the convenience of having The Sunday Post delivered as a digital ePaper straight to your smartphone, tablet or computer.
Subscribe for only £5.49 a month and enjoy all the benefits of the printed paper as a digital replica.
Subscribe