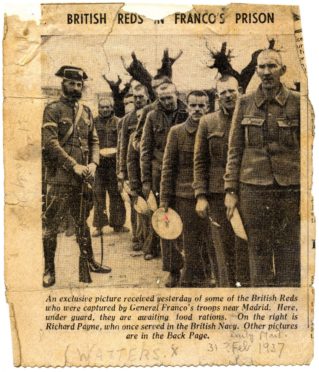 Flickering in and out of focus on her local cinema screen, Ellen Watters picked her husband's face out of the crowd of black and white figures crammed into a prisoner of war camp.
Until that moment watching the day's news, Ellen had no idea if the father of her three children was alive or dead.
Just a few months prior, in the summer of 1936, George Watters had left their home in Prestonpans, East Lothian, to join the ranks of the Spanish Civil War's anti-fascist International Brigade, and with no means of contacting home, the 32-year-old's fate was left unknown to his family – until chance intervened.
"Someone had gone to the local cinema and during the Movietone Newsreel they were showing video of Franco's prisoners," explained Ellen and George's son, Tam, 71.
"They recognised my dad and ran right up the road to tell my mother. She went straight down, and the staff were kind enough to put the newsreel back on for her to watch. And that was the first she knew he was alive."
Travelling to Spain with three fellow Prestonpans miners, Bill Dickson, Jock Gilmour and Jimmy Kempton, George was one of the 549 men who left villages, towns and cities across Scotland to take up arms with the troops of the Second Spanish Republic.
Fighting against the coup led by General Franco, and the spread of fascism in Europe, these Scots abandoned everything they knew to defend a foreign land, alongside men they had never met.
Many, including Dickson and Gilmour, lost their lives in the pursuit, and Tam believes it was the men's unwavering principles that spurred them on to join the cause.
He said: "It was a unique conflict. The International Brigade was made up of 100% volunteers, and many people thought stopping the fascists was more important than their own lives.
"His time in Spain wasn't something my dad spoke about. But knowing the type of man he was, I'm not surprised by what he did. He was always an active trade unionist and a very highly principled man – just like the other men who went out along with him."
The newsreel footage which alerted Ellen to George's survival was taken after he was captured by nationalist troops at Jarama on February 13, 1937.
And although sentenced to a lifetime of solitary confinement, George's unbelievable bravery meant he almost didn't survive, never mind make it home to Scotland.
Tam explained: "A young man in their group had been sentenced to death, and the men were complaining about the way he was being treated. The guards said to them, 'If you object, you can take his place'. So, my dad offered to do it.
"He was given three days to get his affairs in order before he would be executed. Fortunately, it never happened."
Now, the incredible heroism of George, Bill, Jock and Jimmy is being rediscovered and shared with the next generation of Scots, as a sell-out theatre production based on their story gets set to return to the stage.
Running from May 21 to June 20 across Scotland, and June 22 and 23 in London, 549: Scots of the Spanish Civil War first premiered in February last year, and was created by Robbie Gordon and Jack Nurse after 18 months of detailed research and interviews with surviving family members, including Tam.
It was Robbie's grandfather who first alerted the Royal Conservatoire of Scotland alumni to the story of the four men from Prestonpans, and Jack believes their experience is just as relevant today as it was in 1936.
He said: "When we started writing and researching the play, we wanted to know how four ordinary people had done such an extraordinary thing. Neither of us knew much about the Spanish Civil War itself, and that was one of the reasons their story piqued our interest so much.
"The play is very much rooted in the four men's real lives and real perspectives. Theirs is an important untold story of local and national importance, and we touch on how topical the story is even today.
"If democracy was threatened today, in the way that people thought it was in 1936, would we take action and defend the values we believe in?
"That's one of the recurring themes in the play – it's one thing to tell the story, but how can we learn from it and what can be taken from the story of the 549 80 years on."
Along with other relatives who have helped to form the production, Tam will be part of the audience as his father's story is brought to life once again.
However, he admits that his father, who went on to serve as a soldier in the Second World War and passed away in 1980, would have been surprised by all the public attention his story has garnered – especially as he was only doing his duty.
He said: "My dad used to say if you've got a problem, you have to face up to it and do something because it's not going to go away.
"He would have been amazed at the play.
"But whether it had been about my dad or the other men who fought beside him in Spain, I feel it's important that what they did is recognised."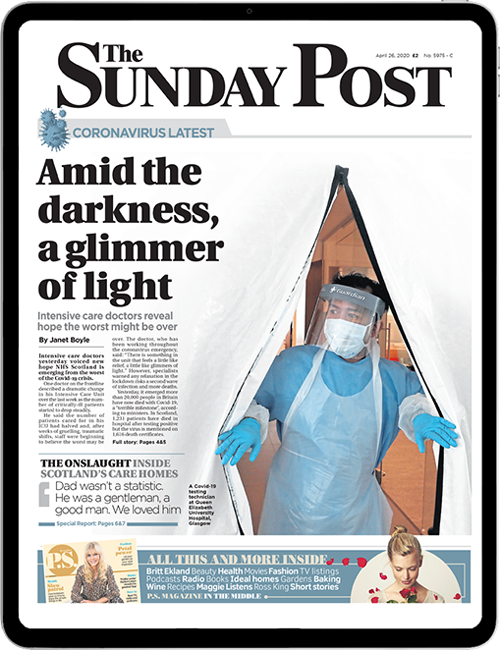 Enjoy the convenience of having The Sunday Post delivered as a digital ePaper straight to your smartphone, tablet or computer.
Subscribe for only £5.49 a month and enjoy all the benefits of the printed paper as a digital replica.
Subscribe