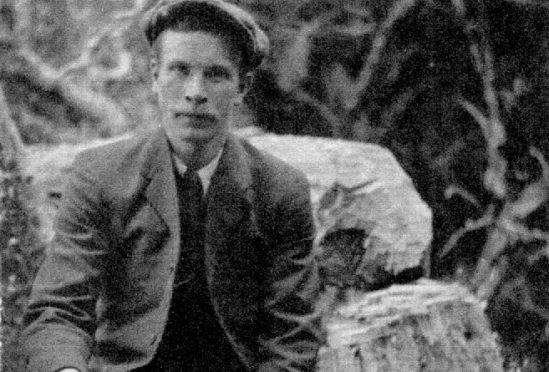 He has lain with his fallen ­comrades for more than a century but, at last, the family of Lance Corporal Brunton Smith will now be able to grieve by his grave.
Killed in the First World War and buried in an anonymous grave in France, brave Brunton's final resting place has finally been identified and now, 102 years after his death, will be marked as his family attend a ceremony of dedication.
The service will be held later this month, 102 years to the day since he lost his life, aged 35, during efforts to halt the German 1918 spring offensive.
His relatives have chosen the epitaph: "He fought bravely, died courageously. Gone from our home, not from our hearts."
The Royal Scots hero was traced following research by Andy Pugh, the nephew of another soldier. Andy has now been invited to attend the ceremony at Bancourt Military Cemetery in France.
Grandson Brunton Hunter, 73, a sculptor, said: "We can never thank Andy enough for what he has done for us. Although he is mentioned at the war memorial in Roslin, we've always wanted our grandfather to have a dedicated grave. Andy's tenacity and years of research made it possible.
Brunton told how his grandmother, Helen, was reluctant to talk about the Great War and the tragedy that befell her family.
"She rarely spoke about her husband, not because she wasn't proud of him but simply because that's how that generation ­handled their loss," he said. "She was almost 90 when she died, and she did not remarry. I'm sure she missed him every single day.
"It must have been very hard for her, having two little girls to bring up on her own with Brunton's Army pay left on his death, which was less than £6.
"My mum Jean and her sister Helen were too young to remember much about their father when he went away to war, but I know they would be so very happy at what's happened. Gran had his medals, letters and ­photographs, but not having Brunton was devastating for her."
LCpl Smith, of Roslin, Midlothian, was 35 when he was killed. He was buried alongside the other unidentified soldiers killed on the same day on the Somme.
Among them was Andy's great-uncle, Henry John Murrell, as well as Thomas Houston, another soldier from Glasgow whom he was able to identify.
Andy has been searching for three years to find his great-uncle's final resting place. He now believes he has found the correct grave, but the Ministry of Defence said there was not yet enough ­evidence to satisfy its strict rules.
However, Andy was able to provide enough evidence about LCpl Smith to get the MoD and War Graves Commission to agree to the dedication service.
"In Brunton's case, I discovered through old Army records he had been wounded," he said. "His family provided the last piece of the jigsaw to prove where he fell because they had a photograph showing him being treated at a military hospital."
Brunton was killed near the town of Bapaume, in northern France, the scene of two days of intense fighting as the British tried to halt the German offensive.
Following the Russian withdrawal from the war after the October 1917 Revolution, the Germans were able to transfer large numbers of troops from the Eastern to Western front. They launched one last, desperate offensive, intended to defeat the British and French before US troops arrived. However, the German offensive was ­eventually stopped.
Brunton was buried ­alongside the other unidentified soldiers killed during the fighting around Bapaume on March 24 and 25, 1918.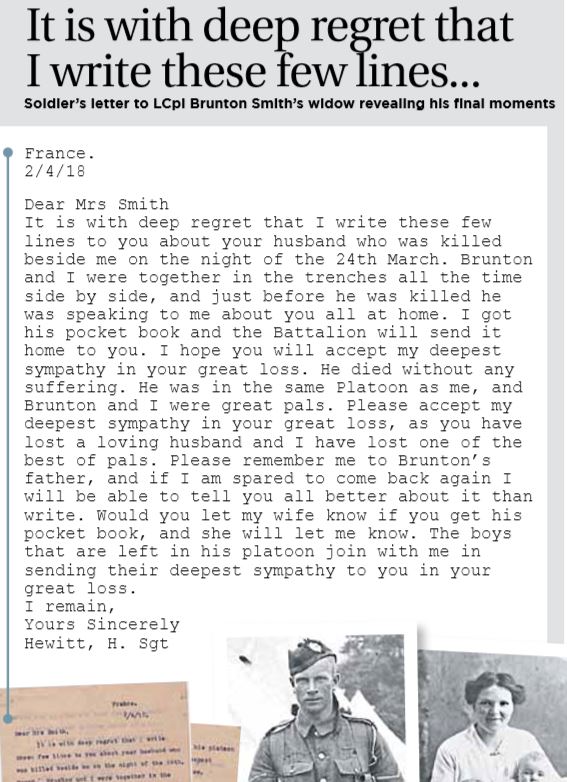 Malcolm Clague, 77, another of LCpl Smith's grandchildren, said: "We researched grandfather's early years and discovered he was a miner in Roslin.
"He also worked in New Zealand as an explosives expert for a mining company for several years. He returned to Roslin and, like so many others, joined up and went to war, leaving behind two young daughters and his wife.
"We found letters from Lord and Lady Ballantyne who knew all Roslin's families because so many worked on their estate. They were patrons of the Royal Scots and commiserated with the many who lost loved ones.
"The saddest letter was from the ­soldier Brunton was standing next to when he was killed.
"He wrote that they had been talking about family back home in Scotland moments before he fell, and I'm sure that was of some comfort to our grandmother."
Andy said: "Soldiers like Brunton and my great-uncle were among the bravest of the brave and they deserve, at the very least, the recognition of a ­dedicated war grave. I don't know if I will ever be able to see my great-uncle get this final honour, but I intend continuing to campaign for the dozen or so soldiers I know of who are in unnamed graves.
"Bringing that closure to their families and getting to know their incredible stories of bravery and sacrifice make me more determined than ever."
Four years ago, Andy, 70, from Surrey, found Thomas Houston, 29, from Shettleston, who was in the 2nd Battalion Highland Light Infantry and buried in a mass grave with almost two dozen comrades after being killed on March 24, 1918.
"For the past 15 years I've been searching for my great-uncle who was in the 24th Battalion of the Royal Fusiliers. But although I believe I've found him at this mass grave, there is just not quite enough evidence to satisfy the MoD to have a dedicated grave.
"My great-uncle was 23 when he fell. His father, my great-great-uncle of the same name joined up and fought too. He survived only because he was injured and returned home.
"In Thomas Houston's case I showed ribbons from his tunic were found, and he was the only corporal killed in that area to have won the Mons Star and the Military Medal."
Andy, 70, from Surrey, admitted he was deeply touched to have been asked by LCpl Smith's family to accompany them to the dedication service on March 24.
He said: "It will be a day mixed with emotion and great pride. I know how important it is for these men to receive the proper honour for what they did."
---
Families find solace on battlefields of France and Belgium
Historian Evelyn McKechnie has spent the last 10 years accompanying hundreds of families to France and Belgium to search for the final resting places of loved ones lost during the First World War.
She said: "I developed a strong interest in the First World War after discovering Scotland suffered some of the highest losses, with a quarter of our soldiers killed in action.
"The effect of such overwhelming loss is still keenly felt generations later. Many feel moved to tears standing at the gravesides of these brave men.
"We can never really understand what was endured by all those who suffered.
"How can you account for the loss of an only son, the father of five children, the fiancé that never came home, never to marry, the husband that never saw his first child, the young nurse being killed in an air raid, the mother losing four sons, three of them in one battle?"
Evelyn, of Glasgow, runs a historical tour firm, Spot On Locations, which supplies apps, maps, coordinates and facts about the battlefields of the Western Front.
She was particularly moved by the reaction of one elderly lady to seeing her grandfather's name on a memorial.
"Her grandmother had been told there was no grave because there was nothing left to bury of her husband," she said.
"Another woman got comfort laying flowers at her brother's grave, a Victoria Cross recipient, something her mother was never able to do.
"The bereft woman cried every Armistice Day for the wee brother she used to knit gloves for."
---
More than one million British soldiers were killed during the First World War. Hundreds of thousands, including Army, Navy and RAF personnel, lie in unnamed graves.
Almost 600,000 lie in named graves, while 526,816 names are on memorials to the missing.
Almost 150,000 of the 688,000 Scots who enlisted were killed.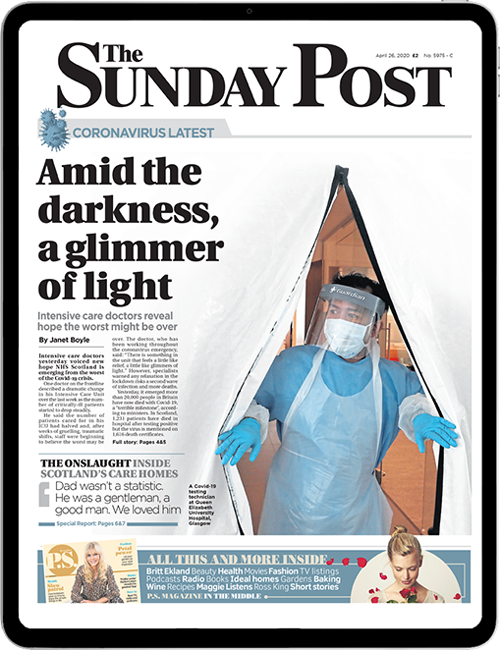 Enjoy the convenience of having The Sunday Post delivered as a digital ePaper straight to your smartphone, tablet or computer.
Subscribe for only £5.49 a month and enjoy all the benefits of the printed paper as a digital replica.
Subscribe