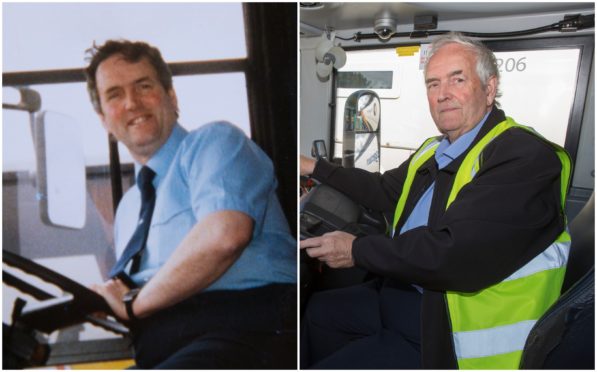 The wheels on Benny Geddes' bus have gone round and round for 50 years as he has driven generations of passengers all over the UK and beyond.
But after clocking up half a century at the wheel the grandad from Castletown, in The Highlands, retired from his job as a bus driver on Friday.
Now the 76-year-old is planning to celebrate hanging up his driving gloves by taking his wife on holiday to Blackpool – on the bus.
Benny became a bus driver in July 1969 and since then reckons he has travelled millions of miles, round the world several times over.
There is barely a road he hasn't travelled as his tours have taken him through the UK, Ireland, Norway, Sweden, Denmark, Holland and beyond.
"It's one of the few jobs that you can go sightseeing and still remain at work," he said.
"My love of driving began as a teenager and the novelty has never worn off."
Benny's first driving job began at 14 at the wheel of the town's milk float.
"Back then the police turned a blind eye and as long as you were a good driver, everything was fine. It was just what you did back then."
But surprisingly it wasn't a springboard to a career on the buses.
His first job was as a crane driver at Dounreay nuclear plant. He passed his public service vehicle test at 26 and got his first bus job four days later.
Since then he has worked for Highland Omnibuses, Tayside Travel, National Express, Rapsons and latterly Stagecoach.
Before limits were put on drivers' hours he would clock up to 500 miles a day.
He added: "Back then it was a question of driving and bedding down for the night and putting in another long shift the next day.
"But the hours behind the wheel have been well rewarded with the brilliant views of the Norwegian fjords, sunsets over the sea and I even got to kiss the Blarney Stone on a tour of Ireland."
Benny's best tour was a trip to Scandinavia with a band of accordionists and fiddlers.
"Back then you could get the ferry over from Shetland to Norway," he said.
"There were 40 on the tour and we stopped at local towns as we wove our way through Scandinavia.
"You didn't use any sat-navs back then. You would stretch a big paper map out over the steering wheel and trace the route with your finger before setting off."
Benny's decades as a driver have seen him awarded gold certificates for safe driving, and he has only had one bump.
He said: "To date, I have not hit anything and was only in an accident once.
"A campervan driver crashed into my bus after the driver fell asleep at the wheel. He had become drowsy at the wheel after leaving the gas on in the cooker.
"People rushed to help and as soon as they smelt the gas they shut it off for fear of the van and bus blowing up."
The father of four believes the best drivers are found on the motorway and the worst in small towns.
"Most people let buses out but once you get into small towns they will pull out in front of you, not knowing that buses are much speedier than they used to be."
He and his wife Elisabeth are going on a bus trip to Blackpool in October, as they have always loved the town. Benny had promised to step in as a relief driver – until Elisabeth ordered him to put his feet up instead.
He joked: "To be honest, I'm not ready to give up yet."