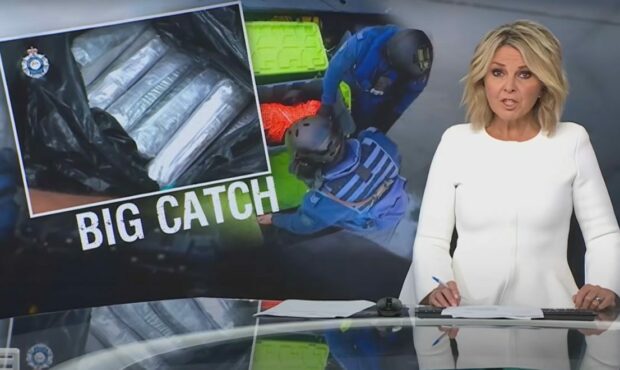 Botany Bay, Captain Cook's first landing place in Australia, recently took on a different national significance.
In August, the southern Sydney port was the scene of Australia's largest ever police seizure of crystal meth, or "ice", as it is known on the streets. The haul, weighing almost two tonnes, had a street value close to £1 billion, a figure even case-hardened police officers called "staggering".
Botany's blue oceans and sandy beaches seem starkly at odds with the sordid business of drug trafficking – as does Australia itself, with its image of sun, surf and rugged outback but the country has the world's highest per capita methamphetamine consumption, according to the Australian Criminal Intelligence Commission (ACIC).
ACIC's latest annual nationwide wastewater monitoring report reveals methamphetamines comprised 8.8 tonnes of the total 15.7 tonnes of illicit drugs estimated to have been consumed by Australians in 2020-21.
In population terms, the numbers are equally stark. In the Federal Government's 2019 National Drug Strategy Household Survey, found 5.8% of Australians over the age of 14, said they had used methamphetamine.
Between 2010 and 2019, the number of Australians using ice – the purest and strongest form of methamphetamine – as their main form of the drug rose from 22% to 50%. During that time, stories of addiction began to capture public attention.
In 2015 there was national uproar when a mother in Queensland told how she built a reinforced steel cage for her ice-addicted teenage son to keep him away from the drug. That same year, the then Northern Territory Minister for Police, Peter Chandler, revealed he'd thrown his son out of home after the teenager stole family valuables to fund his ice addiction.
A National Ice Task Force was formed, and politicians warned of an ice epidemic.
Tony Trimingham, CEO of Family Drug Support, a counselling resource for families affected by drugs, said: "When we started in the 1990s, nearly all our calls were about heroin. Now ice is the most used drug."
"What's changed is the pattern of use," said professor Steve Allsop, director of Curtin University's National Drug Research Institute. "Some people do it very intensively using a higher potency substance, and usually smoking, which is a very efficient way to get the drug into your system. Fast delivery systems result in higher rates of dependency."
The change has been driven by a perfect storm of market forces and geography. In recent years, the traditional heroin-producing regions in South-East Asia have moved into synthetic drug production.
Now Australia's closest neighbours are the world's highest producers of illegal amphetamines. Meanwhile, the South Pacific, more commonly known as a tropical holiday destination, has become a lucrative supply corridor for ice and its chemical precursors, and increasingly also a production site, with ice labs proliferating in Fiji, Tonga, Papua New Guinea and other islands. Their target: the lucrative Australian market.
The illegal drug trade in Australia is estimated to be worth £6 billion, of which ACIC estimates 77% is methamphetamines.
In Australia, the street value for ice is among the highest in the world, but for the end user, the drug is still cheaper than ever. According to the latest nationwide research from the National Drug and Research Centre (NDARC), the average price of a point (which weigh about 0.1 grams) of methamphetamine has dropped from £60 to £30 since 2020. "It's cheap, and it's very available," said Trimingham.
This intensified trade means more drug busts such as the giant Botany Bay haul when shipments of marble and a vintage Bentley were linked to the seizure 1,800kg of the ice with a potential street value of more than $1.6 billion.
Between 2019-20, a record 12.8 tonnes of amphetamines were seized nationally – 90% of the country's total illicit drug seizures.
"Organised crime syndicates target Australia, because, sadly, the drug market is so lucrative," said Australian Federal Police Commissioner Reece Kershaw. "Australians are among the world's biggest drug-takers."
Australia's vast coastline presents a challenge for police fighting to stem the flow. "There is no limit to the concealment methods organised crime groups will use to smuggle drugs into Australia," said Dean Chigley, AFP Acting Commander Investigations Eastern Command. "Drug importation routes and methods are voluminous and diverse."
But the effects of smuggled ice reach much farther, he added. "No Australian city or regional town is impervious to drugs like methamphetamine, which tear apart our local families and communities."
In fact, the ice problem is now at its worst in outback Australia. Since 2007, the rise in methamphetamine use in rural and remote areas has outpaced the cities and is now 2.5 times higher. Dealers operate in tiny townships, targeting the most vulnerable. Even the island state of Tasmania, separated from mainland Australia by the wild Tasman Sea, has an ice problem that Australian Federal Senator for Tasmania Jacqui Lambie said is "like the devil".
She speaks from personal experience. Her son, Dylan was hooked on ice at the age of 18, and his behaviour became so aggressive that Lambie made the agonising decision to throw him out of the family home.
"His habit grew to the point where I had my handbag in my bedroom and a knife in my top drawer. He was completely unmanageable," she said.
Lambie, who served in the Australian army for 11 years, admits she was frightened of her son when he was in the grip of the drug. "The effect it has on a person is amazing. My son went from being a big-hearted boy to someone I didn't recognise. When I looked into his eyes, they were empty, it's what in combat we would call a kill zone look."
Dylan was enrolled in the Teen Challenge rehab programme and has stopped using ice. But he was one of the lucky ones, said Lambie, in a region where motorcycle gangs peddling ice have infiltrated small towns, preying on the vulnerable.
Those vulnerable often include Australia's Indigenous communities. The National Drugs Strategy Household Survey shows indigenous people aged 14 years and over are 2.2 times more likely to use methamphetamine than non-Indigenous people. Carmen Bartley, an indigenous woman from Forbes, a picturesque country town in central west New South Wales, sees the effects firsthand in her work as a drug and alcohol counsellor.
"Often you will see Aboriginal kids who've grown up around addiction following the same path because they don't know any different," she said.
"Aboriginal communities still suffer those psychological effects from the loss of land, laws and customs.
"Their community and family base is so often fractured and they've lost the sense of connection to culture and country. Without that foundation, you're so much more vulnerable to a drug that is cheap and highly accessible."
She's seen five people in her circle take their own lives in the last two years. They were all battling ice addictions. "This is an ice age," she said wearily.
Bartley despairs of the government's current approach to the ice problem, with its emphasis on criminalisation and tough talk about zero tolerance. "It's just not working," she said.
Although the Federal Government set up a task force, which announced a comprehensive list of recommendations in 2019, its focus is wrong, says Trimingham.
"In Australia, 84% of funding goes to supply reduction: customs, border controls, prisons and criminal justice. Only 10% goes to demand reduction, which is treatment, education, and only 4% to harm reduction."
For Lambie, justice means more progressive rehab programmes as an alternative to jail time.
For Bartley, reconnecting kids with their culture early on and helping families to stay together is key, along with more and better rehab facilities in rural areas and empathetic support that removes the stigma from people who use drugs. "We need to love our way out of this problem," she said.
For Trimingham, it means more radical solutions, along the lines of Portugal's ground-breaking legalisation of all drugs. He said: "Experience from around the world shows treating personal drug use as a health and social issue saves lives and doesn't increase use. The best example is Portugal, with almost 20 years of positive results. Many US states are moving to decriminalisation or even legalisation."
Allsop added: "We should treat people affected by drug use with the same dignity and respect as we do anybody else. It's not a junkie. It's not an addict. It's somebody's mum, sister, friend, father, son. These are our children. These are our friends. If we help them access the help that they need, then we will reduce problems for the whole community."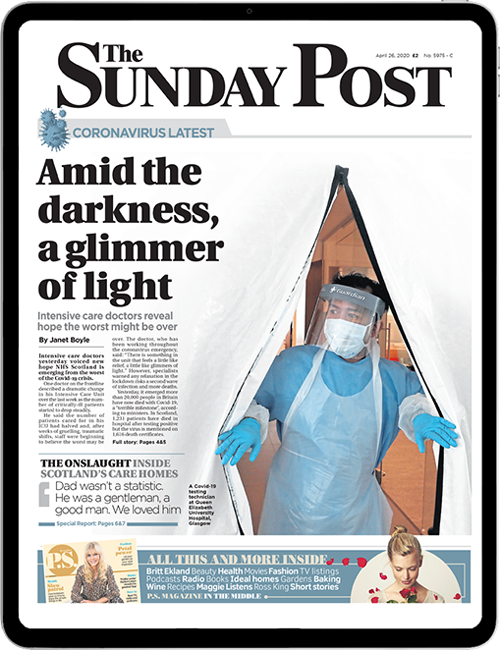 Enjoy the convenience of having The Sunday Post delivered as a digital ePaper straight to your smartphone, tablet or computer.
Subscribe for only £5.49 a month and enjoy all the benefits of the printed paper as a digital replica.
Subscribe