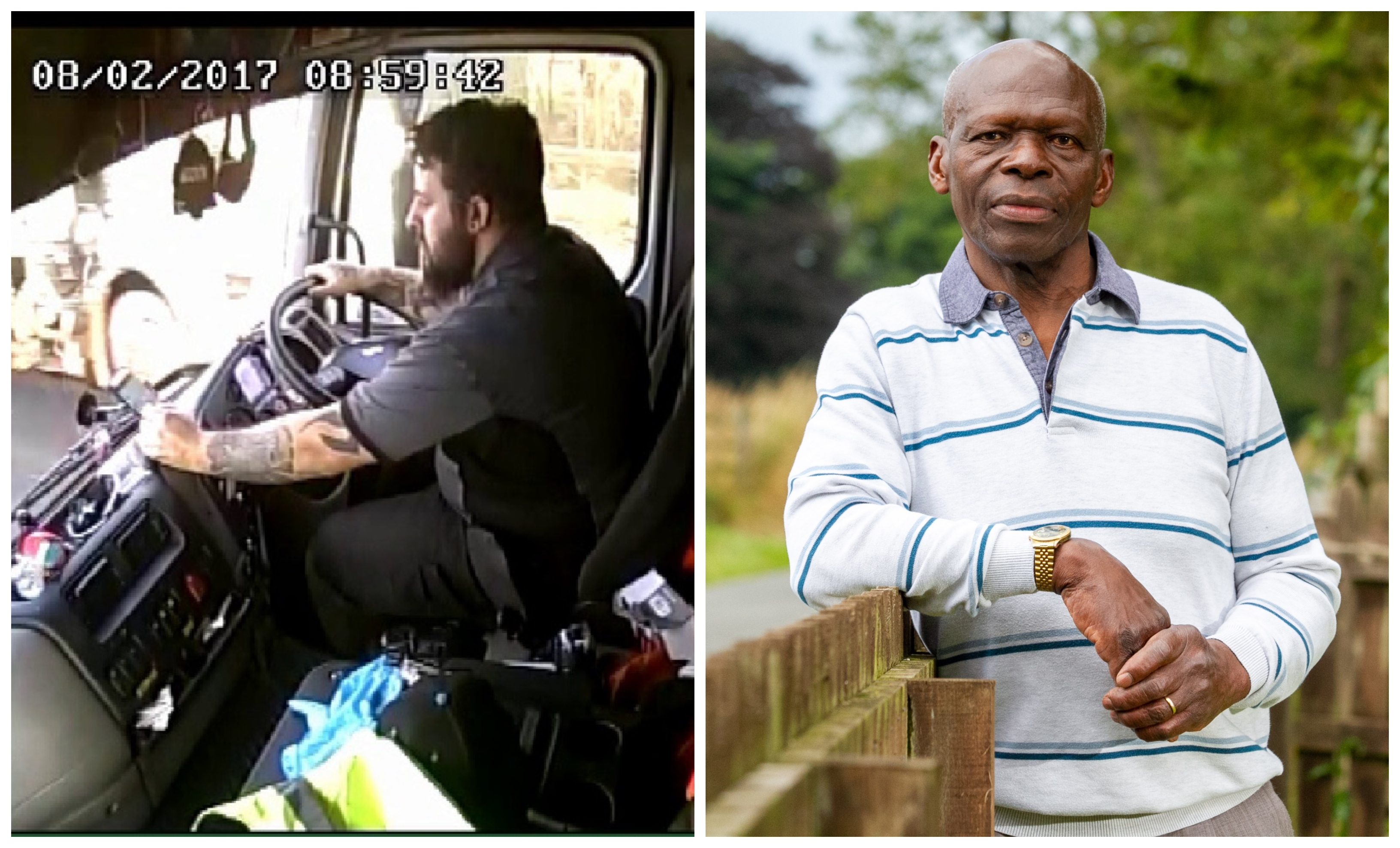 A HEARTBROKEN husband has revealed his anger and agony after 18 seconds spent by a truck driver checking his mobile phone cost him the love of his life.
Ralph Blackman lost his wife of 37 years Yvonne when recovery driver David Shields slammed into her car at a junction in Dumfries and Galloway. He had failed to notice the queue of traffic in front of him as he was too busy looking at his phone. Shields admitted causing death by dangerous driving at the High Court in Glasgow last week and faces a jail term when sentenced next month.
Mr Blackman, 78, himself a former lorry driver, condemned Shields yesterday saying his actions were "absolutely disgusting" and called for drivers to have their licences confiscated if they are caught looking at their phones.
Grandmother Yvonne's ribs, spine and vital organs were crushed in the horrific collision on February 8, 2017, and she was paralysed instantly.
The 66-year-old retired care worker was taken to the Queen Elizabeth University Hospital in Glasgow where experts tried to save her.
After an agonising fortnight watching her deteriorate, Ralph, their daughter Danielle and Yvonne's other three children had to make the heart-rending decision to switch off her life support.
Ralph said: "We couldn't see her at first when she was in hospital in Dumfries. Then we rushed down to Glasgow and we finally saw her. It was the worst day of my life.
"She was lying there with all these tubes and wires attached to her. At first you could feel her trying to respond when you held her hand, she was trying to squeeze it back.
"She stopped being able to after a few days. She couldn't talk, I don't think she knew we were there after a while – she was completely paralysed from the neck down.
"Doctors said if she did survive, she would be paralysed. As a family we knew she wouldn't want that. She was such an active person. We were then asked about switching off the life support, and we asked them if we could have a little bit longer with her.
"Two weeks after the accident we had to let her go."
A retired HGV driver, Ralph said he was horrified when footage of driver Shields inside his cab was played in court.
The driver, who had been working for Scots firm 911 Rescue Recovery when the accident took place, had a previous conviction for speeding and broke down in the dock when the footage was shown.
His lawyer, QC John Scullion, said he "accepts full responsibility for the death and bitterly regrets driving as he did."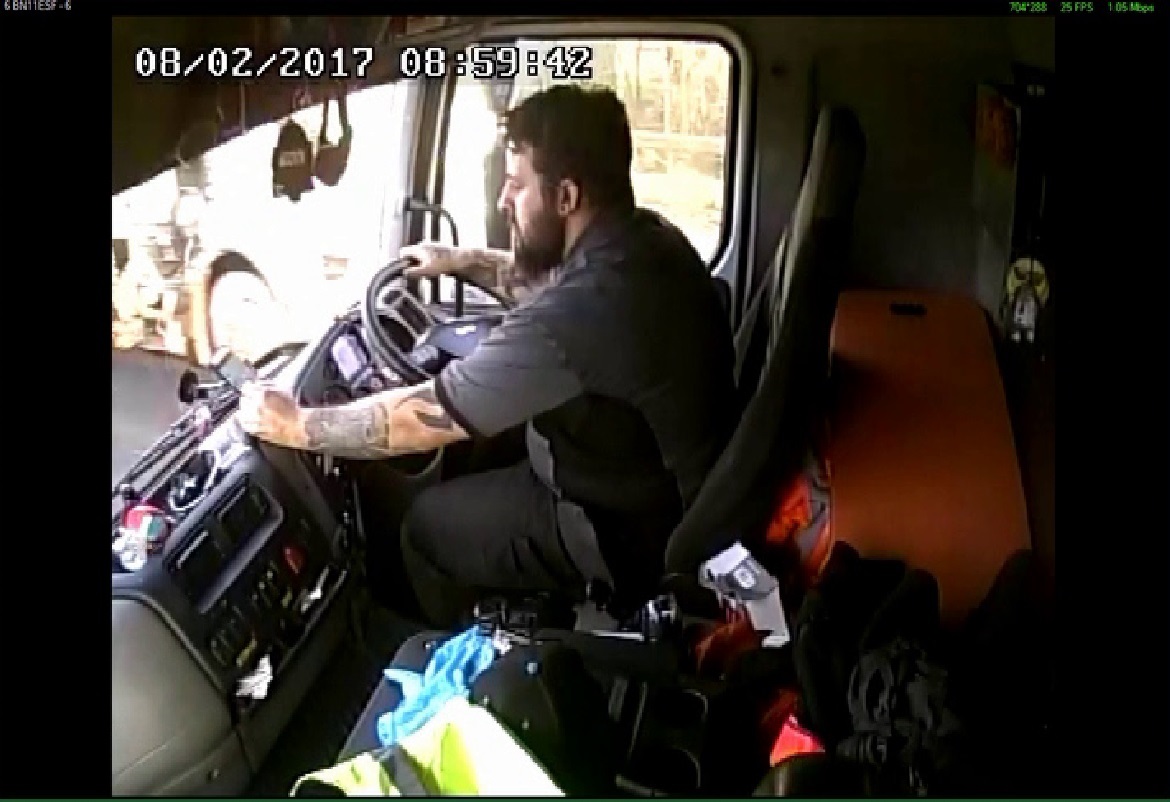 Shields, 34, could be seen tapping the screen of his mobile, which was fixed to his dashboard, for 18 seconds before he crashed into Yvonne's car on the A75 near Lockerbie.
Ralph said: "I have done that job; I was an HGV driver for almost 40 years. I would never, ever have looked at my phone. Even now if someone calls me I ignore it, and if I need to I will pull over and check my phone.
"When I saw the footage, it was absolutely disgusting. What was so important that he had to look at that phone? He should have been paying attention to the road.
"Anyone caught using their phones behind the wheel should have their licence removed, as penalties are just not working. I still see people all the time doing it, constantly checking their phones, it's horrible."
On the day of Yvonne's accident, Ralph had been gardening when a police car stopped outside their home.
He said: "These two officers stopped and asked me if I was Mr Blackman, and they just said, 'Yvonne's been in an accident. Jump in.' They drove me to the hospital, but I couldn't even see her. I didn't get to see what had happened, nobody told me how serious it was. Maybe they didn't want to frighten me, but that was the worst part."
Ralph, his daughter and son-in law rushed down to Glasgow to be at Yvonne's bedside, but even then they faced a long wait before finally being told what was happening. He said: "Doctors said to me that if they did manage to help her, she would always be paralysed. We were making plans to adapt our house for a wheelchair. I knew it would be difficult, but I wasn't expecting her to pass away."
For a year after his wife's accident, Ralph couldn't drive past the spot where it happened and still finds it difficult today. Listening to certain songs, or hearing phrases that remind him of Yvonne, is hard.
He said: "She was just so lovely, such a wonderful woman. She had so many friends, and was always out doing things and helping people.
"We were married for 37 years, she was my best friend. We met in a nightclub in Rochdale where we both lived back then. We were dancing, and I'd bought her a few drinks.
"I didn't know it but she wasn't a big drinker, but instead of being rude and refusing my offer, she was taking the drinks and pouring them away. I only found out later. Since that night we've always been together.
"She loved life, and we were looking forward to spending our retirement together, travelling and doing up the house. I've had to do it all myself."
Ralph said he constantly thinks of scenarios which could have prevented Yvonne's death, adding: "If we hadn't been living in this house, or if she had left even three minutes earlier, or if she had gone a different way, she would still be here.
"There are so many things that could have happened that would have meant she was still here and wouldn't have been the last one in that queue in front of him. I can't think about that though. It's too hard."
The couple had moved to their home in Dalton, Dumfries and Galloway, just a week before the tragedy so they could be closer to Danielle and four of their grandchildren.
Ralph said: "I didn't really want to move but Yvonne was so looking forward to being closer to the grandkids.
"The number of times afterwards I kept telling myself I should have stuck to my guns, but you can't fight fate.
"With our grandchildren it's hard to explain to them what has happened.
"They come over to visit and ask if they can have a sleepover but I can't look after them on my own, and Yvonne isn't here anymore. I just have to avoid the question."
Ralph said the couple would travel regularly, visiting family across the UK, in New York, Canada and Barbados.
They spent a lot of time with their grandchildren, taking them out on day trips and having them to stay over.
Ralph said: "We had everything planned out. We were both retired and were planning on going travelling, and looking after the grandkids. That's all gone now, she was just taken so suddenly.
"At Christmas time we usually go away. Sometimes in the UK, and we had gone on cruises too.
"This year, to try to retain some normality, I've booked myself on to a cruise but it's not going to be the same on my own. It would be better if I had my wife with me."
Police target danger drivers using devices
More cars fitted with hands-free kit has seen a reduction in the number of drivers convicted of using mobiles.
But, police warn, too many motorists are still using phones to text, navigate or play music while driving.
Government figures show that since 2012, when the data for phone-related road incidents was first recorded, the number of people prosecuted in Scotland has fallen by 53%.
Last year, Police Scotland launched a campaign to raise awareness of the dangers of using a phone while driving, with traffic police saying the issue is still a priority.
Chief Inspector Craig Linton said: "Using a handheld device, whether for texting, adjusting satellite navigation or selecting a music track, impacts significantly on a driver's concentration and cognitive ability, so targeting those who continue to put themselves and others at risk in this way remains a priority for all police officers in Scotland."
Scottish Government figures show that in 2012, 3,094 people were convicted for driving offences involving mobile phones but, by 2016, the number had fallen to 1,478. In the same period, the number of road accidents involving mobile phones, where people were killed or injured, has increased – from 13 in 2012 to 17 in 2016.
The road casualty rate linked to phones is much higher in England but Transport Scotland could not say why.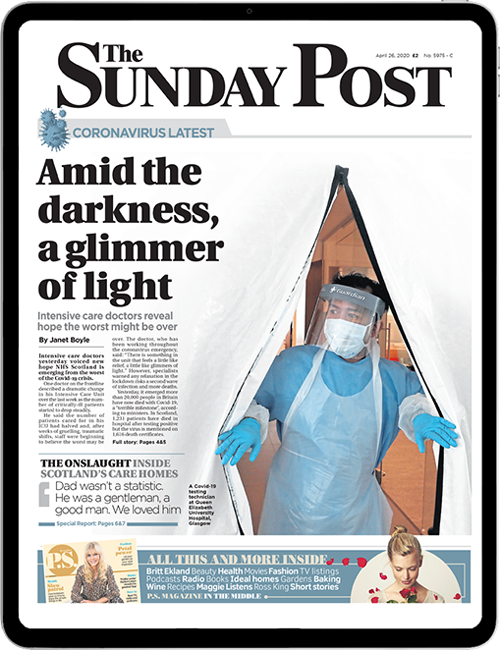 Enjoy the convenience of having The Sunday Post delivered as a digital ePaper straight to your smartphone, tablet or computer.
Subscribe for only £5.49 a month and enjoy all the benefits of the printed paper as a digital replica.
Subscribe