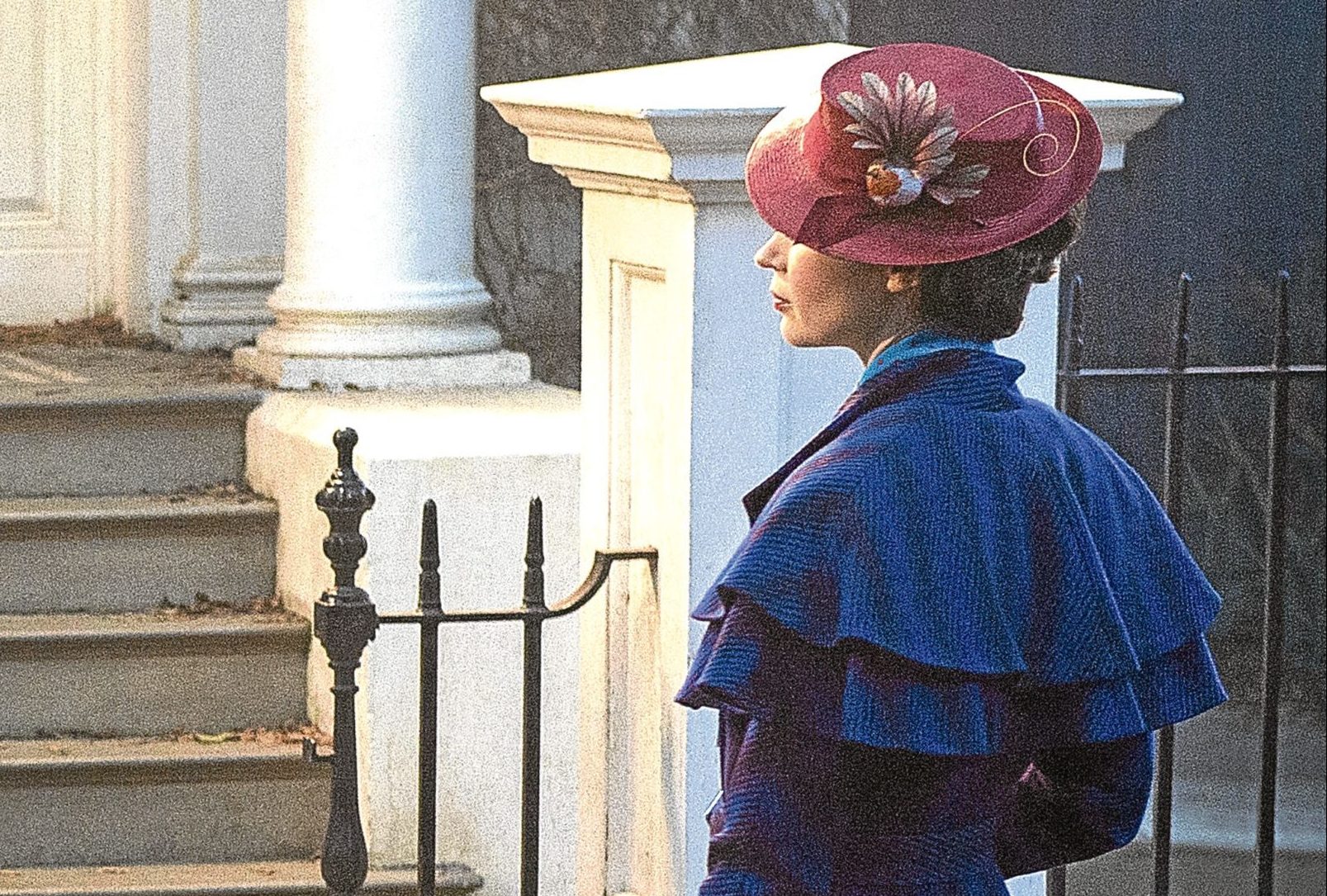 THEY don't make films like they used to, as I'm sure many of you will agree.
So perhaps that's why we're seeing the revival of many iconic movie characters this year.
Mary Poppins, Lara Croft and Han Solo of Star Wars are just a few of the familiar faces who'll be gracing our cinema screens again.
With that in mind, we thought it would be interesting to take a look at 10 of the films we have coming up this year — some remakes and some original — that you won't want to miss out on.
1 MARY POPPINS RETURNS
With the fact she can have a room magically tidy itself with just a click of her fingers all the while singing A Spoonful Of Sugar, Mary Poppins is everyone's favourite nanny, and delighted cinema-goers back in 1964.
In December, Emily Blunt is set to enchant us with her version of the umbrella-carrying child-minder with a handbag that, like Doctor Who's TARDIS, is a LOT bigger on the inside than it would seem . . .
The sequel is set in Depression- era London, where Mary's young charges Jane and Michael are now adults. The latter's three children are visited by Mary after suffering a personal loss.
She helps them to find the fun in life again, and fans will be pleased to see Dick Van Dyke in the new film, too, as Mr Dawes Jr.
2 TOMB RAIDER
UNLIKE some movie characters, Lara Croft was first created for a videogame, an archaeologist-adventurer — almost a female take on Indiana Jones — except that "Indy", as far as I know at least, hasn't taken on a dinosaur, as did Lara in one of my Tomb Raider games from my teens.
However far-fetched it may seem for Lara to have to kill a T-Rex in recent times, the games were a huge hit, and Angelina Jolie was brought on board to play the archaeologist in Lara Croft: Tomb Raider, in 2001.
Almost 18 years later, Alicia Vikander stars in Tomb Raider as Lara, who finds herself pushed to her limits on an island where her explorer father disappeared.
3 HAN SOLO
A LONG time ago, in a galaxy far, far away, Han Solo entered the public consciousness in the first of many Star Wars films.
Now, Han is about to get his own spin-off adventure, in Solo: A Star Wars Story.
Starring relative newcomer Alden Ehrenreich as Han Solo, it also brings together Woody Harrelson, Warwick Davis and Game of Thrones' Emilia Clarke in a story that follows Han's adventures with Chewbacca before joining the Rebellion.
Just like anything in the Alderaan universe, this will have Star Wars fans desperate to see the latest instalment of their lightsaber-wielding heroes.
4 MAMMA MIA! HERE WE GO AGAIN
WITH nine UK No 1s, ABBA made a big impression on us in the 70s, which is why a film featuring their songs was a great idea back in 2008.
The story about a girl on a quest to find out who her father was —all set to famous ABBA numbers — was a massive hit, but now the cast are back for more.
Starring the original cast — Meryl Streep, Pierce Brosnan and Colin Firth, amongst others — Mamma Mia! Here We Go Again is a prequel which takes us back to the days when Donna (Meryl Streep) was a young woman, after her daughter in the present day seeks the help of Donna's friends in coping with impending motherhood, and they set out to show what a great job Donna made of bringing up her daughter.
5 OCEAN'S 8
WHEN they remade Ghostbusters last year, they could have gone for a straight remake — different actors playing the same parts.
Instead, they created a brand-new bunch of ghoul catchers, who just happened to all be female.
This is what the producers of a new Oceans film decided to do, too.
While the 60s' Ocean's 11 starred Frank Sinatra and Dean Martin and the noughties introduced the likes of Brad Pitt and George Clooney, this time it's all about girl power.
This new film is all about Debbie Ocean, a con who brings together a team of pros to carry out a heist at New York City's Met Gala.
The film stars Sandra Bullock, Rihanna, Cate Blanchett and Katie Holmes.
6 HOLMES AND WATSON
WHO doesn't enjoy a little bit of Sherlock Holmes detective work?
When it stars the hilarious Will Ferrell and John C Reilly in a comedy take on the detective duo, it seems we just can't get enough.
With the film not due for release until November, a plotline hasn't yet been announced, but no doubt Will Ferrell will help to make it a massive success.
7 FIRST MAN
FRESH from Blade Runner 2049, Ryan Gosling is back as Neil Armstrong in First Man — a look at the legendary space mission that took man onto the moon for the first time.
With the film directed by Damian Chazelle, who worked with Ryan on La La Land, no doubt the pair will be hoping for a repeat of their earlier success.
8 A STAR IS BORN
STEFANI GERMANOTTA — Lady Gaga — may be better known as a singer, but given that she already holds a Golden Globe for her role in American Horror Story: Hotel, it doesn't sound like she'll need much help stepping into Barbra Streisand's shoes in a remake of 1976's A Star Is Born.
The film, which sees Bradley Cooper's directorial debut, is the tale of a movie star who helps a young singer and actress to find fame, even as age and alcohol issues are having a detrimental effect on his own career.
9 FANTASTIC BEASTS: THE CRIMES OF GRINDELWALD
YOU may have noticed that over the festive period, the Harry Potter films were broadcast on TV, yet again, proving there is still magic within Hogwarts walls for fans of the JK Rowling-inspired movies.
In 2016, Eddie Redmayne brought even more wizarding fun as Newt Scamander in a tale set 70 years before Harry Potter would read his book, Fantastic Beasts And Where To Find Them.
In The Crimes Of Grindelwald, Johnny Depp stars in the title role of Gellert Grindelwald, but fans will be pleased to hear that we haven't yet seen the last of Eddie, with the actor reprising his role in this sequel.
10 READY PLAYER ONE
LOOKING back over Steven Spielberg's career, it seems the director can do no wrong.
E.T., the Indiana Jones movies, Jurassic Park, the list goes on.
This year, he's set to release another film which looks set to be a blockbuster.
Ready Player One is the story of an orphaned boy, Wade Watts, who lives his life inside a virtual reality game.
When he hears of a competition to be the first to find a golden egg — the prize being half a trillion dollars and control of the virtual world — he sets off to find it.
However, the lines between reality and its imagined alternative become blurred, and Wade finds himself facing off against corporate foes who will go to any lengths to get their hands on the prize money.
Suddenly, Wade finds himself in a real life-or-death situation as he battles to outwit his opponents.