Staff at a prison where six people tested positive for coronavirus were not always following social distancing guidelines during a recent inspection, according to a report.
During a visit on June 24, HM Inspectorate of Prisons for Scotland (HMIPS) inspectors found staff at times did not adhere to the rule that they should wear personal protective equipment (PPE) in situations when they cannot maintain a two-metre distance from colleagues or inmates.
Inspectors said the most common complaint they received from prisoners related to lack of staff social distancing while not wearing PPE.
They also found little evidence of prisoners social distancing in the areas in which they live which are split into sections described as households, with only those living in these sections mixing together.
The report urged "continued vigilance" around maintaining social distancing and said staff should continue to be encouraged to always wear PPE when necessary.
Since the start of the pandemic, two prisoners and four staff have tested positive for Covid-19 at HMP Kilmarnock.
In the list of action points outlined in the report, inspectors said all efforts should be made to adhere to social distancing or when this is not possible for a mask and gloves be worn.
Overall, the inspectors praised the way the prison has responded to the pandemic.
The report states: "The prison came across as clean, safe, calm and orderly, and the prison management team are to be congratulated on the way they rose to address the additional challenges created by Covid-19.
"We commend HMP Kilmarnock on their foresight and planning in building up stocks of PPE in anticipation of the arrival of Covid-19, which allowed them to make 16,000 items of PPE available to local authorities to help them protect their key workers.
"We welcome the additional recreation time that HMP Kilmarnock had recently provided so that prisoners were in total getting two hours 15 minutes out of their cells to access fresh air, showers and phones, and their commitment to increase time out of cell further in the coming weeks."
The Scottish Prison Service (SPS) has been contacted for comment.
Inspectors also carried out an inspection of the court custody unit (CCU) at Glasgow Sheriff Court and noted several areas of good practice.
They noted when staff were taking people in custody from the escort vehicle to the CCU, following a risk assessment, they were not handcuffed to staff to support physical distancing.
The large cell capacity matched the numbers of custodies arriving at the CCU, which meant there was no need for a phased process to be agreed between agencies for the arrival and processing of custodies to maintain physical distancing.
All staff were seen to be wearing gloves and masks at all times, which inspectors said gave a "strong impression of professionalism and cleanliness".
People in custody arriving at the CCU were also offered hand sanitiser and were asked two questions in respect of Covid-19, covering general health and safety and awareness of the Scottish Government's physical distancing rules.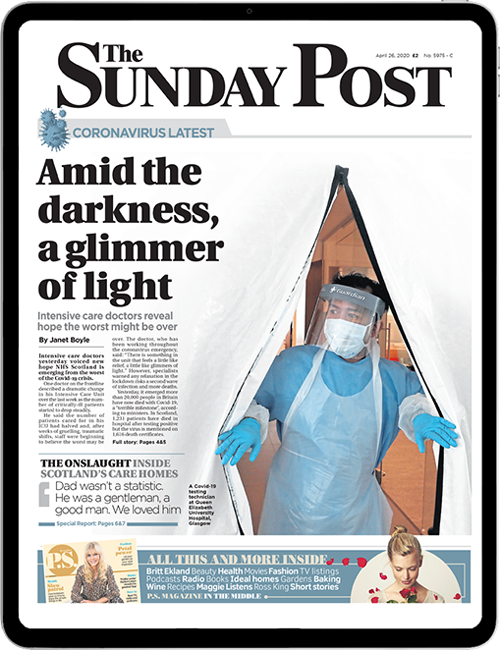 Enjoy the convenience of having The Sunday Post delivered as a digital ePaper straight to your smartphone, tablet or computer.
Subscribe for only £5.49 a month and enjoy all the benefits of the printed paper as a digital replica.
Subscribe