"WE had a great camaraderie and I'm very proud to have helped build the bridge, but it was hard work," Joseph Murray said.
The 89-year-old was part of the concrete squad with his brother-in-law, Sonny Cunningham, and the pair worked furiously in the days leading up to the Queen Mother's visit to ensure the
walkway was finished in time.
"The work was dangerous, especially when the wind picked up, because you couldn't stand or walk in it," he continued.
"Then when the snow came  –  dear God – but you just had to get on with it.
"We didn't wear hard hats or protective clothing in those days and we were risking our lives at all times.
"But I enjoyed it, and at the end of our shift we would all end up across the road in the pub, where the bartender would have our pints lined up.
"The money was good and we got holidays with pay. But a lot of bad things happened."
The worst of those were the deaths of five workers killed during the construction.
Three people died when 100ft of the temporary bridge, which the men worked from to build the permanent bridge, collapsed.
In a separate incident a further two men fell from the bridge.
Bert Smith, from Kirriemuir, was supposed to be working on the night three of his co-workers died.
"I drove the puggy, the wee train that took out the materials, and occasionally I would do a 36-hour shift," he said.
"I was supposed to be working all night but my wife was pregnant and wasn't keeping too well, so I swapped shifts with a man called John McQueen.
"He went home and had his dinner and then came back to take over. I left at the back of nine and the bridge collapsed at 10pm.
"It was only the next morning when I bought a paper that I found out.
"That was in the November and by January I decided I'd had enough and left – it was very dangerous work.
"There were other incidents.
"One time I couldn't see where I was going because of a big load and unbeknown to me a ferry's engine had failed and drifted into the supply line.
"A co-worker came running to warn me, otherwise I would have landed on the ferry."
But the 76-year-old is in no doubt of the bridge's quality of construction and longevity.
He added: "I think it will still be there in 100 years."
Eddie Hill worked on the bridge from the first day to the last, and he too had a lucky escape on the supply line.
"It was heavy rain and one of the other workers had driven their puggy up behind me.
"I didn't realise, crashed into it and fell right over the side.
"I landed on a pile of mud on the south bank. The tide was out, which was just as well, because I couldn't swim!"
Eddie went to hospital where he had 17 stitches in his head and was warned not to go straight back to work.
He went home, fell over his new cooker, and burst all of his stitches.
"I had to go back to the hospital, where I was given a row for not listening. They didn't believe it had happened at home!"
The bridge was completed at a cost of around £6 million (roughly £105 million in today's money), not a bad price for the use it's had.
Bridge supervisor Jim McDonald has seen a fair percentage of that traffic in his 34 years' service.
But it's not just a steady stream of vehicles he's watched from his control room.
"One day a trailer shed its load, which just so happened to be chickens!
"They were running all around the carriageway, with bridge workers chasing after them," he smiled.
"Then there was the bull that escaped from a Dundee abattoir by jumping over a 6ft wall.
"It somehow made it into the city centre and on to the northbound carriageway, but luckily no cars hit it.
"A vet was sent out to tranquilise it. Houdini, as we called the bull, was due to go back to the abattoir but Carla Lane, who wrote TV shows The Liver Birds and Bread, pleaded with the owners not to slaughter it. She had it transferred to her animal sanctuary in West Sussex to live out the rest of its days."
Not so amusing was the armed bank robber who came running along the southbound carriageway.
Jim said: "Drivers were locking their doors as he approached and as police closed in he threw his gun and money over the bridge.
"That was a scary moment."
So the next time you travel over the bridge, take a moment to think of the blood, sweat and toil of the brave men who built it and the history passing under your wheels.
---
Memories
THE Tay Road Bridge Joint Board asked people to send in their memories of the crossing's official opening.
Here's a selection.
I was queuing from 7pm the night before to make sure I was the first car across. Just before I was given the go ahead to drive, I took out my Welsh flag and draped it over the bonnet. Many Scots protested in mock dismay! Hugh Pincott.
I was 15 and borrowed the butcher's rickety bike and cycled down to the bridge about two hours after it opened. I cycled southbound – not realising how long it was – and had to cycle back in a hurry as I only had an hour for lunch. Bill Adams.
Me, my fiancé and two brothers drove from Brechin to cross. As we made it on to the bridge, the car stopped and steam billowed from the bonnet. It was decided to push the car off the bridge with me steering. At Fife the breakdown services came to our aid and said we had a burst hose pipe. We didn't get home until 3am and our parents were very concerned, but it's made for a good story to tell over the years. Jean Clark.
I went on the last sailing of "the Fifie" across the Tay when I was in 5th year at school. When I returned my friend took his sister's car and we drove across the bridge and back. Andy Greenhall.
I was eight and my name was picked from a ballot at school to go to the opening. I remember watching the Queen Mother being driven across in a Rolls-Royce. It was the first time I'd seen a car like that or Royalty. Then an announcer said we could walk on to the bridge so we could tell everyone we were the first to walk on it. Kath Donaldson.
---
On Thursday, the opening of the bridge will be replicated, and a fog horn will be sounded at 12.30pm, the time the Queen Mother officially opened the crossing.
Next Sunday, vintage cars and buses, Harley Davidson motorbikes and scooters will cross the bridge and be on display at Slessor Gardens.
There will also be craft tents, children's activities, food stalls, live entertainment and much more taking place from 10am to 4pm.
---
What are your memories of the Tay Road Bridge? Write to Tay Road Bridge, D C Thomson & Co Ltd., Suite 6, Skypark, 8 Elliot Place, Glasgow, G3 8EP
---
READ MORE
Have you spotted Oor Wullie on the streets of Dundee?
VIDEO: Scotland's most iconic buildings- which is your favourite?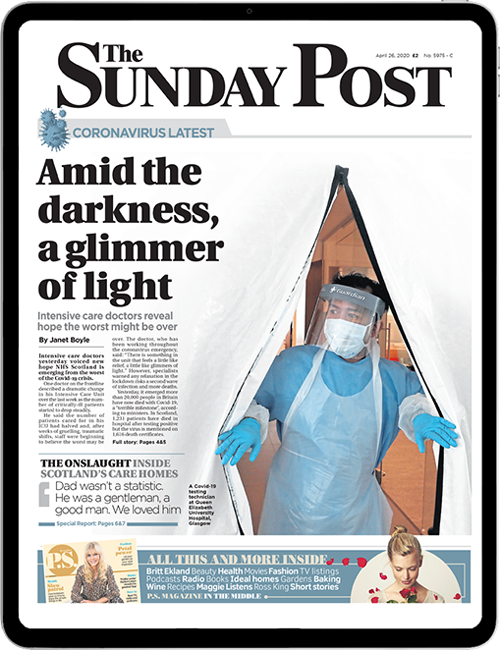 Enjoy the convenience of having The Sunday Post delivered as a digital ePaper straight to your smartphone, tablet or computer.
Subscribe for only £5.49 a month and enjoy all the benefits of the printed paper as a digital replica.
Subscribe