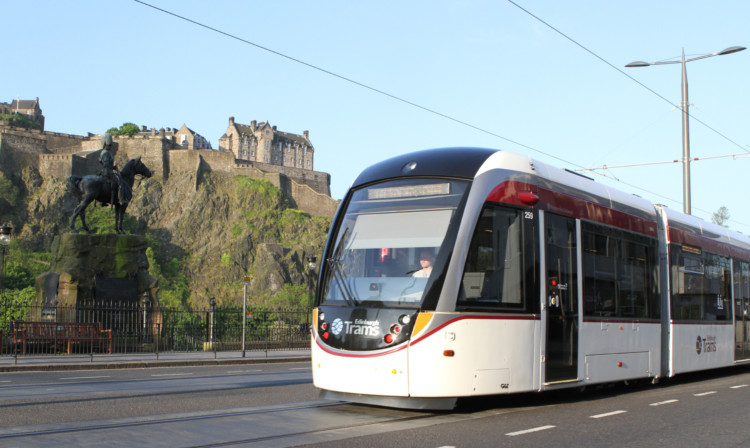 Edinburgh's much maligned tram project finally launched today in a sun-blitzed blaze of glory.
Over-budget and three years late the first fare paying passengers slunk towards the city centre on one of the almost silent light rail carriers just as dawn broke.
The last tram service to grace the capital's streets ran on November 16, 1956, and judging by the huge crowd gathered to witness yesterday's maiden voyage, people are delighted to see them back.
Tram lover Marjory Broom, 59, husband George, 63, and son Christopher, 31, were excited to be on the first tram as it rolled into action at 5am.
She said: "I thought they were fantastic, absolutely fantastic. It was chock-a-block, and it was a real carnival atmosphere on board."
She added "We've been on trams all over the world and the tram in Edinburgh was really smooth. I'm really excited we managed to get on there would have been no buzz being on the second tram."
The tram project, which cost £776 million to build and covers 8.7 miles, has been mired in controversy since the first roads were ripped up to make way for its tracks six years ago.
At the centre of it was a bitter dispute between the council and its contractor. The people of Edinburgh suffered constant disruption as roads were closed for construction and businesses also complained it caused them to lose trade.
But there was little sign of negativity yesterday as the first service left the city's Gyle shopping centre.
Mr Broom praised it, saying: "The Edinburgh trams are the best I've been on, very wide and very smooth. I think they will be very successful. We just have to hope they extend the service so it goes down to Leith and possibly even Granton, then it would be a proper network."
"It was great to see the trams have finally arrived, it was good to go along Princes Street on the first tram, looking up at Edinburgh Castle with the sun shining."
Around 150 passengers and transport enthusiasts crammed on to tram No. 275. Champagne corks popped as 21-year-old driver Craig Scotland rang the starting bell on what marked a new era for transport in and around the city.
Passengers some from as far away as Hong Kong and Belgium were immediately hit by how quiet and smooth the ride is. Mingled with the new plastic smell, wide aisles and panoramic windows many passengers were quickly seduced by the tram.
As the green blur of the city's western fringe gave way to suburban sprawl, bystanders cheered as the tram whizzed by.
Most people on board the service wanted to stand, but that meant missing out on a rest on one of the supportive burgundy seats. A lot of people on the first tram applauding every "ding ding" of the tram's safety bell wanted to be close to Walter Armstrong, 77, and wife Gail, 66, who toasted the maiden journey with a glass of fizz.
Walter said: "It's a great day for celebration so we brought champagne. They've come a long way from the old double-decker trams when we were kids. The journey is just wonderful, with incredible views of the city."
Quite what the new clippies, or Ticketing Service Assistants as they will be known, will make of people having a sly tipple on board remains to be seen. But they will have powers from today to fine fare dodgers £10 if they travel without a ticket. It's all part of a plan to claw back some of the costs of the project an area where passenger numbers will be crucial.
Tram expert Vic Simons, 63, has no doubt the project will prove popular. He said: "I travelled from just outside London to experience this as I'm a tram enthusiast, and it didn't let me down it was absolutely brilliant. The design is excellent, the ride is so very comfortable, and there is barely any noise or vibration. Even the seats are unusually plush for a tram!"
Lesley Hinds, Edinburgh City Council's transport convener, was thrilled to see it up and running. She said: "It was pleasing to see how many people had turned up at the Gyle to be part of the first journey.
"I'd like to encourage everyone in Edinburgh to get on and enjoy the experience. I feel confident, with Lothian Buses running the trams, we can look forward to an integrated system that will ensure people can easily get all around the city using public transport."
Debbie Cannon, from Morningside, is the voice of the trams, announcing every upcoming station. She said: "It's quite exciting!"
The new network was intended to be larger than it is now, stretching to the waterfront at Leith and Newhaven.
It was also due to be launched in 2010. But as the project encountered delays and cost overruns, the other lines fell away, leaving the single route linking the city centre and the airport.
Transport bosses are now keeping their fingers crossed that everyone who uses a tram in these first few days and weeks enjoys the experience.
Ian Craig, of Transport for Edinburgh, said: "I'm proud of what has been achieved but there's much more to be done.
"This is a brand new system and, as we start to welcome passengers on board, we'll be keeping a very close eye on the service to make sure our customers get the best possible experience."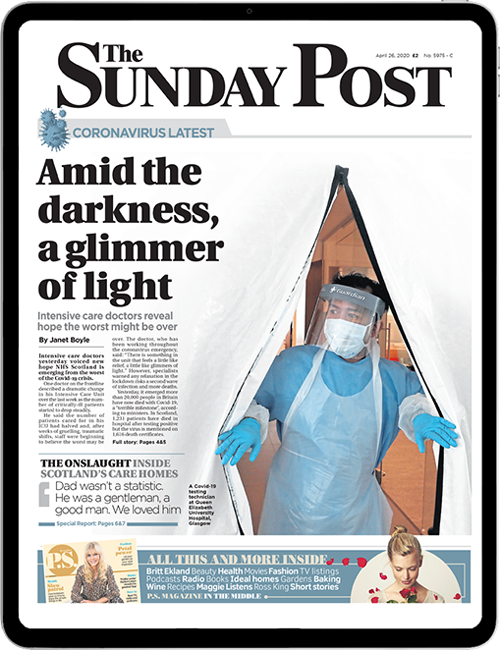 Enjoy the convenience of having The Sunday Post delivered as a digital ePaper straight to your smartphone, tablet or computer.
Subscribe for only £5.49 a month and enjoy all the benefits of the printed paper as a digital replica.
Subscribe