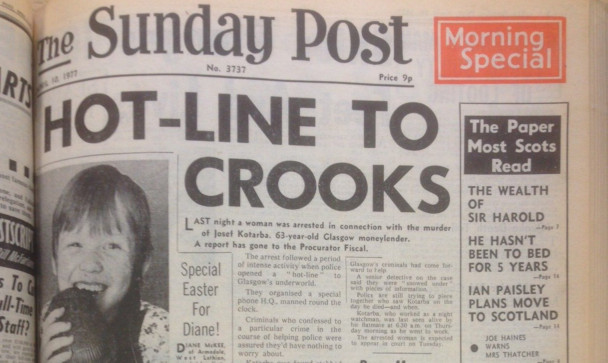 A look back at what made the news in The Sunday post in years gone by.
A woman in Glasgow was arrested over the murder of 63-year-old Josef Kotarba.
The move came after the police opened an anonymous hot-line aimed at the city's underworld.
Kotarba was a moneylender thought to be involved in laundering cash from armed robberies.
Opposition Leader Margaret Thatcher held an historic meeting with Chinese leader Hua Kuo-Feng in Peking.
Kuo-Feng took over from Chairman Mao.
Mrs Thatcher was invited back by the Chinese, who said the visit was "the beginning, not the end" of talks.
Soaring meat prices meant Britons were increasingly turning to baked beans as a staple food.
One supermarket group based in Lothian reported it sold more than a million tins of beans in less than a year for the first time ever.
The Sunday Post calculated that, if all the tins of beans were laid end to end, they would stretch for 47 miles.
A skier plunged 1,000 feet from a Scottish mountain and survived.
The unnamed man had been discovered with severe neck and head injuries, and suffering from exposure, but alive.
A fellow skier had died a year earlier after falling from the same spot in Glen Coe.
Legendary Scotland and Celtic manager Jock Stein was in hot water with football bosses.
He had criticised league chiefs after Celtic were forced to play a match with Hibs while players were on international duty.
He was expected to be hauled up in front of the bigwigs at Hampden to explain his comments.
A Scottish soldier was given a suspended jail sentence for looting buildings attacked by IRA bombers.
A former lance-corporal of the Argyll and Sutherland Highlanders pleaded guilty to the charges.
He admitted stealing cigarettes, alcohol and clothes from bomb sites.
He had been a guard with the army's Bomb Disposal Unit.
Twelve other soldiers were given suspended sentences for similar crimes.
Princess Anne was preparing to become a mum.
She was pregnant with her first child to husband Captain Mark Phillips.
The Sunday Post Royal Correspondent reported that Anne would likely be a hands-off type of mother and would hand over her child's care to the nanny to focus on her riding career.
Princess Anne had recently purchased Gatcombe Park, a
730-acre estate in the Cotswolds, in order to raise the royal baby.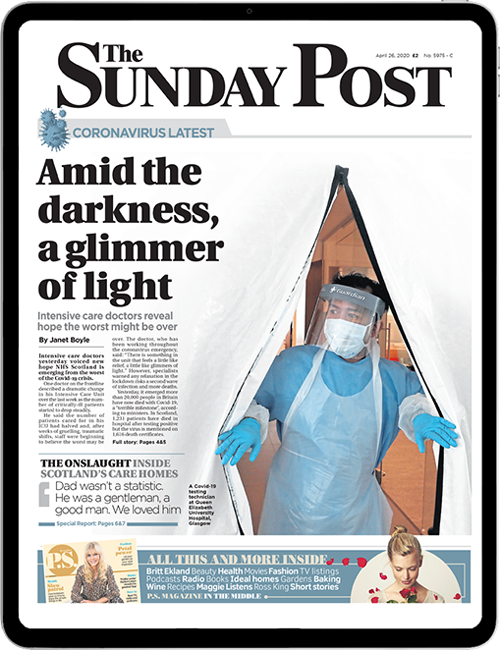 Enjoy the convenience of having The Sunday Post delivered as a digital ePaper straight to your smartphone, tablet or computer.
Subscribe for only £5.49 a month and enjoy all the benefits of the printed paper as a digital replica.
Subscribe