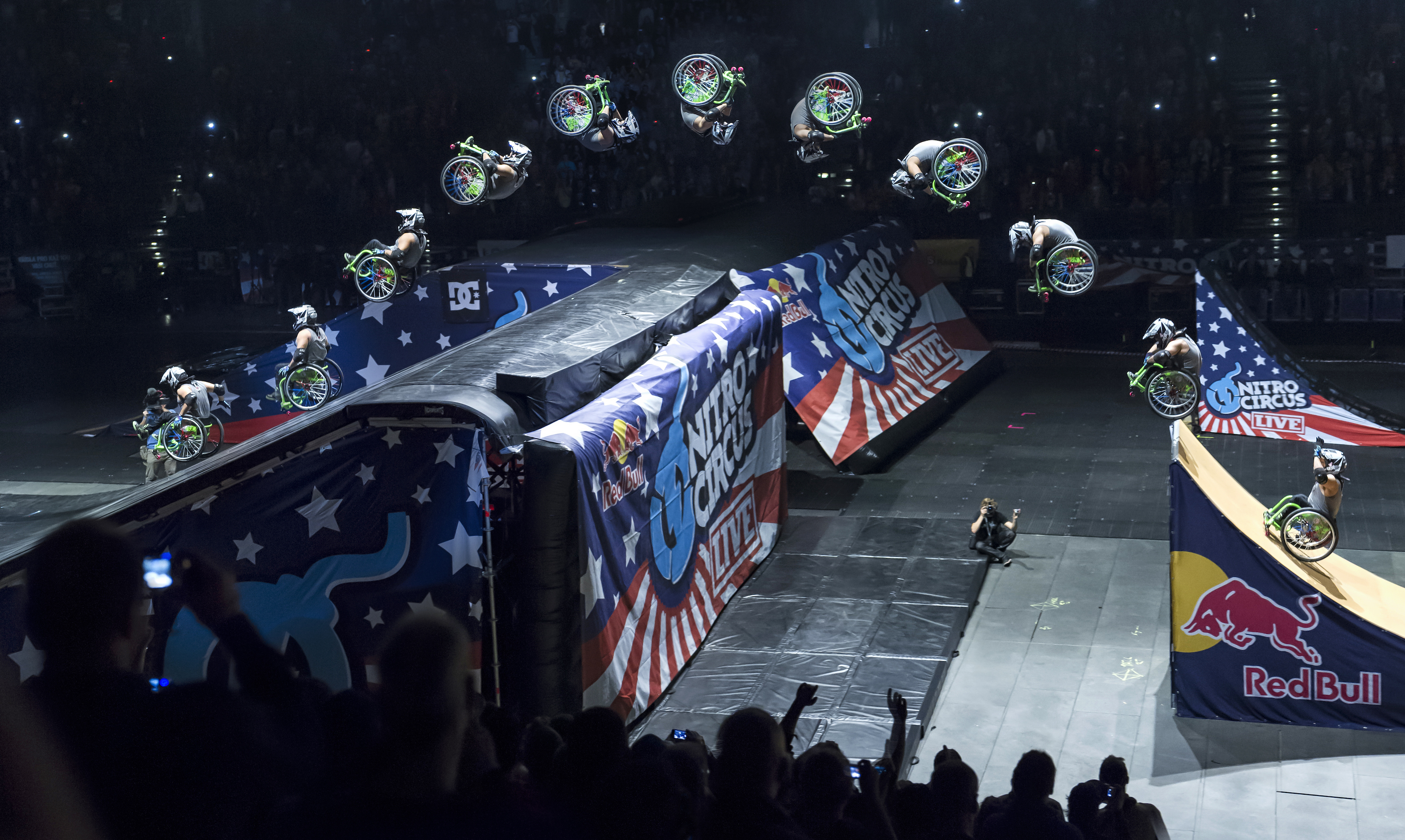 Born with spina bifida, a defect of the spinal cord, he's never had the use of his legs.
But as a baby, he sat up and crawled right on cue, after working out a technique, and soon mastered first crutches and then a chair.
Aaron started doing stunts in his chair aged eight and, after becoming the first person in the world to land a back flip in a wheelchair at 14, became the first-ever wheelchair extreme athlete.
Now, he wows crowds across the world as part of the Nitro Circus action sport stunt show, regularly hurtling down their legendary Gigantaramp before launching himself across 50-foot gaps.
"Oh, man, it's just the coolest feeling going down the ramp and then once you hit the take-off, it's just unreal," says 24-year-old Aaron, who's from Vegas.
"The energy from the crowd is probably the only thing that could get me to go down the ramp.
"I'm sure there are a few parents in the crowd watching me thinking: 'Oh, they shouldn't be letting that boy do that,' but I'm glad they let me!"
Protective mums might argue but, as far as Aaron's concerned, he's showing kids a wheelchair can be a toy, not a disadvantage.
"With the wheelchair, one of the main stereotypes is that you can't do anything, and I'm trying to show it's something more positive," he insists.
"I don't like how a chair's viewed as a prison, something that holds you back, that's just looking at it one-sided.
"Just like anything it can also be a positive.
"I love showing people how to have fun with their chair — it's brought a lot of joy to me in my life so I'm just trying to share that a little bit and change perceptions at the same time."
Aaron's the third of six kids, all adopted, and says: "I've never let my condition hold me back.
"I owe that to my parents, because they never treated me like I was any different, and I grew up just like any other kid in my family.
"I also had an older brother who picked on me so that was perfect — I think that's what really helped shape me!
"My parents are just champions. I don't know how they did it, dealing with six kids let alone adopting six — it's such a process to adopt a child."
The official story is that Aaron started his daredevil career at a skate park when his older brother persuaded him to drop into a quarter-pipe in his chair.
For "persuaded" read "pushed"?
"Pretty much! It was peer pressure," Aaron laughs.
"Whenever I got near the top, I just remember him and all the kids saying: 'You'll be a legend if you drop in.'
"I just wanted to impress my older brother — and to be a legend!
"I was hooked from that very first time, even though I face-planted every time until I finally rolled away from one.
"What kept me coming back was all the skaters and BMX bikers, how pumped for me and how supportive they were. It's like a big family."
Aaron's chair, as you'd expect, isn't a standard piece of kit.
He says: "I've got a seatbelt just to keep it stuck to me while I'm doing slips and stuff, and it's got skate wheels and suspension — those shock absorbers really help your back when you're coming in for an impact. Before I had them, it was pretty painful.
"I've been pretty lucky. I've had a good amount of injuries, but I'm just glad I've been able to get back up from them and keep on riding.
"I don't know if people think I don't mind crashing because I'm already in a chair, but I could make things worse.
"I could still get injured, but I never really look at it that way.
"For me, I'm just like anyone else out there and I want to chase my dreams and I'm having fun doing it.
"Saying that, I've done some pretty stupid things!"
Nitro Circus is touring the UK this summer. For information and tickets visit www.nitrocircus.com
---
READ MORE
Audience member suffers broken jaw in motorcycle stunt during Nitro Circus Hydro show
Wheelchair rugby helped rebuild Adam's self-esteem after muscular dystrophy diagnosis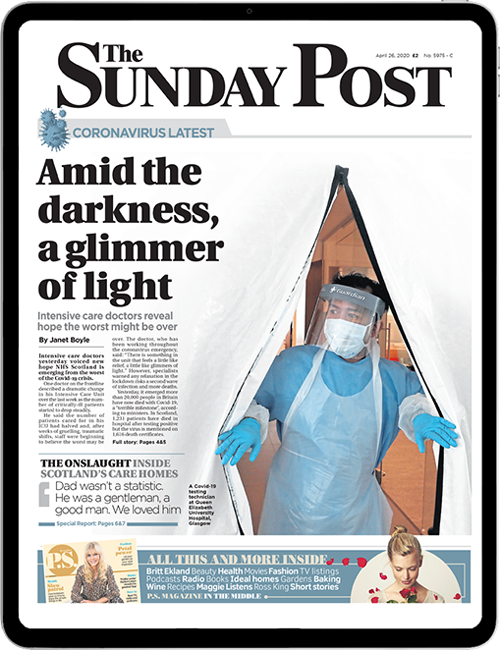 Enjoy the convenience of having The Sunday Post delivered as a digital ePaper straight to your smartphone, tablet or computer.
Subscribe for only £5.49 a month and enjoy all the benefits of the printed paper as a digital replica.
Subscribe