It's hard to believe it's nearly 40 years since I stood wide eyed and slightly dazed in Green's Playhouse, Glasgow, my tiny adolescent mind blown by the fabulous Ziggy Stardust and the Spiders from Mars.
What a gig and my very first!
The noise, the heat, the songs, the show, the crowd . . . and The Starman himself, David Bowie. It was the gig of legend, and also my introduction to the crazy, hedonistic world of rock 'n' roll.
From that day onwards I was hooked and definitely Aladdin Sane!
Ziggy Stardust was the androgynous, doomed rock god, but Bowie was the commander and, with his legions of space cadets in tow, he took us all on a musical journey via a rich tapestry of sound and songs that was to last for three decades before he finally decided to come crashing back down to earth. They were indeed Golden Years!
Timeless classics like Space Oddity, Life On Mars, Changes, Jean Genie, Rebel Rebel, Ashes To Ashes, Heroes, China Girl, Lets Dance,Under Pressure and Fame have ensured his rightful place at the very top of rock's Hall of Fame.
Unlike some of his greedy peers the Stones spring to mind here he was not going to be the man who sold the world, gigging endlessly on an ancient back catalogue while ripping off the fans with hugely inflated ticket prices.
Rather, he became an ageing star who, after a heart scare, would take it easy by dropping quietly out the limelight.
But now, after an absence of nearly 10 years and to celebrate his 66th birthday, the Thin White Duke looks set to top the charts again with a new single the haunting Where Are We Now? And with a new album, The Next Day, due in March this rock chameleon has again set the world of music abuzz and given himself and his fans many reasons for celebrating.
It might not be Bowie at his absolute best and he may now be eligible for a bus pass but any Bowie even his awful Laughing Gnome is better than most of the current garbage infesting the charts.
Forget Will.i.am, Rihanna, James Arthur and all that formulaic X Factor drivel they're just not in the same league. It's like comparing a week's B&B in Blackpool to a six-star world cruise. Bowie is back and not before time!
I am, as you have probably guessed, a huge fan of the man and for that I make no apology. His songs and ch-ch-changes over the years inspired me and countless others to try their hand at music and for that I will always be grateful.
He was and still is a Space Oddity, but he's also a timeless musical genius something sadly missing these days.
Record companies, it seems, are only interested in a quick buck. Forget development deals and investment acts either burst on to the scene with a hit or are bumped into Nowheresville, which is an awful state of affairs.
So Mr Bowie, happy birthday and welcome back to Planet Earth. You may be a Space Oddity but in my books you'll always be a Starman!
Seems 2013 may be a year to remember after all!
P.S. I should probably point out that my second gig was Showaddywaddy. On second thoughts, maybe I should have kept my mouth shut . . .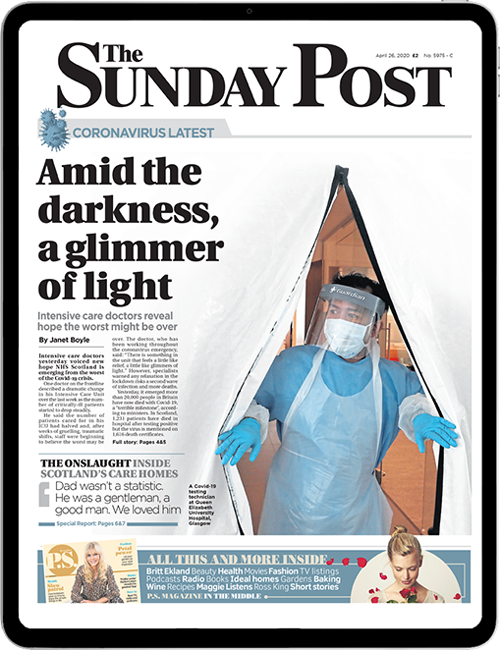 Enjoy the convenience of having The Sunday Post delivered as a digital ePaper straight to your smartphone, tablet or computer.
Subscribe for only £5.49 a month and enjoy all the benefits of the printed paper as a digital replica.
Subscribe