IN a picturesque corner of Ayrshire, a man tends to a vegetable patch as the sun beats down on his back.
An elderly gent in the allotment looks on, wiping his brow with a handkerchief as he offers advice on the best way to gain a greater yield from the crop.
At the next flowerbed, a woman waters some newly-planted sweet peas and carefully picks out a weed from the soil.
The recent lovely weather has been encouraging people around the country to spend time in their gardens, but at this allotment in Kilmarnock the results of some extra special work are already beginning to blossom.
This is the latest dementia garden from Alzheimer Scotland, one of several dotted around the country providing an everyday activity in a relaxed and supported environment for people living with the condition.
"It's about living well, rather than dwelling on what is going to happen," is the sage advice from Jim Baird.
Jim is Alzheimer Scotland's community activity organiser for East Ayrshire and the garden, which was donated by Annanhill Allotment Association, has been a labour of love.
"It was one of the first tasks I was asked to take on when I got the job 18 months ago," Jim says.
"I had previously worked in recruitment but my dad Jim lived with Alzheimer's for 23 years – he was 52 when diagnosed and was otherwise a fit young man.
"I enjoyed looking after him, as strange as that may seem, and got a great deal out of it. I felt he should continue to do what he did before, so I would take him to activities he previously did, like swimming.
"Dad passed away a few years ago but while he was alive I made sure he lived as well as he could.
"Now I'm trying to do the same for people here."
On the day we visit, local man Alex Gray has popped in to the allotment.
Alex, joined by his support worker from Alzheimer Scotland, is 83 and a keen gardener.
"I used to come along to these gardens years ago, but they've changed a lot over time," says the dad-of-two.
"It's lovely here, a place where you can sit and relax."
Alex's wife Helen has Alzheimer's and for nearly three years has been living in nearby Torrance Lodge care home.
"I've been told Alzheimer's affects everyone differently," Alex continues.
"I'm lucky in a way – a lot of the people who visit aren't recognised by their loved ones, but she still recognises me and I go to see her every day."
As well as the allotment being a nice, tranquil place to spend an hour or two, the visitors are also encouraged to participate in the upkeep.
There's a calendar where people can note when they watered a patch or weeded it and over time the vegetables and herbs being grown will be used in the food served at the café in the town's dementia resource centre.
A donation of railway sleepers from JW Grant and Glennon sawmill allowed Jim to raise the beds from ground level and he also ensured the walkways were even.
"There's a padlock with a code, so people can come and go whenever they like.
"Already Alex has told me three or four things I've done wrong, like planting the potatoes too close together, so I'm going to have to fix that," Jim laughs.
"Places like the garden are a catalyst for putting people into a space where they are comfortable and a place where they can relax. It can offer huge benefits."
Activities like the dementia garden, as well as other groups like choirs and Football Memories, are only made possible by Alzheimer Scotland thanks to the fund-raising work of its supporters.
That's why it's so important to participate in a Memory Walk event taking place across the country later this year and raise funds for the 90,000 people currently living with dementia in Scotland – a figure that will double in a generation.
The Sunday Post is backing the walks, which aim to raise £250,000 with your help.
How to get involved
Memory Walks are Alzheimer Scotland's largest fund-raising events and are supported by HSBC.
Twenty walks – from Shetland to the Borders – will take place between August 27 and October 1.
The walks are ideal for all ages and abilities, as well as being wheelchair, buggy and dog-friendly.
Registration is £10 for adults, £5 for those aged between 12 and 16 while under-12s walk free.
Visit memorywalksscotland.org to find out more and to register. If you have any questions about Memory Walks, dementia or the services in your area, call Alzheimer Scotland's free 24-hour Dementia Helpline on 0808 808 3000.
---
READ MORE
Memory Walks: Game of Thrones star Kate Dickie shares details of her mum's dementia
Campaigner became activist, academic and speaker after dementia diagnosis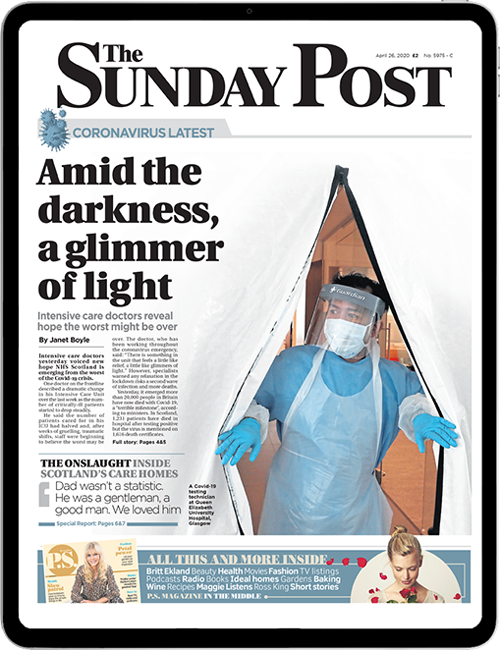 Enjoy the convenience of having The Sunday Post delivered as a digital ePaper straight to your smartphone, tablet or computer.
Subscribe for only £5.49 a month and enjoy all the benefits of the printed paper as a digital replica.
Subscribe