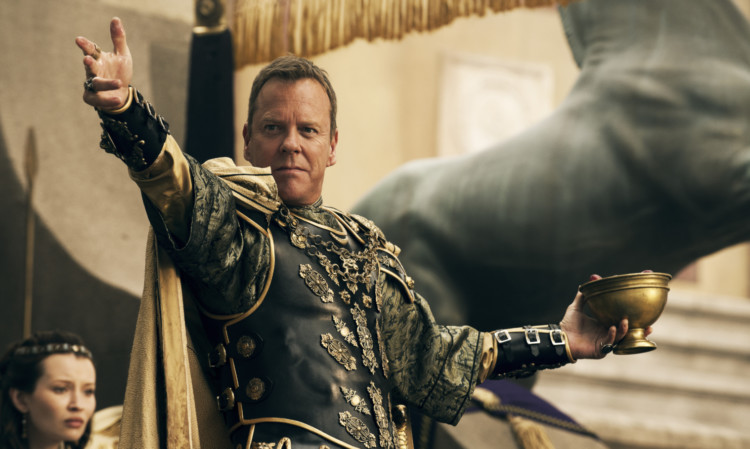 Sutherland left his good guy persona as 24's Jack Bauer behind to be the baddie in the swords and sandals disaster epic Pompeii.
As Agent Jack Bauer in 24, Kiefer Sutherland has been in more sticky situations than a glue factory worker.
But he's lived long enough to make a ninth series of the show in London, which begins on Sky1 this week.
But that's not the only place you can catch Kiefer.
He also plays a man with a more selfish survival instinct in Pompeii, a sword and sandals disaster movie set against the eruption of Mount Vesuvius in 79 AD.
Kiefer plays Quintus Attius Corvus, a politician who the actor describes as "an absolute pig."
But thoughts of self-preservation kicked in with the Canadian star long before either of these roles, back to when he was a member of the Brat Pack, larking around in a swimming pool with Robert Downey Jr.
"Bobby and I had just agreed to do a film called 1969, which was not a great movie by any stretch," recalls the 47-year-old.
"We were talking about what we were going to do. I remember saying: 'If we can just make it to 40, then we'll work for ever.'
"I couldn't have been more than 22 years old, but I knew even then that it was going to be a tricky road to navigate, and if we could just not screw it up before we reached 40, we'd be a little safer going from that point forward.
"And I was right, although it's ironic when I think how well Bobby has done since 40!"
Kiefer's savviness about the slings and arrows of showbusiness, and that only the fortunate survive, most likely stems from being the son of an actor a very successful one.
Last year saw Kiefer work with dad, Donald, on Forsaken, which also stars Demi Moore and Brian Cox and is due out later this year.
It was, rather incredibly, the first time father and son had starred alongside each other.
"I remember calling him the night before. I'd been responsible for putting it together so I said: 'I just want to tell you we're going to have a great day tomorrow.
"And if anything is a little awkward, just know that I'm really nervous.'
"And he went: 'Oh my God, you're nervous, too? I'm scared witless!'
"And so the two of us had a laugh, and the next day we went to work. But it was one of the greatest experiences I've ever had.
"I'd never dare compare myself to him as an actor. The thought would never enter my mind. There are so many movies of his that I like. Don't Look Now is one. Kelly's Heroes another. MASH, obviously.
"And Ordinary People had a profound effect on me as a young person.
"I wasn't living with my dad at that point [Donald left Kiefer's mum, actress Shirley Douglas, when Kiefer was three] and I saw him have this beautiful scene at the end of the movie with Tim Hutton on the porch.
"Tim starts crying and they talk about how much they love each other, and I was like: 'I want to be sitting there with him, having that scene with him for real.'
"I met Tim in a restaurant once and told him: 'You stole my scene!' And he knew exactly what I meant."
Kiefer has seen the movie industry change significantly in recent years and has adapted accordingly. However, he blushes at the suggestion he had a starring role in the series that was the catalyst for change.
"No, it started earlier than 24," he reasons.
"I remember when I was watching ER as an actor. I was like 'Wow, I would've loved to have been on that show.'
"When I started, they were making 56 films a year. There were five studios, now there are three and maybe they make 15 films. And they make the huge $100-$200 million movies.
"So all of the films that I liked watching or wanted to be a part of growing up were TV shows, whether it was ER, The Sopranos, Breaking Bad, The Wire that was some of the best work I've ever seen.
"And television has become this fantastic oasis for people who want to tell stories that might not be as technologically driven as the movies now are.
"Pompeii is the first big movie I've done in years and wasn't a role I was looking for. But it was really well written and my brother said I should do it and he's really smart.
"Turned out I had a blast. Senator Corvus is as bad a person as you could find, he just says things that you wish you could say but you're smart enough not to, and great fun to play. So I've sent my brother flowers and 'thank yous.'"
Pompeii is at cinemas now.
Our Verdict 2/5
Kiefer's Quintus Corvus is a more active politician than our Westminster or Holyrood lot. The first time we see him, he's ransacking a Celtic settlement. During the raid he makes Milo (Games of Thrones' Kit Harrington) an orphan and when the pair cross swords again 17 years later Milo, now a gladiator and Corvus a Senator, the Celt bears a grudge. What's more, Milo attracts the attention of Cassia (Emily Browning), who the conniving Corvus has earmarked as his bride to seal a trade deal with the mayor of Pompeii. Hormones erupt along with the volcano but the film isn't overflowing with brilliant acting.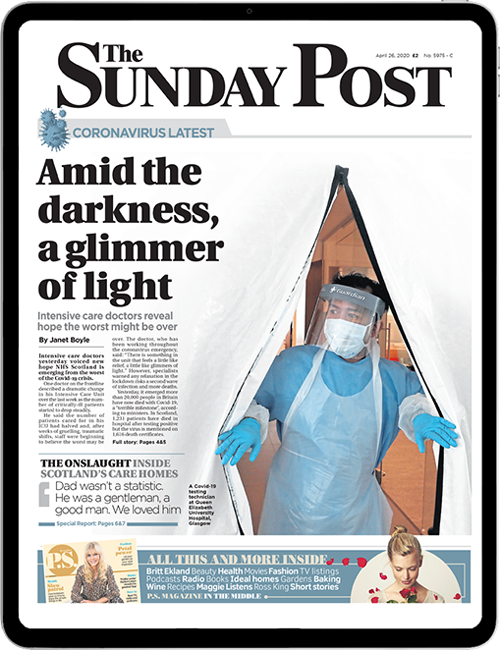 Enjoy the convenience of having The Sunday Post delivered as a digital ePaper straight to your smartphone, tablet or computer.
Subscribe for only £5.49 a month and enjoy all the benefits of the printed paper as a digital replica.
Subscribe