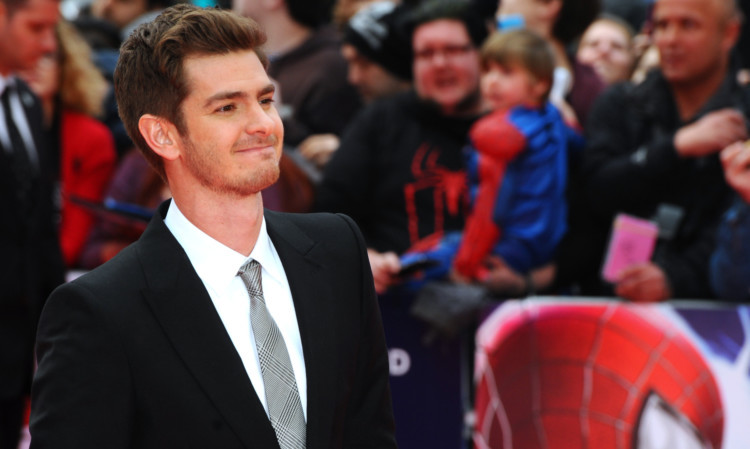 Andrew Garfield and Emma Stone are back as Peter Parker and Gwen Stacy in The Amazing Spider-Man 2, which opens at cinemas on 16th April.
The 3D blockbuster sees Spider-Man battling a trio of villains Electro (played by Jamie Foxx), The Rhino (Paul Giamatti) and Green Goblin (Dane DeHaan) – while also finding time to further his relationship with Gwen, who is agonizing over whether to accept a place at Oxford University.
The Sunday Post's Darryl Smith was in London's Leicester Square for the movie's world premiere as the two stars, who are also dating in real-life, flew in on a whistle-stop tour to promote their movie.
Q: Tell me how your character has evolved during this film.
AG: I definitely feel more confident and I enjoy being Spider-Man, which is what Peter feels for sure. Another thing that he feels is that he is struggling to hold all this stuff together, and it's getting more and more difficult to keep all the different plates in the air. It just gets more and more extreme.
Q: What is going on with Peter's relationship with Gwen in this film?
AG: He's very much in love and any love relationship has its inherent challenges, and the challenges are obviously magnified with the guy being a super hero, and having made a promise to Gwen's dad that he wouldn't pursue her as a girlfriend. So there's guilt, there's shame, there's lust, there's a destiny between them that they can't deny, and there's a very torn, confused young man trying to figure out the best thing to do, and a girl who's just like: "Figure it out." So it's like any other relationship.
Q: Can you talk about the physical comedy aspect of the role and what part Cal McCrystal played in helping you shape that?
AG: Cal McCrystal was a physical comedy consultant and director on the film. So there were certain scenes, certain ideas, that came directly out of conversations that I'd had with Cal. And there were certain choreographies that he directed during the film. So yeah, he was a physical comedy consultantand really I just love Charlie Chaplin and Buster Keaton, and I admire that skill. So this was an opportunity for us to explore that, and it makes sense because Spider-Man has that physical foolishness and fun, so that's really exciting to be able to explore.
Q: That's a really different side of his personality than Peter Parker, isn't it?
AG: Yeah, as Peter Parker he trips over his own feet accidentally, but as Spider-Man he's able to trip anyone up, and get away with it. You know, he's Bugs Bunny in that way.
Q: The Trickster archetype.
AG: Yes. As you know, in every single Shakespeare play, you have the fool, you have the jester. It's a beautiful, amazing archetype. It can be incredibly dark, like Pan, or it can be more like Bill Murray, who is also a trickster. Bugs Bunny is one of the ultimate tricksters. And one of the defining features or characteristics of a trickster is that they turn their enemies against themselves, so they actually use their enemy's weaknesses against themselves.
Q: Like Road Runner and Wile E. Coyote.
AG: Yeah, exactly. Rather than throwing punches and kicks and beating the crap out of someone, they are making their opponent beat the crap out of themselves.
Q: Is that something that you think was in the original Spider-Man or is that something that you guys are bringing to it?
AG: I think it was inspired by the comics, and by that wimpy kid in a suit messing around. A smart scientific kid who would be able to make a perpetual motion machine out of webbed-up criminals. And that was an idea in the original movie"I've created this perpetual motion machine throughout the city, leading to the police chief's doorbell, so the last guy gets smacked as a domino and rings the doorbell, and the police chief just opens the door and there's a line of criminals just presented to him. So hopefully we'll be able to do some of that in the third one, because it's a really cool image.
Q: I understand Stan Lee was on the set quite a bit. Did he give you any suggestions regarding your performance?
AG: No, but I wish he had! No, he's super hands-off. He basically said, "Do whatever you want with it. It's yours. I wrote it 50-odd years ago. I did my part, now you guys go and do yours." It's like he doesn't feel pressured about it. He created so many amazing things and has an amazing sense of humour about it all.
Q: What was your training regimen to get in shape for the film?
AG: My trainer Armando is one of my favorite people in the world and he's a very gentle, powerful taskmaster and passionate, health and fitness person. So the regimen was pretty intense, it would have to be, because I've got to be in my suit and I've got to wear the Spandex, and I've got to be practically naked. So I'm very thankful to have Armando, because I couldn't do it with anyone else, I don't think. He's family now. He's seen me at my lowest, literally. You've got a really intimate relationship with your personal trainer. It's a nice thing, a really nice thing.
Q: So was it mainly about getting your physique in shape for the costume or was it also the physical aspects of the stunts?
AG: It's all of it. You have to look a certain way and you have to feel a certain way. You have to have an open body, a strong body, you know, a body that looks like it's super-human, which is impossible to do, and such a hassle.
I'm glad I don't have to do it for another year maybe, because I'm not a gym guy. I like surfing and playing basketball, but I don't like lifting weights. It puts me in an existential funk, just picking up a heavy object and putting it down over and over again. It's like the Camus book, the fable of Sisyphus where he's pushing the boulder up the mountain and it keeps on rolling back down and then he pushes it back up again.
Q: I'm with you there. What was it like working with Emma Stone again?
AG: Great, just great. She's obviously one of the great talents in the world. She's incredibly vibrant and clearly meant to do what she does, and it's a pure joy to be able to play with her, because it really is play with her. They call them "plays" for a reason.
Q: What was one of your favorite days or moments on the set?
AG: There was a great moment in between takesit had nothing to do with the movie, I just went and played some basketball with some kids in my Spider-Man costume. That was just fun for me. I had half an hour, so there were these kids playing pick-up basketball on the blacktop, and I thought, "Oh, I'll just go and see how they react." That was really, really fun. That was one of my favorite moments.
Q: Had you ever met Dane DeHaan [who plays Harry Osborn/Green Goblin] before?
AG: Well I had done a reading, a play reading about the L, I think. It was John Logan's first play, Never the Sinner, and we played counterparts to each other. And I was a huge, huge fan of his ever since I saw him for the first time in Chronicle. So I was very, very excited that he was cast. He's a real actor, a real talent. I like to be surrounded by people that are better than me. And I like to be forced to reach to be better, so that was great. As it was with Jamie and Paul Giamatti, you feel like you're in good company.
Q: What would you say was the most challenging thing about the role?
AG: I probably make it more challenging for myself than it needs to be, but I found it all very challenging, but in a good way, because it creates energy, being challenged and butting up against something. Friction creates fire and it creates a spark and it creates smoke, and it creates energy. It's the same with Peter. Peter is always banging his head against a brick wall or trying to break through it, and then another brick wall after that.
So I found every day challenging in certain ways. As it turns out, you're very rarely in a bad mood when you have to shoot a scene where you're in a bad mood. So it helps to have great actors, a great director, a great producing team, a great script and a great camera department. It was like Spider-Man was in the middle, and every single crew member and person were holding hands around that central image, and we were all pouring our energy into that. It wasn't about any individual, it was just about that guy, serving that guy, making sure the story was told the best it can be told.
That has inherent challengeslike how do we serve the character? There are endless options, endless choices. Like how do we even choose the right eyes? How do we choose the right color for the suit? Is there such a thing as the right choice? We're always going to upset someone. We're never going to please everybody. That's the struggle that Peter goes through himself, trying to please, and do right, by everyone. It's an impossible path he's set for himself. He's put himself in a straightjacket, and he has no idea how to get out of it.
Q: And you're somewhat involved with the post-production as well I understand? How so?
AG: Talking about the edits, talking about the story, making sure we're all on the same page with the character, They're using me and it's great. I really appreciate it because I know the character, and probably know the journey from the inside more than anyone else, so they utilize that and they go, "So what beats are we missing? Why isn't this making sense? Do you remember anything we've taken out or we need to put back?"
The editing process and the filmmaking process and the storytelling process are super interesting to me, and I love it. I love all parts of it. I don't just want to act. I want to indulge in all of it, and experience all of the other parts of the creative process. It's very exciting, and they're generous enough to bring me into it.
Q: What makes Electro such a great adversary for Spider-Man?
AG: Well what I love personally about Electro is that he is human, and the journey from him going from Max into Electro is so emotionally powerful and potent. And one of my favorite aspects about what Jamie and the writers have brought to it is that you care about this bad guy. You know that he's not just a bad guy and born that way; you know that he has been created, that part of himself has been encouraged and pulled out, by evil forces in the world, by being abused, by being not seen, not recognized. Because we all need recognition and validation, but he has not received it, and so these darker impulses take over and he says, "Well, if the world doesn't care about me, I won't care about the world. I'm taking my power back. I'm going to bully those who bullied me."
I mean how else is it created? It's a learned behavior. I'm so excited about this film because that's not something that's usually dealt with in these movies, and it's really important, especially for young kids in the schoolyards, to not just go, "Oh, that guy's just a bad guy." It creates compassion, which is a beautiful gift we all have. And as far as him making a great adversary, his power is obviously mighty and something about his electricity, which is neutralizing any power that Spider-Man has. So yeah, those are just a couple of things.
Q: Well thank you so much.
AG: It was a pleasure.
The Amazing Spider-Man 2 is at cinemas from Wednesday 16th April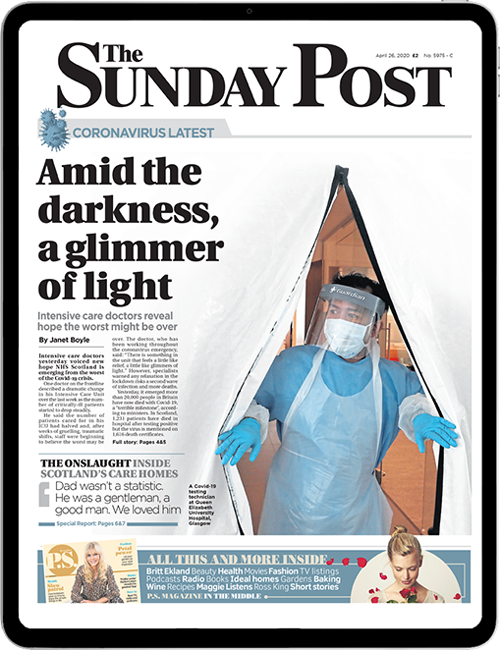 Enjoy the convenience of having The Sunday Post delivered as a digital ePaper straight to your smartphone, tablet or computer.
Subscribe for only £5.49 a month and enjoy all the benefits of the printed paper as a digital replica.
Subscribe